Curtis Stone's banana prawn risotto
Learn to cook homemade prawn dumplings in 30 minutes. Serve it with a spicy dipping sauce for a flavoursome meal.
Curtis: Hey mama
Curtis's Mum: Hello Darling, how are you?
Curtis: How are ya? I'm good, I'm good how are you?
Curtis's Mum: I'm really good, all the better now that you have called me.
Curtis: Well I'm calling you to say happy mothers day first of all.
Curtis's Mum: Thank you.
Curtis: I know I'm a few days early, but what I wanted to do was make you a special dish. I thought I would make you a prawn risotto cause I know how much you love seafood.
Curtis's Mum: Oh yummy!
Curtis: Now you're gonna have to make it for yourself OK, because I'm not there to do it for you in person but I promise when I see you next, which won't be long, I'll do it for you in person.
Curtis's Mum: Oh Thank you.
Curtis: Love you mama
Curtis's Mum: love you too darling, miss you lots.
Curtis: OK, you too babe. Bye
Curtis's Mum: Bye
Curtis: Alright, let's get cooking, this is a really simple one to do. We start off with a pan, doesn't have to be super hot, but it has to be at least warm. Pour a little bit of olive oil, then we're gonna throw our onions.
Now I just chopped a brown onion hear. Toss that in, you'll it sizzle straight away. Once you've got that nice sweat on your onions and they are starting to look that little translucent like mine are, time to add your garlic.
Just give that a couple of stirs, just maybe for a minute or two and then it's time to throw in your rice. And then it's time to throw in your rice, give it a stir around. You can mix the onions with the rice. We're gonna toast the rice like this for about a minute and then we're gonna deglaze the pan with a little bit of white wine.
So that rice will start to boil pretty much instantly, and you continue to stir. Once that rice has been absorbed into the rice, it's time to start throwing in your veggies, so I'm gonna start here with my butternut pumpkin.
Once that liquid has been absorbed and we started with the white wine,  then you go with a ladle full of chicken stock. I'm gonna throw in my fennel next, scoop up all that beautiful fennel.
Right, I'm gonna stick another ladle of stock in, and then it's time to throw in the prawns, now they only take a couple of minute to cook, so we're getting to the business end of this. I've still gotta flavour the risotto, right. it's a big bowl of rice,
With stock, so we gotta season it, so we start off with a little bit of sea salt, then a little bit of lemon zest. So just don't think of seasoning as salt and pepper. You can see the prawns are start to turn pink, beautiful, you can tell there almost cooked. I want this to still be a healthy dish, but I am gonna use a bit of butter, and then a little parmesan and then throw in my parsley.
To be perfectly honest, it is beautiful enough to serve in this gorgeous pan, I mean look at that. Whatever your traditions are around mothers day, whether it's a big fancy dinner, just spoil her as much as you can.
Happy Mothers Day.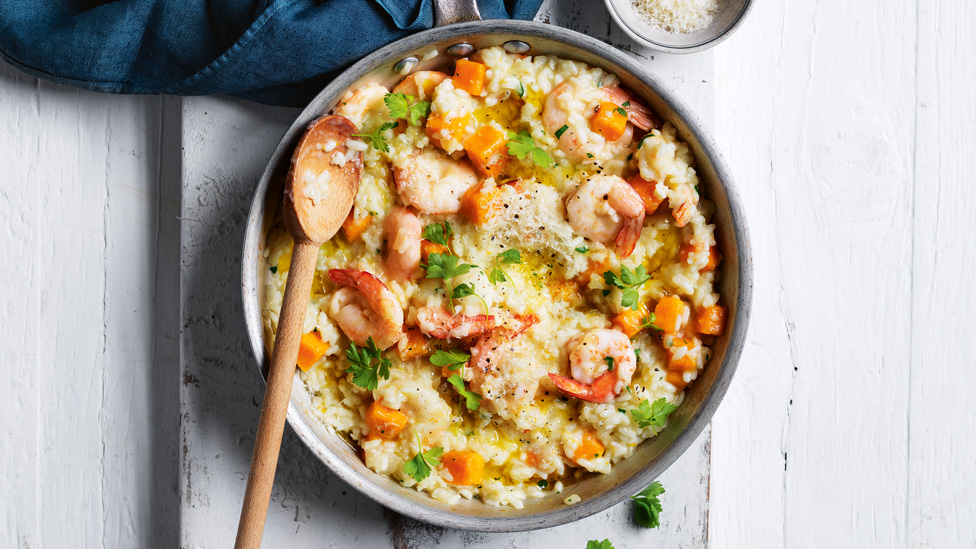 Ingredients
6 cups chicken stock
2 tbs olive oil
1/2 medium brown onion, finely chopped
3 cloves garlic, finely chopped
2 cups (400g) arborio risotto rice
1 1/2 cups dry white wine
2 cups diced butternut pumpkin
1 cup finely chopped fennel, fronds reserved
500g raw banana prawns, peeled and deveined
1 tbs lemon zest
2 tbs lemon juice
4 tbs (80g) butter, diced
1/2 cup shredded parmesan
2 tbs flat-leaf parsley, chopped
Method
STEP 1 
In a small heavy-based saucepan, heat the chicken stock over high heat until hot, but not boiling. Cover and keep warm.

STEP 2
Meanwhile, heat a large, heavy-based, non-stick, high-sided frying pan over medium heat. Add the oil and allow it to heat for 2 mins. Add the onions and cook for 3 mins, or until they begin to soften. Add the garlic and cook for about 1 min, or until fragrant. Spread the onion-garlic mixture to sides of the pan. Add the rice to centre of pan and stir for about 1 min, or until it is well coated with oil, hot, and beginning to look translucent. Add the wine and stir constantly for about 1 min, or until half of the wine has evaporated. Stir in pumpkin.

STEP 3 
Add 1 cup of the hot stock to the rice mixture and cook, stirring almost constantly and keeping the mixture at a steady simmer, for about 2 mins, or until most of broth is absorbed. Stir in fennel. Continue adding the hot stock, 1 cup at a time, stirring until each addition is almost completely absorbed before adding more, and cook for about 18 mins, or until the rice is al dente and creamy.
STEP 4 
Stir in the prawns and cook, while stirring and adding more stock as needed, for about 4 mins, or until the prawns are just cooked through but still tender. Stir in the lemon zest.

STEP 6 
Stir in the butter, parmesan and parsley. Season to taste with salt and more lemon juice. Divide the risotto among four wide serving bowls. Garnish with fennel fronds and serve.
Check ingredient labels to make sure they meet your specific dietary requirements and always consult a health professional before changing your diet. View dietary information here.