Curtis Stone's braised beef tacos
After a tasty, make-ahead dinner? These braised beef tacos are packed with irresistible flavour - the perfect family feed.
I'll tell you what's for dinner tonight, it is slow cooked Mexican beef. I'm gonna searve it in tacos, you can do it anyway you want, but here's the important par. You start off with some beautiful chuck beef and then you make a Mexican dry rub for it.
So just go ahead and throw your oregano, your cumin, your chili powder and your cayenne pepper. Little bit of black pepper. And of course that Garlic powder. Ok, you stir it together, then you just sprinkle it over you beef. It's a really good affordable way to make delicious Mexican food.
Go ahead and toss it around, you can turn them over. This is one of those wonderful dishes that once you've made it once, I promise you, it will become a part of your repertoire cause you just fall in love with it. Oh immediately the spices, the flavours, the aroma, you just know that Mexican food is full of all those things and every time you cook it, I'll tell you what the neighbours come knocking cause they're like, what's for dinner, I can smell it from here.
Then we clean up, we're gonna cut some onions and garlic and while we're browning this of we throw that in together, you put a little bit of water and it's going to go in the oven really slow, so about a 150 fan Forced 130 without a fan. Drop a lid on and it's going to be in there for about 4 hours. Set it and forget it.
Alright, now, the perfect accompaniment to this as a taco, is this guy butternut pumpkin, so all I'm going to do here, you leave these nice big pieces, cause of course, when they cook they are going to shrink. Alright, so it goes in, give it a quick drizzle of olive oil. A little bit of Salt and pepper. So once you've seasoned and oiled your pumpkin, it goes into the oven 200 to 250 degrees for about 20 minutes.
So once your beef has had a few hours to braise, this one 's been in for about 3.5 hours, take a look at. Oh yeah baby, what we're gonna do next is pull those big chunks of beef out and I'll stick them in this bowl. Then we're gonna separate the fat and the sauce and we're gonna mix that back through.
Ok, so we discard the fat, come back to your beef and then pull it, just use a couple of folks and it is just lovely. Then of course you want to get that juice, sans fat and go ahead and pour that straight back over the top. I'll throw in some tortillas into the pan. The truth is either one of these 2 things would make a great taco, but together…. It's going to be unbelievable. Don't mind if I do.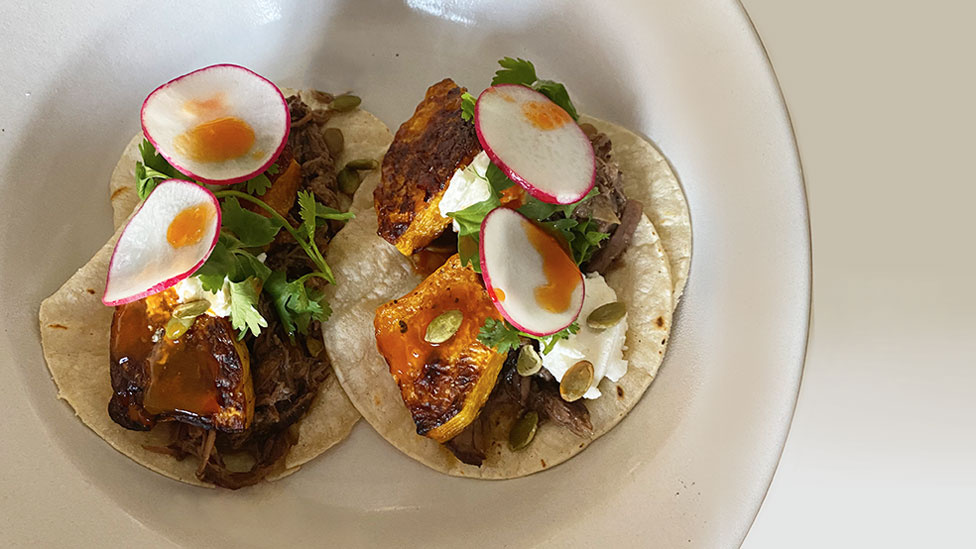 Ingredients
3 tsp dried oregano
3 tsp chilli powder
3 tsp ground cumin
1/4 tsp cayenne pepper
3 tsp freshly ground black pepper
1 tsp garlic powder
1.5kg boneless beef chuck, cut into 4 pieces
1/4 cup (60ml) olive oil, divided
1 medium brown onion, coarsely chopped
5 garlic cloves, finely chopped
1/2 butternut pumpkin, peeled, seeded, cut into 5cm wedges
16 corn tortillas, warmed
Optional toppings
Thinly sliced radish, to serve
Toasted pepitas (pumpkin seeds), to serve
Fetta, crumbled, to serve
Coriander leaves, to serve
Hot chilli sauce, to serve
Lime wedges, to serve
Method
STEP 1
Position rack in centre of oven and preheat oven to 150°C (130°C fan-forced). In a small bowl, combine the oregano, chilli powder, cumin, cayenne pepper, black pepper and garlic powder. Sprinkle the spice mix over the beef and turn to coat. 
STEP 2
Heat 2 tbs oil in a large flameproof roasting pan over medium-high heat. Cook the beef, turning, for 2-3 mins or until brown all over. Transfer the beef to a plate. Add the onion and garlic to the pan. Cook for 2-3 mins or until the onion softens. Return beef to the pan with 1 cup (250ml) water. Cover and roast the beef, turning halfway through cooking, for 4 hours or until the meat is fork tender and the liquid has reduced by about half. Set aside to cool.
STEP 3
Transfer the beef to a bowl. Pour the pan juices into a jug or measuring cup. Use a spoon to remove and discard any fat that rises to the top. Use 2 forks to coarsely shred the beef. Return the pan juices to the beef and toss to combine. Cover to keep warm.
STEP 4
Position rack in lower third of oven and increase oven temperature to 200°C (180°C fan-forced). In a large bowl, toss the pumpkin with the remaining oil. Season with salt and pepper. Arrange the pumpkin in a single layer on a large baking tray and roast, turning pumpkin halfway through cooking, for 20 mins or until the pumpkin is tender and beginning to caramelise.
Divide tortillas among serving plates. Top with the beef and pumpkin. Serve with extras such as radish, pepitas, fetta, coriander, chilli sauce and lime wedges.
Make-ahead
The beef can be cooked and shredded 1 day in advance. To reheat, place the beef in a large casserole dish, tightly covered with foil. Heat in the oven at 180°C (160°C fan-forced) for 15 mins or until heated through. 
Check ingredient labels to make sure they meet your specific dietary requirements and always consult a health professional before changing your diet. View dietary information here.