Curtis Stone's Christmas pavlova trifle
After a twist on the traditional trifle? Try Curtis Stone's sensational combination of custard, fruit, cream and meringue - inspired by the classic pav.
When you want a show-stopping dessert for your Christmas table, you can't go wrong with a trifle. It looks great, you can make it ahead of time and it's easy to serve. It has those flavours that everybody loves. Try my Christmas pavlova trifle. You don't even have to make your own meringue. It's really, really simple. All you do is whip up an easy custard, mix up some beautiful summer fruit and you're good to go. People often worry about making a custard from scratch because you've got to be a bit careful and you might end up with a sweet scrambled egg, but don't worry about any of that. I'm going to show you exactly how to make a silky, delicious custard that is easier than you think, I promise. Alright, this is what you do. Take a pan and put it over a medium heat. Then you get some cream and some milk and you stick it into the saucepan. A heavy-based saucepan is a good idea because then it won't burn. And then you just bring it up to a simmer. I've got five egg yolks. Throw in your sugar. Put just a little pinch of salt. You're going to whisk those together for about three minutes or so until they go nice and light in colour. So once that sugar's sort of dissolved, you can just start whisking. If you want to use an electric beater, you can, but the truth is you can do it by hand just as easy, then you get a little bit of a work-out while you're working in the kitchen too. Next, whisk in your cornflour. This will help thicken the custard to be that beautiful consistency to help layering the trifle. So you'll see those little bubbles start to form and the milk will just start to move ever so slightly. Make sure you turn your heat off and then you're going to slowly pour that milk and cream mixture into your egg yolks, OK? So nice and slow 'cause you don't want to overcook the eggs. Get rid of that saucepan and grab yourself a fresh one, just like that, because you don't want to re-whisk any of those bits back in 'cause the next step, of course, is to pour this mixture back into the saucepan. I've got a little strainer and I'm going to pop that strainer over here and go ahead and strain that egg mixture. Now, you need to put your custard back into a nice, clean saucepan over a medium heat to cook. So not too high this time. Now, we don't want any lumps, so whisk it consistently and then it will stay nice and smooth as it thickens. OK, so you see how that's getting a little thicker? In a second, we're going to see a couple of bubbles start to burst. So just stop whisking for a moment. Watch it. If those bubbles start to burst - like that one just did, there it is - then you know it's ready. So once that starts to happen, you can go ahead and turn it off, give it another whisk. Without the heat on, you can now add a little butter. This is going to go super glossy and delicious. And a little vanilla. Mix that in. And then you just take one of these beautiful dishes. I put a strainer over the top. Give it a last little whisk and then pour it through that strainer. Get a little cling film and then you press that all the way down onto the top of the custard. You let it chill for two hours. Now, you can do this up to two days ahead and save yourself some time the day of. The other star of this trifle is, of course, the fruit. Now, I'm using a mix of stone fruit, which I've cut into wedges, and I'm going to toss it in a bowl with some lemon juice and a little sugar. So in they go. Then you add your sugar and your lemon juice. I toss them gently 'cause you don't want to bruise the fruit, so you just sort of lift them up and macerate it really gently like that. I add my peaches and my nectarines and then last of all I add the strawberries 'cause they're a little more delicate. So you give those in at the end and then just one quick stir to macerate those and then you leave them to macerate for about 30 minutes. Now, when you're choosing stone fruit to put into your trifle, make sure that it's not overripe. You want firmer fruit so it's not going to bruise easily when you're tossing them in the bowl and when you're building your trifle. Add any seasonal fruit you like. It's delicious with cherries and strawberries. All sorts of beautiful summer fruit is great in a trifle, even mangoes. Once the fruit's macerated, you'll see those delicious juices in the bottom of the bowl. You see that? Now you gently fold in your raspberries. You don't do this before because the raspberries will get too beaten up. So I just pop those over the top and just once, I lift that fruit up from the back and just gently toss it together. That's it. No more. Time to put the trifle together. Now, you can do this four hours before so you're ready to serve. All you do is you take your trifle dish, you spoon about a third of your fruit mixture into the bottom of that trifle bowl. You top the fruit with about a third of your custard mixture. And then you top that.....with about a third of your whipped cream. Add a quarter of your meringues on top.....then repeat to make two more layers. Once you've finished all the layers, cover the trifle and chill for at least 30 minutes or up to 4 hours. So all that's left to do is decorate with just a few more of those meringues and a couple of berries. Make sure you do that at the last minute so they keep their beautiful crunch. What do you think of that? My Christmas pavlova trifle. Give it a go for a change to that classic pav. Click here for another dessert to make with beautiful Aussie stone fruit. It's my peach and mascarpone smashed pavlova. Really easy and really delicious.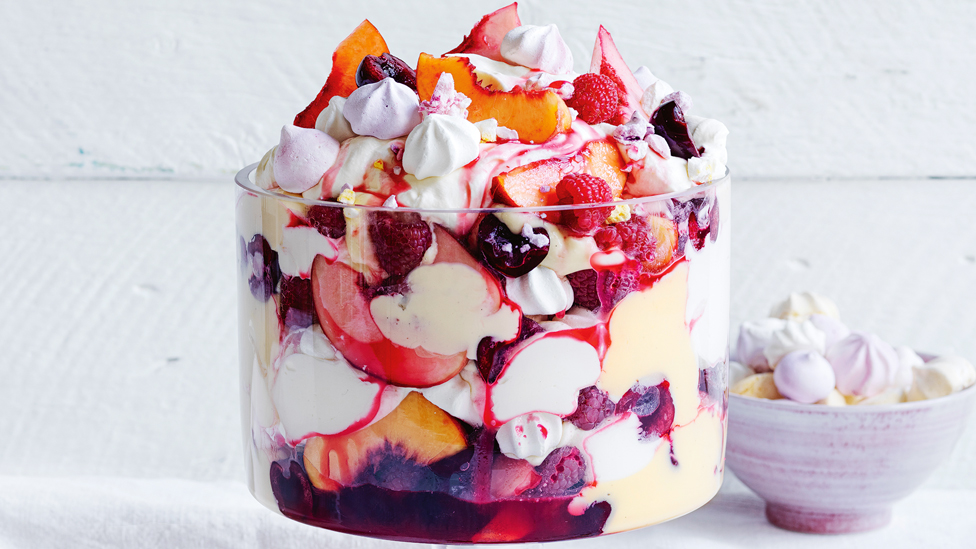 Note: + Standing & 2 1/2 hours chilling time
Ingredients
2 cups (500ml) thickened cream, whipped to form soft peaks
100g Coles Vanilla Meringue Kisses
100g Coles Flavoured Meringue Kisses
Custard
1 1/2 cups (375ml) full-cream milk
1 1/2 cups (375ml) thickened cream
5 extra-large Coles Australian Free Range Egg yolks
1/2 cup (110g) caster sugar
2 tbs cornflour
30g unsalted butter, cubed, softened
1 tsp vanilla bean paste or pure vanilla extract
Macerated fruit
250g cherries, halved, pitted
1 white peach, pitted, cut into 2cm wedges
1 yellow peach, pitted, cut into 2cm wedges
1 white nectarine, pitted, cut into 2cm wedges
1 yellow nectarine, pitted, cut into 2cm wedges
1/4 cup (60ml) lemon juice
1/4 cup (55g) caster sugar
250g raspberries
Method
STEP 1
To make the custard, place milk and cream in a medium heavy-based saucepan. Stirring occasionally, bring to a simmer over medium heat.

STEP 2
Meanwhile, in a large heatproof bowl, vigorously whisk the egg yolks, sugar and ½ tsp sea salt flakes for 3 mins or until very pale and light. Whisk the cornflour into the egg mixture, then gradually whisk in the hot milk mixture.

STEP 3
Return mixture to a clean saucepan. Cook, whisking constantly, over medium heat for 3 mins or until a few bubbles burst on the surface and custard is thick and glossy. Remove from heat and whisk in the butter and vanilla. Strain the custard through a fine mesh sieve into a shallow container. Quickly cover with plastic wrap, pressing directly onto the surface of the custard. Chill for 2 hours or until cold and thickened.

STEP 4
To make the macerated fruit, in a bowl, toss the cherries, peaches, nectarines, lemon juice and sugar to coat. Stand at room temperature, tossing occasionally, for 30 mins or until juices form. Gently fold in the raspberries.

STEP 5
Spoon one-third of the cherry mixture into a 12-cup (3L) glass serving dish. Top with one-third of the custard, one-third of the whipped cream and one-quarter of the meringues. Repeat with remaining cherry mixture, custard, whipped cream and two-thirds of the remaining meringues. Chill for 30 mins.

STEP 6
Decorate the trifle with remaining meringues to serve.
Check ingredient labels to make sure they meet your specific dietary requirements and always consult a health professional before changing your diet. View dietary information here.