Curtis Stone's 'fried' chicken with iceberg wedge salad
Whip up an mouth-watering meal with these crispy chicken drumsticks. Served with a fresh iceberg salad, it's a winning combination.
Once in a while you just feel like delicious comfort food don't you, and for me fried chicken is at the top of my list. 
Now I know we can't eat it all the time, but this is actually a healthier version of it. I'm going to oven bake it to taste just as good. 
Really affordable and really delicious. 
Here's how you make it, you start off with some buttermilk. Next what we do is we take these chicken drumsticks and we put them all in. Not a lot of people know it but buttermilk marinated fried chicken is wonderful. 
Alright, next what you do is make the crumb. So I've go some panko bread crumbs and then you basically season it with a variety of spices. I've got some paprika, a little bit of onion powder and a little bit a garlic powder. Mix it together with a little flour, stir it up. Now I don't have any salt, some people tell you to put salt into your crumb. I don't like it, because I  like that salt put on right at the end. 
Now the buttermilk should sit on the chicken legs for maybe a couple of hours, maybe overnight, it's totally up to you. The longer you leave it the more acidity you'll get in there. 
Just pop them straight into that panko and give your a pan a bit of a shake. Once you've got a good coating of the crumb, pick it up and drop it on you tray. Now the secret here is to leave a little bit of space in between the legs, so go ahead and use 2 trays, it will work much better. 
Now we do still use some oil. I didn't say it was fat free, but we're certainly not deep frying. They go into the oven at 200 degrees for about 20 minutes. 
Now it's time to make the dressing that's going to be served over the iceburg wedge and it's made with blue cheese so go ahead and cut yourself a nice big piece of blue cheese. Kind of like that (shows cheese). 
I've got some mayonnaise and I have some sour cream. Then you want to thin this out with a little bit of buttermilk, there you go, about a quarter of a cup. Mix those few things together and then I'm going to make it even more acidic with a little lemon juice. So think about the flavouring there, the blue cheese, the lemon, the buttermilk, the mayonnaise and of course the sour cream, wow! 
The iceberg wedge, so it's literally a whole wedge of iceberg like that (show iceberg lettuce) and then you just drizzle the salad dressing over the top. 
Oh, look at that, so crispy and wonderful (shows chicken), I mean it doesn't get any better than that. Now remember we didn't put any salt on earlier so now is the time. 
So simple, so delicious and I promise you the kids will think you're absolutely spoiling them. Succulent and juicy on the inside, ridiculously crunchy on the outside. Couldn't be better.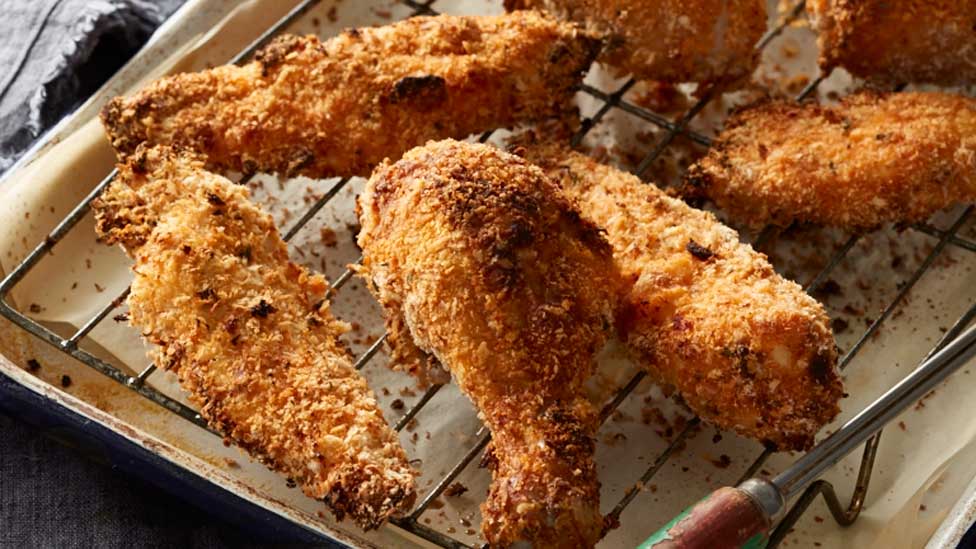 Note: + 5 mins cooling and 2 hours marinating time
Ingredients
1 cup (250ml) buttermilk
8 chicken drumsticks
1 cup (75g) panko breadcrumbs
3 tsp ground paprika
1 1/2 tsp garlic powder
1 1/2 tsp onion powder
1/3 cup (50g) plain flour
Canola oil, to drizzle
Iceberg wedge salad
50g blue cheese
1/4 cup (75g) mayonnaise
1/4 cup (60g) sour cream
1/4 cup (60ml) buttermilk
1 tbs lemon juice
1 iceberg lettuce, quartered
2 celery sticks, cut into batons
1 carrot, peeled, cut into batons
2 radishes, thinly sliced
Method
STEP 1 
Position oven rack in centre of oven. Preheat oven to 220°C (200°C fan-forced). Place 2 wire racks on 2 baking trays. Pour the buttermilk into a large bowl. Add the chicken and toss to coat. Cover and place in the fridge for 1-2 hours to develop the flavours.
STEP 2 
In a shallow bowl, combine the breadcrumbs, paprika, garlic powder, onion powder and flour. Drain chicken, 1 drumstick at a time, and transfer to the breadcrumb mixture. Toss to coat. Place on the prepared wire racks. Lightly drizzle chicken with oil. Bake for 20 mins or until the top is crisp. Turn the chicken and bake for a further 15-20 mins or until crisp and cooked through. Set aside for 5 mins to cool slightly. 
STEP 3 
Meanwhile, to make the iceberg wedge salad, whisk the blue cheese, mayonnaise, sour cream, buttermilk in a medium bowl. Add the lemon juice and stir to combine. Season. Arrange the lettuce on a serving platter and drizzle with the blue cheese mixture. 
STEP 4 
Season chicken with salt and serve with the salad, celery, carrot and radish.
Get-ahead tip: The breadcrumb mixture can be made up to 1 week ahead, stored in an airtight container at room temperature. The chicken can marinate in buttermilk for up to 1 day, covered and refrigerated.
Check ingredient labels to make sure they meet your specific dietary requirements and always consult a health professional before changing your diet. View dietary information here.