Curtis Stone's gazpacho cocktail prawns
Try Curtis' modern twist on prawn cocktails. His refreshing gazpacho version is the ultimate seafood appetiser.
I've got a perfect starter for you that's just ideal for Christmas lunch. It combines two of my favourite things - gazpacho, that delicious, chilled tomato soup, and prawns. I love Aussie prawns. It's a great way to celebrate Christmas and it's really easy to make. This is how you do it. You start off by toasting some ciabatta. So you just want to cut this and then stick it straight onto a grill. The reason I toast it is to get that beautiful sort of smoky toasted flavour. So a couple of slices. While that's toasting, I'm gonna throw everything into my blender. I've got some chopped truss tomatoes. Red capsicum. Some celery and some jalapeno. Shallots and garlic. A little lemon peel. Some lemon juice and some olive oil. So let's have a look at our bread. All I've done with the ciabatta is thrown it straight onto the grill. I didn't even put any oil. And you see that little toasty sort of caramelisation that you get there? It gives that beautiful smokiness, which I love. So once you've got a little caramelisation on your bread just like that, then I just break that into little pieces, just tear it up. So that's it. You stick your lid on and you blend. Once it's blended and it's nice and smooth, have a little taste. Ohh! It's such a nice combination of acidity, especially from the lemon juice, and also sweetness from the tomato. Be generous with the salt. Add a little bit of pepper as well. Once it's blended again, make sure you taste one more time 'cause you can always adjust that seasoning. Now, it's important that you do two things - you gotta strain it because you want it to be nice and smooth and you've got to chill it. That goes in the fridge now. Once the gazpacho's had an hour or so in the fridge, you're ready to serve. It's that simple. I place the serving bowls in the freezer to make them really cold for that perfect hot Christmas Day. Pour about a third of a cup of gazpacho into each bowl. Place three prawns in each dish. Top with some extra celery, a quick drizzle of olive oil and a really simple, delicious Christmas entree is served.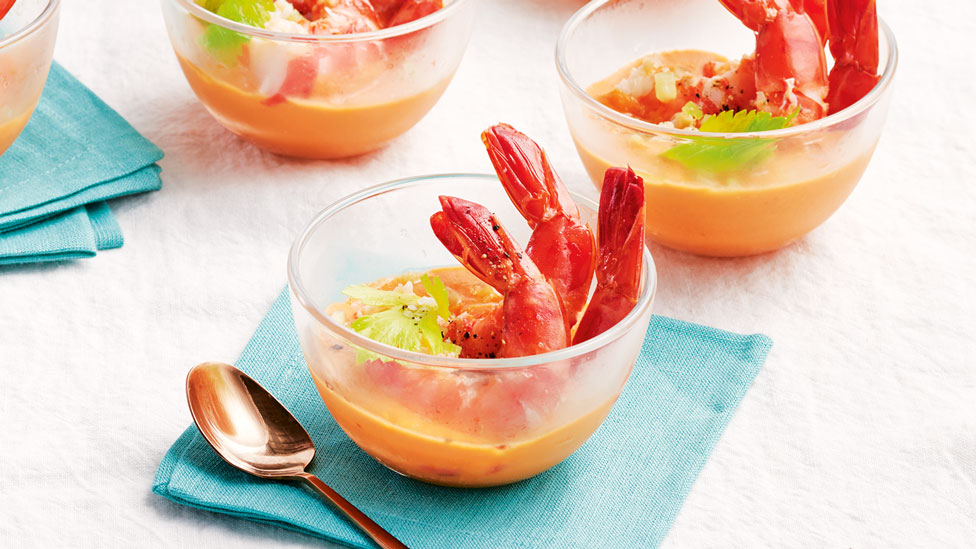 Note: + 1 hour chilling time
Ingredients
50g-piece ciabatta bread, split
500g ripe truss tomatoes, coarsely chopped
1/2 red capsicum, coarsely chopped
1 jalapeño chilli, seeded if desired, coarsely chopped
1 large shallot, coarsely chopped
2 garlic cloves
1/3 cup (80ml) extra virgin olive oil
1/3 cup (80ml) lemon juice
2 pieces lemon peel, about 7cm x 2cm, removed with vegetable peeler avoiding white pith
2 inner pale celery stalks with leaves, stalks finely chopped, leaves reserved for garnish
24 cooked black tiger prawns, peeled
Extra virgin olive oil, extra, to drizzle
Method
STEP 1
Heat a medium frying pan over medium-high heat. Add bread, cut-side down, and toast for 6 mins or until bread is charred. Tear charred bread into pieces.
STEP 2
In a blender, combine bread, tomatoes, capsicum, chilli, shallot, garlic, oil, lemon juice, lemon peel and half chopped celery. Blend until smooth and thick. Season gazpacho sauce with salt and more lemon juice if necessary. Strain sauce through fine sieve. Cover and refrigerate for 1 hour or until cold.
STEP 3
Meanwhile, place 8 small shallow serving bowls in the freezer to chill.
STEP 4
Spoon about 1/3 cup sauce into each bowl. Place 3 prawns in each. Drizzle with extra oil. Sprinkle with remaining chopped celery, celery leaves, sea salt (flakes preferred) and freshly ground black pepper. Serve with a spoon.
Check ingredient labels to make sure they meet your specific dietary requirements and always consult a health professional before changing your diet. View dietary information here.