Curtis Stone's grilled chicken with herb barley salad
This zesty grilled chicken dish is paired with a fresh-tasting herb and pearl barley salad for a wholesome dinner option.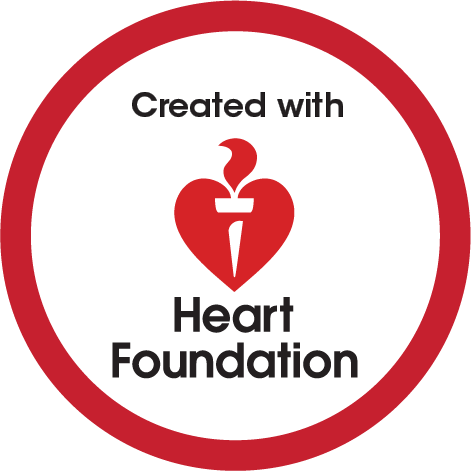 Hey everyone, Curtis here. It's that time of year again when we're all trying to live a little healthier. Well, Coles is making it easier with loads of great recipes, tips and ideas. That's why I'm here today, to show you how to cook my delicious and healthy grilled chicken salad. It's really easy to do and it is simply wonderful. I've got lots of beautiful, fresh ingredients. I'm starting over here with my gorgeous asparagus . So first thing to do is just cut the ends off like that and then cut them in half, grab your pot of boiling water, drop your asparagus in. Now the way I always blanch my veggies, is I start with the one that takes the longest now this asparagus literally is done in about 60 to 90 seconds, so in about 30 seconds we add our snap peas. So you really want them nice and tender, so as soon as they're done blanching we're going to transfer them to an ice bath. It's literally just water and ice in a bowl. Scoop them out, you drop them into that ice and you let them refresh and stop cooking. See how it's sitting up on top of the ice you actually want to just sort of fold that ice over make sure that you submerge those veggies in that ice cold water and that's going to stop them from cooking. It only takes about two or three minutes for that to happen. The other thing we're going to use as a garnish for this dish is some toasted pine nuts, so you can start that as well, probably a medium heat is good and toss your pine nuts into that pan and we're just going to toast them now. What does toasting do, it gives it like a bit of a nutty flavor. I guess it gets all those oils that are naturally occurring in the nuts really active. All right, to make the dressing, this is a wonderful vinaigrette for any kind of salad. Grab yourself a fine microplane and just zest that lemon straight into your bowl. We're going to use the juice and zest of two lemons. Next, you want the juice of those lemons so give them a roll, soften them up just a little bit. Cut them in half, remove any seeds, squeeze in the lemon juice. As soon as you start to smell them they're nearly ready to come off. That's the perfect indicator and I can smell them right now and you can see they're getting beautiful and golden brown, so let me go ahead and turn that off and then go ahead and just pour them straight out like that. Next you grab your shallot, cut the end off like that then split it in half and then you chop. Throw them into your lemon juice, you'll actually see through the acidity in the lemon juice they will start to slightly change color. The pink will actually get a little pinker in that shallot which is pretty cool. Now to finish off our dressing a little bit of freshly ground black pepper then we just give that a whisk with the extra virgin olive oil. The other thing that I might do as I'm looking at this, is maybe chop a little fresh dill through the actual dressing. I wasn't planning on it, but I've got some dill here and you know what it's going to add a really nice flavour to it so why not chop that up nice and fine and then we can place that straight into our dressing and give that another whisk. Oh yeah, now it's perfect you really do need to get that balance of olive oil and lemon juice right and that is spot on. Right, so I get my chicken I'm going to go ahead and get some seasoning on that little bit of pepper and a little drizzle of olive oil. Straight into that grill pan and once you've put that in you can then season the other side with the chicken grilling. It's time to get our veggies. They've been refreshed long enough now so bring them on over. You'll noticeIi've just got a little bit of paper towel, you could use a kitchen towel of any description but what you do is you just go on in here make sure you drop all the ice and you pick this up we're going to let it sort of dry off a little bit on my towel there. All right our chicken is cooking, we've got some beautiful tomatoes here. Now these gorgeous little cherry tomatoes that are still on the vine, I would just go ahead and pull them off. All I'm going to do with them is just cut them in half, slice my cucumber and radish and we're nearly ready to go guys. What I like to do with these cucumbers is just slice them in half, take the ends off and then just slice them straight across. I'm just going to check on my chicken breast because I don't want them to get too dark. Let's have a little peek. Oh yeah, that's exactly what we're looking for, that beautiful caramelisation. Wonderful. Next the radishes, now you want your radish nice and thin because there's a little bit of pepperiness to them, so just go through with your knife or you could use a mandolin as well, it's totally up to you. That's it you guys, we're kind of ready to serve. Of course, once your chicken's done you want to get yourself what I call a little resting rack. It's just a rack over a sheet tray, pick that up, drop it there and give it a couple of minutes to rest before you slice it. Now the chicken's rested, the salad's built, all we have to do is dress it. Throw those pine nuts on and slice the chicken. This is gonna be wonderful. Grab your chicken, see how juicy and perfect that chicken is cooked. Wow, so simple to make and so delicious. Those beautiful pine nuts will just pop the brightness of the dressing. I gotta tell you for a nice warm day you just can't go wrong cooking healthy is actually really easy and really delicious too enjoy.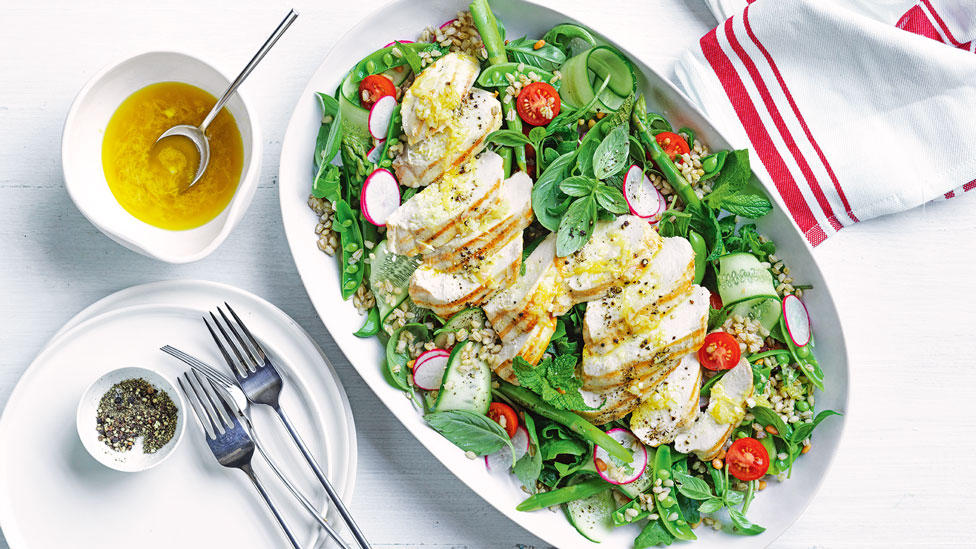 Ingredients
1 cup (200g) pearl barley
1/3 cup (80ml) extra virgin olive oil
3 lemons, rind finely grated, juiced
2 tbs finely chopped shallots
1 bunch asparagus, woody ends trimmed, halved
200g sugar snap peas, trimmed
400g Coles RSPCA Approved Australian Chicken Breast Fillets
3 cups (80g) baby rocket leaves
1 Lebanese cucumber, chopped or peeled into ribbons
250g cherry tomatoes, halved
1/2 cup basil leaves
1/2 cup mint leaves
3 radishes, finely shaved
1 1/2 tbs pine nuts, toasted
Method
STEP 1
Cook the barley in a large saucepan of boiling water for 30 mins or until tender. Drain and spread out on a large baking tray. Place in the fridge to cool.
STEP 2
Meanwhile, in a small bowl, whisk 3½ tbs oil, lemon rind, ⅓ cup (80ml) lemon juice and shallots. Season with pepper.
STEP 3
Place the asparagus in a large saucepan of boiling water over high heat. Cook for 1 min. Add the sugar snap peas and cook for 1 min or until the vegetables are bright green and tender-crisp. Drain. Place the asparagus mixture in a large bowl and cover with iced water. Drain. Pat dry with paper towel. Use your fingers to split the peas in half lengthways along the seams.
STEP 4
Heat a barbecue grill or chargrill on medium-high. Brush the chicken with remaining 2 tsp oil. Cook the chicken on the grill for 4-6 mins or until cooked through. Thickly slice the chicken.
STEP 5
Combine the barley and ¼ cup (60ml) lemon juice mixture in a large bowl. Season with pepper. 
STEP 6
Arrange the barley mixture, asparagus mixture, cucumber, rocket, basil, mint and radishes on a large platter. Top with chicken. Drizzle with the remaining lemon juice mixture and sprinkle with pine nuts.
Coles has partnered with the Heart Foundation to provide this content to you and help Australians live healthier and happier lives.
For personalised heart health information and support, contact the Heart Foundation Helpline 13 11 12.
Healthier living starts here
Whether you're looking for tasty and nutritious midweek dinner ideas or are catering for a range of dietary requirements, we have you covered with our healthy recipe collections
Supercharge it
The fiber and healthy fats in avocado are what make it a superfood for long lasting energy stores. It also contains many of the B vitamins that help with your red blood cell count which in turn helps regulate your iron levels!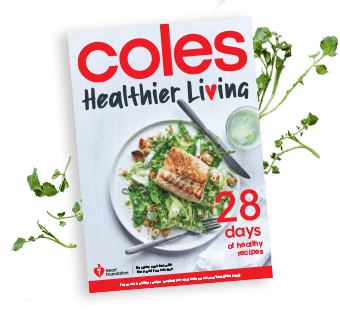 Check ingredient labels to make sure they meet your specific dietary requirements and always consult a health professional before changing your diet. View dietary information here.