Curtis Stone's grilled steak salad
This delicious grilled steak salad is an easy dinner option that's ready in just 25 minutes. Serve it with sourdough for a satisfying meal.
Transcript Hey everyone, Curtis here. It's that time of year again, when we're all trying to live a little healthier. Well, Coles is making it easy with loads of great recipes, tips and ideas. And that's why I'm here to show you how to cook my delicious and healthy grilled steak salad. This is what you need to make it. Some beautiful, fresh wild rocket, I've got a red onion, some mushroom, green beans and, of course, that gorgeous capsicum and then Scotch fillet.
We start off with our veggies. Now, preheat yourself one of these grill pans or, better yet, go outside and use the barbie because you get that delicious charred flavour. With all of your veggies, I'm just going to drizzle it with a little bit of olive oil, just like that. And then you pick them up and drop them straight into your grill pan. These beautiful green beans. Okay, leave a little bit of space from a mushroom.
All right, so while they're just slowly grilling, and you don't want it on too intense a heat, you want to get a little caramelisation, but you don't want to burn it. So sort of moderate heat. Now we can put our attention on to our steaks. I love cooking beautiful Scotch filet. So two things to note, bring it out of the fridge about half an hour before you're going to cook it. It's called tempering the steak and what that does is let it come up to room temperature and it's going to cook more even, I don't put paper because the paper can burn, I add the paper later on. You take that drop it straight into your grill pan or onto the barbie.
And then, leave it alone. You know what, we've got this tendency to start touching it and moving it. No, no. What you want to do, hear that sear, hear that sizzle? You're getting that beautiful caramelisation. So just let it do its thing, you're not going to touch it for at least a minute. Check out your veggies, you can just kind of move those around a little bit. So you can start turning those over and getting that beautiful caramelisation on both sides. Have you ever put a steak on the grill and it kind of curls up. That's because there's no break in the sinew that goes around different cuts of meat. There's a couple of ways to combat it.
You can either push down on the steak and make sure you get a nice sear, or you can use a grill press and just drop that on. And that's actually going to insist that that steak stays in contact with the grill. And that's a really good thing. So have a little peek, make sure we're getting that caramelisation. Oh yeah. That's what you're looking for. Now, here's where that grill press or turner is really important. You do want to put a little bit more weight back on that steak. So one thing I do is go like that. And then that's just going to give it a nice sear on the other side. I'm happy with the way those steaks look. So I'm going to remove my grill press. They've only literally been in this pan for about four minutes, I'm going to take them out and drop them onto a rack.
Now you can put it on any kind of rack. But the thing I don't want is the steaks to sit in the juice. Sit them on a rack so that juice can sort of fall off. While we're waiting for our steaks to rest, it's a good opportunity to grill our bread. So I've got a couple of slices of sourdough. And I just brush it really lightly with some extra virgin olive oil and stick them into the same pan that you cooked your steaks in and then that way any of that residual flavour from the steak, you'll pick up on your bread.
All right, so my veggies are ready. I'm just gonna stick them up here on my cutting board, you can go ahead and cut them up. Awesome. All right, so that's it guys. We've rested our steaks, we've cooked those beautiful veggies, it's time to dress our leaves. Now I've got this gorgeous rocket, I treat it really simply. A little bit of lemon juice and some extra virgin olive oil. Just give that salad a toss.
Next thing you do is you grab yourself a nice big platter like this, and dress your salad leaves in the centre of that platter. And then you can pick up your veggies and just scatter them all over the salad. Time for the most important part of the meal, of course, the steak. So I get these two beautiful big Scotch fillets steaks, bring them over to the cutting board. I always cut straight through, don't cut it on a bias or an angle. You just cut straight through that steak.
Let's have a look at the cook. Perfect pink, juicy and wonderful. And then I literally take those slices of steak and just let them drop all over the salad. And now's where you bring in that gorgeous fresh pepper. So the last little touch is my grilled bread. Now cooking healthy is actually really easy. And let me tell you something, when you've got a recipe like this, it's also really delicious. Bon appetit.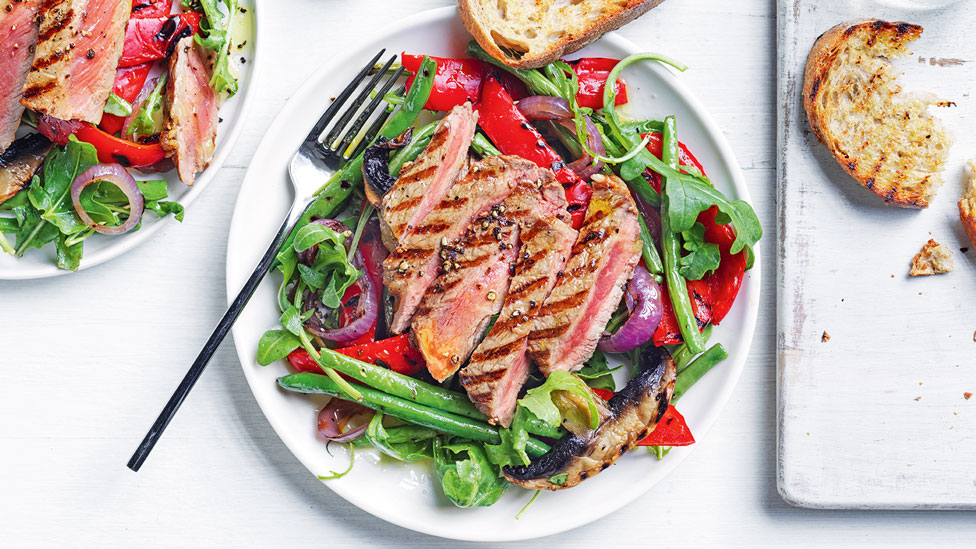 Note: + 5 mins resting time
Ingredients
2 (about 220g each) Coles Australian No Added Hormones Beef Scotch Fillet Steaks
1 tbs extra virgin olive oil
200g green beans, trimmed
1 medium red capsicum, seeded, quartered
1 large (about 150g) portobello mushroom, cut into 4 thick slices
1 small red onion, thinly sliced
120g baby rocket leaves
2 tbs lemon juice
4 slices Coles Finest Stone Baked by Laurent
Wholemeal Sourdough Vienna, toasted
Method
STEP 1
Heat a barbecue grill or chargrill on high. Pat steaks dry with paper towel. Lightly brush steaks with 1 tsp oil and season with salt. Cook, turning occasionally, for 3-4 mins each side for medium-rare o¬r until cooked to your liking. Set aside for 5 mins to rest.
STEP 2
Meanwhile, place green beans, capsicum, mushroom, onion and 1 tsp oil in a large bowl and toss to coat. Cook the vegetables on the grill, turning occasionally, for 5 mins or until charred all over and tender-crisp. Transfer to a chopping board. Cut the capsicum into strips.
STEP 3
In a large bowl, toss the rocket, lemon juice and remaining oil. Season with salt. 
STEP 4
Thickly slice the steaks. Serve with the salad, grilled vegetables and sourdough.
Check ingredient labels to make sure they meet your specific dietary requirements and always consult a health professional before changing your diet. View dietary information here.