Curtis Stone's herb and garlic sausages with chickpeas and spinach
Looking for something different with sausages? For a budget-friendly meal try these delicious herb and garlic sausages with chickpeas and spinach.
Hey guys, Curtis Stone here, listen I know we're all stuck at home and we're looking for great inspiration that's quick, simple, delicious and also affordable. I got a recipe tonight that you are absolutely going to love. It's my beef garlic and herb sausages. The flavour is unbelievable. Let's get started. 
You get a hot pan, and you get these beautiful sausages, drop 'em in, you'll hear them sizzle straight away, that's what you want. And then just give them a really light drizzle of oil. While that happens, now it's just two or three minutes, so you're gonna have to think fast. We're gonna do all the veg prep, and what I'm going to do is peel my carrot, and dice it. Because we are cooking with chickpeas, I sort of think all the other vegetable should be about the same size. I don't know why I feel like that, but I do.
Next we take a shallot, an onion will do just the same, whatever you've got in the house. I don't know about you, when I'm cooking, the smells that are created, they get me going, they get me really excited.
The garlic, all I do is give it a little tap with my knife like that to get rid of the skin, and then I hit it again to squash it right down and then I just go through and roughly chop it. Let's turn those sausages. Once you've got a little colour on the sausages, that's it. So I'm going to pull them out, you'll notice there'll be quite a bit of oil and that's ok. I'm just actually gonna pour that fat straight back over the sausages, and then whatever residual oil is left in the pan, is what we're going to use to cook our vegetables. Shallots which is the first thing we are gonna put in. 
Right, time to add the garlic. Throw in your carrots, season it with that smoked paprika. Right we give those carrots a couple of minutes and then we add the chickpeas. Give that a little stir and toss in your chicken stock.
Then I go ahead and grab that beautiful baby spinach, use as much as you like, remember, whatever you add in, it's going shrink down pretty quick. Beautiful great way to get veggies in to you kids diet too.
MONKEY NOISES

Speaking of kids, hear that? I think one of them is pretending to be a monkey. I tell ya, once they smell it, they start going crazy, it's a real thing. 

Ok, so once that spinach starts to wilt on down you wanna do put those beautiful sausages back. I'm gonna finish with a little bit of finishing salt. Another four or five minutes, dinners ready. This is the moment, it's the best time of the day. Dinners done, invite your family through to the dinner table.
I tell ya what, sitting around that dinner table, have the conversations with each other, there's nothing better.
It is a one pot wonder, so all you do is pick that up and take it straight through to the dinner table. Enjoy!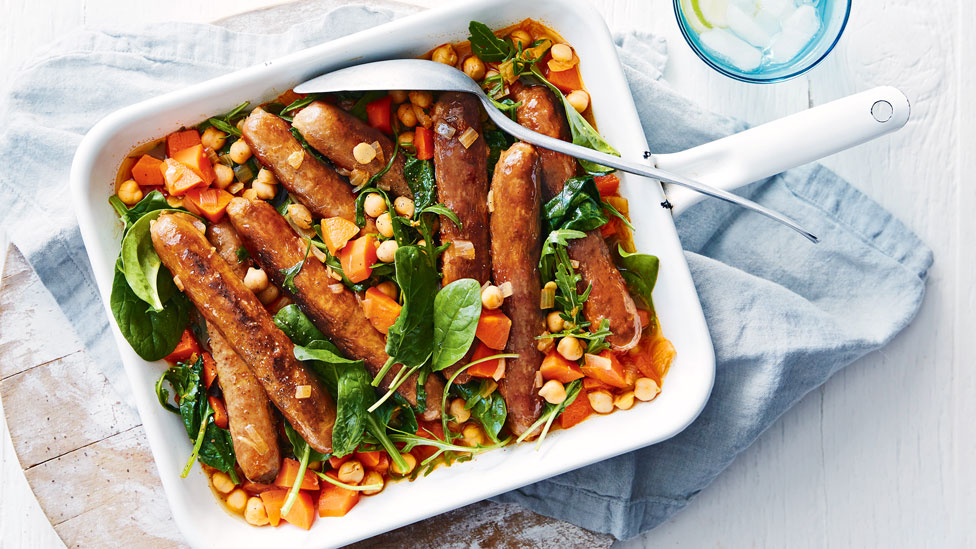 Ingredients
8 Coles Beef Sausages with Herbs and Spices
2 tbs olive oil
1 large shallot or small onion (180g), finely chopped
200g carrots, peeled, diced
1 garlic clove, finely chopped
1 tsp smoked paprika
400g can chickpeas, rinsed, drained
1 cup (250ml) chicken stock
60g baby spinach and rocket leaves
Method
STEP 1 
Heat a large heavy-based frying pan over medium-high heat. Add the sausages and 1 tbs of the oil. Cook, turning, for 8 mins or until sausages are brown on all sides and almost cooked through. Transfer to a plate.
STEP 2
Return pan to medium heat and add ½ tbs of the remaining oil. Add the shallot or onion and cook for 2 mins or until the shallot or onion softens. Stir in the carrots, garlic and paprika and cook, stirring frequently, for 2 mins. Stir in the chickpeas and stock and bring the mixture to a simmer. Add the spinach and rocket and stir until it begins to wilt. 
STEP 3 
Return sausages to pan, nestling them into the chickpea mixture. Simmer, uncovered, for 3 mins or until the sausages are cooked through. Season with salt and pepper to serve. 
Check ingredient labels to make sure they meet your specific dietary requirements and always consult a health professional before changing your diet. View dietary information here.