Curtis Stone's herb-roasted chicken with green salad
With just 10 minutes prep time needed, this herbed chicken roast is as easy as they come. Give it a go this weekend.
I love roast chicken. I've spoken about it a million times. My mum used to cook delicious roast chicken for me as a kid. I certainly do it for my family. And if you do it for yours, there's something so special about the smell of a chicken roasting in the oven. Start with an RSPCA Approved chicken. Then you get yourself a little bit of olive oil. I've got some thyme, some rosemary, a little lemon zest and some salt. First of all, we'll chop up the herbs, so just pop your rosemary and your thyme, and I just chop through, doesn't have to be super fine. And, of course, I'm using my brand-new knife from the Cook with Curtis line, exclusively available at Coles. Japanese steel gets a really incredible blade, we use a process called ice hardening, which keeps that blade nice and sharp. And you will just love it if you pick one of these up. Okay, those herbs go into the olive oil, then we throw in that lemon zest and a generous amount of salt. Next we take some whole sprigs of rosemary and thyme. And what we do with that is we put it right in the centre of the chicken. Next what we do is we separate the skin from the meat of the breast. So just go down to the neck end of the chicken, opposite end of the legs, find that little hole and then just insert your thumb and separate the skin and the meat from the chicken. This way you create a little pocket that's going to actually allow that skin to get very, very crispy. You take that beautiful flavoured olive oil, and you just spoon it straight on in, like that. You then just push it down all the way to the bottom of the crown, you can literally see the flavour underneath the skin of the chicken. Of course the reason we do this is to add flavour to our roast chicken, but it also helps to give you that perfect crispy skin. Next, what I want you to do is tie those legs together. Grab yourself a piece of twine, you just get those legs, go around like that. And that'll just make it nice and uniform in shape, which of course will mean that the cooking is nice and even. Great. Grab your chicken, bring it straight on over to your 24 centimetre piece of gorgeous cookware. And what I like to do is brush it with just a little bit more olive oil on the outside of the skin. Now you'll notice I'm not using the one with the herbs because they will burn. Okay, because we're going to cook this in a nice hot oven. It's going to get nice and crisp and golden brown, and the flavour of this baby will be unbelievable. You can sprinkle just a little more salt. It goes into the oven at 220 degrees for about 45 minutes to an hour. The smell, even the sound and the look of this incredible roast chicken, it's gonna taste phenomenal. Okay, two things going on. We have that wonderful roast chicken, but in the pan we also have this incredible juice. So I'm going to go ahead and lift my chicken up, let a little bit of that juice run out. Then take those pan juices because a little bit of the fat that will have rendered out of the chicken, some of that olive oil, go ahead and transfer that into a little saucepan. So I've got my fat in the pan, and then I've got my little bit of flour here. I combined those two things, and I whisk it together. Whisk it around, you'll see it start to bubble up or come to the boil and then just continue to move that around as that colour starts to develop and it starts to thicken up, you know you're getting pretty close to adding the stock in. Now talking about adding your stock in, I'm actually going to switch pans here because what I want to do is you'll see all that colour that's on the bottom of this pan. That's all flavour. So crank your heat, get it nice and hot. What I'm going to do is I'm going to deglaze my pan with my stock and that's going to lift all the flavour off the bottom of that pan. That, my friends, is going to end up in our gravy, and that's going to be pretty special. So you can see how it's come to the boil. That deglaze is happening, that release of all that flavour is coming up which is exactly what you want. Let's go back to our other pan. It gets really nutty in its smell and will be in its flavour as well. So this, my friends, is the perfect colour and thickening consistency. Take your stock and just slowly add it while you whisk. Now, of course, you can season this with whatever flavour you want. You could have used a little white wine or a little Madeira. A little port would be really nice. I'm just going to take a few chives and just add them in right now at the end. Give it a mix and then you keep it warm and just before you serve it, season it with some salt and some pepper. Lovely, our chicken is resting and ready to go. Our sauce is perfect and ready to roll. So the last thing I want to do is make a quick dressing for the sound. So into a glass bowl, you take a little mustard, some acid, so I'm using a little lemon juice and a little sherry vinegar. Whisk those things together and then just slowly drizzle in your extra virgin olive oil while you whisk and that's a very simple mustard vinaigrette. Bring over your lettuces. You can use whatever is available, but I've got some wild rocket, I've got a little radicchio, just tear those leaves up, pour my dressing over the top. Give it a quick toss. Grab yourself a platter. I like to use one of these little copper sauce pots. I think it's pretty cool. Pour your sauce in. So I'll take some of my greens, pile them up. Then you can either carve the chicken or serve it whole and carve at the table. Choice is yours. I'll go ahead, straight through that leg. So juicy. And then I remove the breast just by cutting, slicing straight right down the crown of the chicken. And you've got the perfect roast chicken, olive oil and herbs. And, of course, that divine greatness. It couldn't be simpler, but I'll tell you what, it couldn't be tastier either.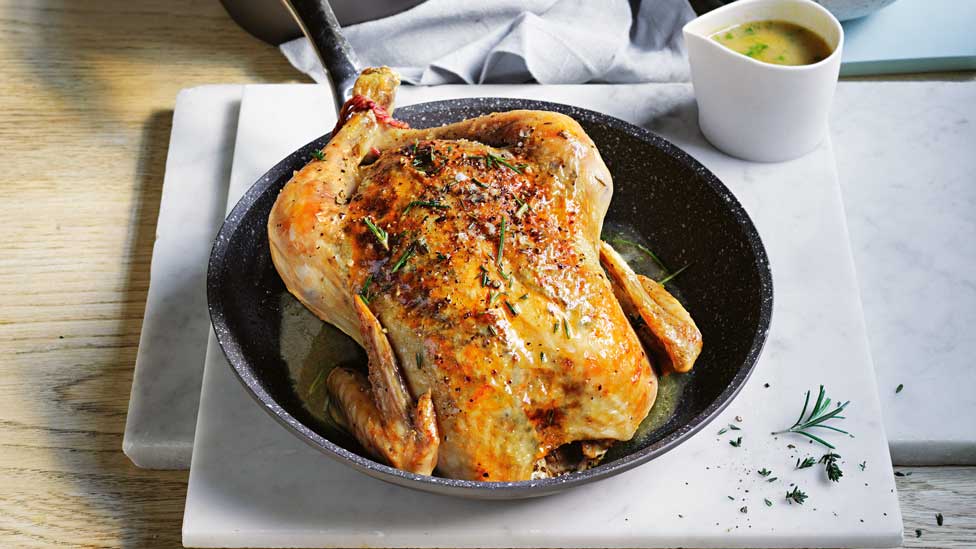 Note: + 10 mins resting time
Ingredients
1/4 cup (60ml) extra virgin olive oil, divided
3 tsp finely chopped thyme
1 tsp finely chopped rosemary
1 lemon, rind finely grated, juiced
1.65kg Coles RSPCA Approved Australian Whole Chicken
4 thyme sprigs
1 rosemary sprig
1 tbs plain flour
1 cup (250ml) salt-reduced chicken stock
2 tsp finely chopped chives
2 tsp red wine vinegar
1 tsp Dijon mustard
1/4 cup (60ml) extra virgin olive oil, extra
1 head green oak leaf lettuce
1 cup torn radicchio leaves
1 cup baby rocket leaves
Method
STEP 1
Position rack in centre of oven and preheat to 220°C (200°C fan-forced). In a small bowl, mix 2 tbs oil, chopped thyme, chopped rosemary, lemon rind, 1 tsp sea salt flakes and ½ tsp freshly ground black pepper.
STEP 2
Beginning at the neck end of the chicken, use your fingers to carefully separate the skin from the breast and tops of the legs. Spoon herb mixture under skin and spread with your hands to evenly coat chicken. Place thyme sprigs and rosemary sprig in the chicken cavity and tie legs together with kitchen string. Rub remaining oil all over the outside of the chicken and season.
STEP 3
Place chicken in a 24cm frypan. Roast for 1 hour or until thickest part of thighs register 74°C on an instant-read thermometer and chicken is cooked through. Transfer the chicken to a board. Set aside for 10 mins to rest.
STEP 4
Pour drippings from the pan into a saucepan over medium heat. Add the flour. Stir for 1 min or until flour is well blended and light golden. Add the stock to the frypan, stirring to scrape up brown bits. Strain stock into saucepan. Bring to a simmer. Cook for 2 mins or until gravy thickens. Remove from heat. Stir in chives.
STEP 5
In a large bowl, whisk 2 tsp lemon juice, vinegar and mustard. Whisking constantly, add the extra oil in a steady stream until blended. Season. Add the lettuce, radicchio and rocket and toss to combine.
STEP 6
Serve chicken with salad and gravy.
Serve with chopped rosemary
Check ingredient labels to make sure they meet your specific dietary requirements and always consult a health professional before changing your diet. View dietary information here.