Curtis Stone's Korean beef bowl
Here's a must-try dinner idea. This Asian-style beef bowl is super tasty and really packs a punch.
Guess what Australia, we've created 100 what's for dinner recipe's. So I'd just like to say a big thank you to the amazing chefs and incredible cooks that have shared there wonderful and inspiring recipe's. You have shared them with millions of Aussies who have been cooking delicious dinners at home.
This is a very very fast recipe that is just as tasty as it is quick. I've got ground beef or minced beef and then a bunch of vegetables that go into this. We're gonna cook the veggies first. Turn your heat up to sort of a medium heat. Pick up those spring onions, just the white parts of that spring onion and throw it in. Go ahead and give them a stir. Let's add the garlic and then the ginger. Immediately, you just smell it, it's so buetiful.
Next I take some broccoli, now I've got the broccolini, you can use either to be perfectly honest with you. Give it just a quick toss. Now at this stage you might need to add just a tiny bit more oil, I'm talking a teaspoon at most right, and that's going to allow that broccoli to stir fry. So next what I'm gonna do is remove this from the pan. Ok, so make a little sauce, for this I've got some soy sauce and then you flavour that soy with a variety of things, so I'm going to add a little bit of sesame oil.
Then you get a little brown sugar, stir that. You take a little bit of cornflour and then you whisk that up together. Alright so I've got a red hot  pan, my beef is right here., straight into the pan, then you want to break it up. Now you can hear that sear, right you really need that, cause want to develop that colour, cause that's going to develop the flavour. Alright so it's been for a couple of minutes with developing that colour on the mince beef, take a spoon, give it a stir now and oh yeah look at that.
Ok once you've got a beautiful brown all over that beef, it is time to throw you veggies back in. The last thing to do is to add your sauce, now you're gonna do this, take it off the heat pretty fast because don't forget we put that cornflour in which is going to thicken it up so no need to reduce it down. If you like it spicy, like I do, just go ahead and get your favourite hot sauce or chili sauce rock Sriracha's a good one and just drizzle that over the top.
That is it you guys remove from the heat I just cooked a little pot of rice, you all know how to cook rice. Very very easy and then your beef and then I finish it with some of those greens of the spring onions, sesame seeds to sprinkle over as ever as well. So that's my Korean Beef Bowl, check out the all new coles & co, for this delicious recipe and many many more, just go to coles.com.au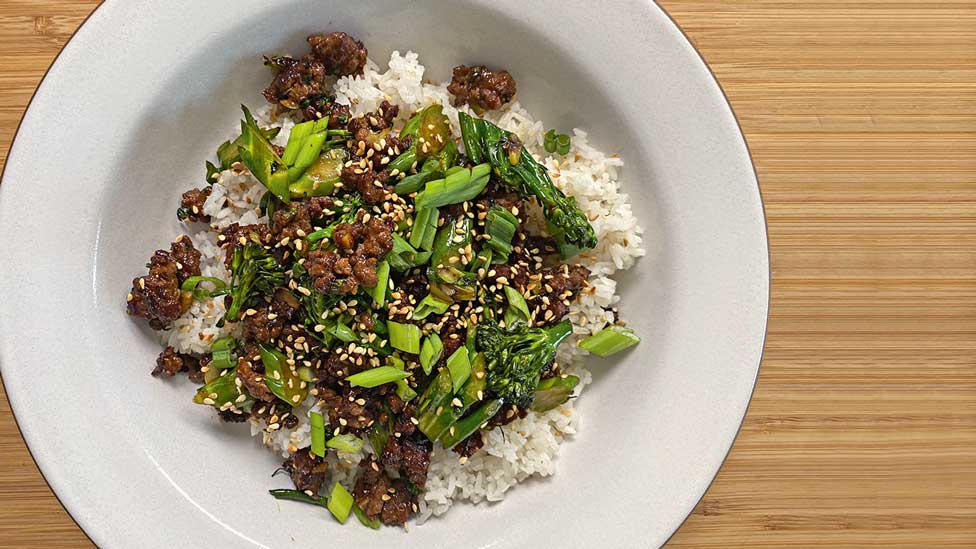 Ingredients
2 tbs vegetable oil, divided
3 spring onions, white and green parts separated, thinly sliced
2 garlic cloves, finely chopped
1 tbs finely grated ginger
1 bunch baby broccoli, thinly sliced
1/4 cup (60ml) salt-reduced soy sauce
1 tsp sesame oil
1 tbs brown sugar
1 tsp cornflour
500g lean beef mince
Chilli sauce, to taste (optional)
Steamed rice, to serve
Toasted sesame seeds, to serve
Method
STEP 1
Heat half the vegetable oil in a large heavy-based frying pan over medium heat. Add the white parts of the spring onion, garlic and ginger and stir-fry for 1 min or until aromatic. Add the baby broccoli and a little more oil, as needed, and stir-fry for 1 min or until baby broccoli is bright green and tender-crisp. Transfer baby broccoli mixture to a plate.
STEP 2
Meanwhile, use a whisk to combine the soy sauce, sesame oil, brown sugar and cornflour in a small jug or bowl.
STEP 3
Increase heat to high. Add mince to the pan and use a wooden spoon to break apart. Cook, without stirring, for 1 min or until mince caramelises on the bottom. Cook, stirring, for 2 mins or until cooked through. Return the baby broccoli mixture to the pan and stir to combine. Add the soy sauce mixture and cook, stirring, for 30 secs or until the sauce lightly coats beef. Season with chilli sauce, if using, and stir to combine.
STEP 4
Divide the rice and beef mixture among serving bowls. Sprinkle with green parts of the spring onion and sesame seeds to serve.
Check ingredient labels to make sure they meet your specific dietary requirements and always consult a health professional before changing your diet. View dietary information here.