Curtis Stone's prawn curry
Here's one to add to your weekly dinner rotation. Curtis Stone's prawn curry is easy to make and full of flavour.
Hey guys Curtis here. I'm going to show you one of my favourite recipes to make. Let me tell you something. One of the beautiful things about Australia is how multicultural we are and our food certainly reflects it. We have influence from India and Singapore and Vietnam and China and Europe. You name it and we get the best of all worlds. 

This is a very simple recipe now this is how it goes. I've got Cumin seeds, Coriander seeds and black pepper and what we're going to do we're going to toast those seeds. Then grind them up nice and fast. You gotta blend them up really nice and fine so if you've got a coffee grinder that's the thing to use. Then into a food processor. Ok I've got some ginger. I'm going to just chop that in half and throw that in. I've got 5 cloves of garlic. Now chillies are totally optional so I'm just going to drop one of those guys in. Then the coconut. This is dried coconut. Take an onion. Put in your vinegar and you are ready to turn that baby on. 
Okie dokie. So you go ahead. You remove that. You preheat a pan. I'm going to put just a tiny bit of oil and you dump the whole thing in to your pan. Tidy up as you go. Don't be a slob. So my curry paste has been in for maybe 5 or 6 minutes and it really doesn't take very long. I've got a tomato I'm going to chop that up. Pop it into your pan. Fresh turmeric is really wonderful and what you do is grate straight on in there. 
Once the tomatoes had a few minutes to sort of cook down in that paste. What makes this is a curry of course are these beautiful curry leaves. Then you can add your coconut milk. 
So once you've had that going for maybe 2 or 3 minutes and it's just started to simmer away you can see it bubbling away ever so gently So you pop that broccoli into your simmering pot. Go ahead pop your prawns on top. Give that a quick stir around. Lid goes on. 5 minutes and dinner is ready. Now how do you know when this is cooked. You'll see the prawns will actually get sort of a firm texture to them. The tails of the prawns will start to turn a little pink. See how that's started to go pink it was green just a minute ago. And that my friends is ready to serve. 
So simple. So delicious. A real privilege to live in a country that has so many beautiful cultures in it. A little bit of coriander leaf. 
Now if you want the recipe all you have to do is search Coles and co and you'll find it. 
It's affordable. It is delicious. It's really good for you. And to me... it's a celebration of Australia.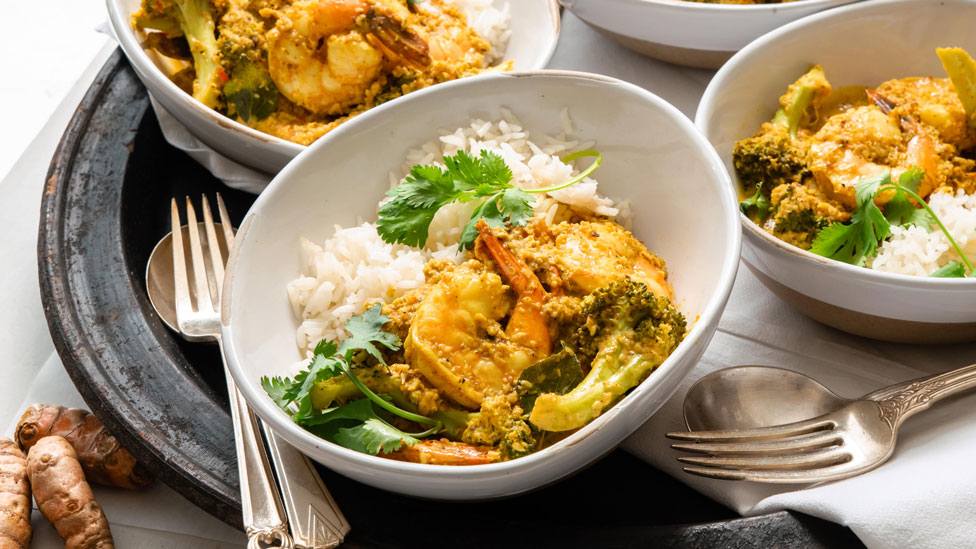 Ingredients
3 tsp cumin seeds
1/4 cup coriander seeds
2 tsp whole black peppercorns
5cm-piece ginger, peeled, halved
5 garlic cloves
1 large birdseye chilli, halved (optional)
1/2 cup (40g) desiccated coconut
1 white onion, coarsely chopped
1/3 cup (80ml) white wine vinegar
1 tbs grapeseed oil
1 medium ripe tomato, coarsely chopped
15g finely grated turmeric or 2 tsp ground turmeric
1/2 tsp cayenne pepper (optional)
1 stem curry leaves (about 10 leaves)
1 1/2 cups (375ml) coconut milk
500g broccoli, cut into florets
500g raw prawns, peeled leaving tails intact, deveined
Steamed rice, to serve
1/2 cup coriander leaves
Method
STEP 1
Heat a medium frying pan over medium heat. Add the cumin seeds, coriander seeds and peppercorns and cook, stirring constantly, for 3 mins or until toasted and fragrant. Set aside to cool completely.
STEP 2
Transfer the spice mixture to a spice grinder, clean coffee grinder or mortar and pestle. Grind the spice mixture to a fine powder. Transfer the spice mixture to a food processor. Add the ginger, garlic, chilli, if using, desiccated coconut, onion and vinegar and process until smooth.
STEP 3
Heat the oil in a large heavy-based saucepan over medium heat. Add the spice mixture and sauté for 5 mins or until fragrant and some of the juices evaporate. Add the tomato, turmeric and cayenne pepper, if using. Cook for 5 mins or until the tomato is tender and starts to break down. 
STEP 4
Add the curry leaves and coconut milk and stir to combine. Simmer for 2-3 mins. Stir in the broccoli and prawns. Return the curry to a simmer. Cover and cook for 5 mins or until the prawns are just cooked through. Remove and discard the curry leaves. 
STEP 5
Divide the rice and curry among serving plates. Top with coriander to serve.
Make it ahead: Make the curry sauce (without coconut milk, broccoli and prawns) up to 4 hours ahead. Cool, cover and refrigerate. Bring the sauce to a simmer before adding the coconut milk, broccoli and prawns.
Check ingredient labels to make sure they meet your specific dietary requirements and always consult a health professional before changing your diet. View dietary information here.