Curtis Stone's pulled pork with cabbage slaw
Create a mouth-watering meal for the family and try Curtis Stone's pulled pork with cabbage slaw. It's a hearty, feel-good meal with loads of flavour.
Hi guys, Curtis here! Thank you so much for joining us for these incredible What's for Dinner segments. I really love making them, it's a question that gets asked all over the world and a special thanks to all my friends, the chefs, and home cooks that have contributed to it as well.
Tonight I'm going to show you how to do something really affordable and really delicious. It uses a piece of the pork shoulder, skin removed. We're going to do a little dry rub on that, we're going to slow cook it and then were going to pull it, it's a very American thing a pulled pork sandwich.
Then I'm going to show you how to make a delicious coleslaw to serve with it.
Ok let's get started so, I've got a dry rub, now this is a sweet smoky barbecue rub. Truely it's just a little paprika, a little bit of chilli powder, and some salt. Give it a bit of a rub all over like this. I'm going to take it fat side down and place that into my pans and wait for that to start to render just a little.
Next, time for the coleslaw. Now this is just julienned or thinly sliced carrots and cabbage and very very simple, the next thing we're going to do is add a little onion, in fact I've got some spring onion.
I'm going to go ahead and just turn my pork around oh yeah, look at that beautiful caramelisation it's going to get a really nice rich flavour. Put a little bit of the dry rub you actually used on the pork into your coleslaw as well because that's going to give it a really nice flavour. Salt, pepper, a little bit of vinegar, this is an apple cider vinegar. A little bit of buttermilk and then of course the mayonnaise. That's it, it's really dead simple. We're going to toss that together, delicious, you still want it to have a really nice crunch.
Alright, let's have a look at our pork. Oh yeah, now this is just a store bought barbecue sauce, if you want to make your own of course you can, I put about a cup of that barbecue sauce all over the pork. Now it is important you have a pan with a tight fitting lid.
Ok, so it goes into the oven for six hours, you didn't really think I'd make you wait six hours did you? I cheated of course, I did one earlier and it's right here.
Here's the beautiful part. Very very simple to do, have a look at how that just falls apart. The beautiful thing about this is you can serve it for dinner tonight and then use the leftovers tomorrow for a pulled pork sandwich which makes it really affordable. I got to tell you, that makes the most delicious sandwich you've possibly ever eaten. If you want to see more of these ideas and get some inspiration go to coles.com.au. Mmmm, don't mind if I do!
Note: + 30 mins cooling time
Ingredients
2 tbs brown sugar
2 tsp ground paprika
2 tsp ground paprika
1 tsp cayenne pepper
1 tsp garlic powder
2kg easy carve pork shoulder roast, rind removed
1 tsp olive oil
1 cup (250ml) barbecue sauce
1/4 cup (75g) mayonnaise
2 tbs buttermilk
1 tbs apple cider vinegar or white vinegar
1/4 head cabbage (about 250g), shredded
1/2 medium carrot, peeled, thinly sliced
3 spring onions, thinly sliced
Method
STEP 1
Position rack in centre of oven and preheat to 160°C (140°C fan-forced). In a small bowl, combine the brown sugar, combined paprika, cayenne pepper, garlic powder, 1 tbs sea salt flakes and 1 tsp freshly ground black pepper. Reserve 2 tsp of the spice mixture. Coat the pork with the remaining spice mixture.
STEP 2 
Heat a large heavy-based ovenproof saucepan over medium-high heat. Add the oil and pork, fat-side down. Cook the pork, turning occasionally, for 8-10 mins or until caramelised all over. 
STEP 3 
Position the pork fat-side up in the pan. Pour barbecue sauce over the pork. Cover and roast in the preheated oven for 6 hours or until the pork is fork-tender. 
STEP 4
Uncover and allow the pork to cool for 30 mins. Use 2 forks to coarsely shred the meat, stirring to combine with the pan juices. 
STEP 5
In a large bowl, whisk the mayonnaise, buttermilk, vinegar and reserved spice mixture. Season. Add the cabbage, carrot and spring onion and toss to combine. 
STEP 6 
Serve the pork with the cabbage slaw. 
Pork for a cause
From May 12 until 22 June 2021, ten cents from the sale of each packet of Coles Brand Australian Pork products will go directly to the FightMND Foundation.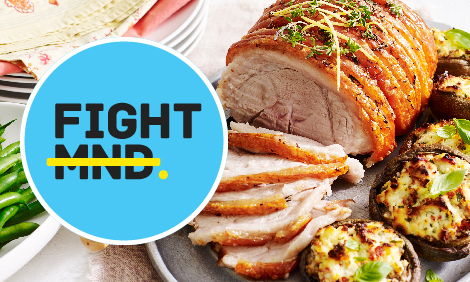 Check ingredient labels to make sure they meet your specific dietary requirements and always consult a health professional before changing your diet. View dietary information here.