Curtis Stone's pumpkin soup with chorizo and cannellini beans
This creamy pumpkin soup will be your new family favourite. Ramp up the flavour with chorizo, beans and spices - delicious!
I don't know about you, but I absolutely love a beautiful creamy pumpkin soup.
So what I've done is I've taken that as my inspiration and I've come up with this delicious soup made with chorizo and cannellini beans and, of course, one of my favourite ingredients, pumpkin. It's a beautiful cold weather soup and you're gonna absolutely love it.
I've got a little bit of chorizo which I've just finely chopped. What you do is you get it and throw it into that hot pan and I'm going to use this as a garnish, OK? So I'm doing this first because I want the garnish to be nice and crispy. Even more importantly, I want a little bit of the fat to come out of the chorizo so we can actually cook some of our vegetables in it so we get that delicious flavour.
OK, so into that nice hot pan. It's only going to be in there for a minute or two. All right, so just give that a little stir around. Ohh, it's one of those incredible things to do in a kitchen where you throw that little bit of chorizo in. It's like cooking garlic. It fills the room with a beautiful scent. And anyone that walks into your home while you're making a soup like this is going to say, "Ohh, what's for dinner? Can I come and sit down?"
So once this has gone beautiful and crispy, pick it up, just give it a second to drip some of that excess fat out of your slotted spoon because that's gonna be great to cook our onions and our other veggies in. You see how crispy and delicious that chorizo's gone? Mmm, it's gonna be the perfect garnish.
OK, grab your onions. Straight into that hot pan. And then using some of that chorizo fat we're going to saute our onions with the carrots and the pumpkin. In with the pumpkin. You'll see there's plenty of it. And your carrots. So once your pumpkin starts to soften ever so slightly - and you'll notice that by the fact that it's starting just to break up ever so slightly - what you do is you add a little bit of garlic.
So your chopped garlic goes in, as does your spice. So I've got a bay leaf, some smoked paprika and some cumin. Once you've given those spices a couple of minutes to toast, it's time to add that little bit of red wine vinegar, which just adds a little sharpness to the soup.
Throw in your cannellini beans. Give that a quick stir and then cover the whole lot with six or seven cups of water.
Beautiful. Leave the temperature nice and high. Let it come back up to a boil and once it does come back up to the boil it'll probably only be 15, 20 minutes or so and the soup will be ready to blend.
The beautiful thing about this is you can leave half of it in the fridge for later in the week or you can do a double batch, serve it tonight and serve it again later on. You can even freeze it. It freezes really well too.
Now, once all of your vegetables are cooked - and all you really need to do is pull out one of those carrots or one of those bigger pieces of pumpkin and make sure that you can either squash it with the back of a fork or cut through it with a spoon like that and you know that it's pretty much good - you'll see I'm just adding the cream right at the very end because you don't want the cream to boil.
Once you've got the cream in, you can just bring it back to a simmer, turn it off, let it cool and then it's time to blend it.
What you want to do at this point, though, is season it so I've got a little bit of salt and, of course, one of my favourite ingredients, freshly ground black pepper. You put plenty of that in. You could even use a little bit more for the garnish as well.
It's come back up to a simmer, so time to turn it off, let it cool down and then I'm going to get it into my food processor or my blender and go ahead and blend it.
Now, you don't want to blend a soup when it's hot because the pressure will build up in the blender and it could blow the lid off and burn you. You also don't want to blend a soup when it's cold because it will blend much easier when it's still warm, OK? So you'll see there's just a whisper of steam still coming up off that soup. You can easily keep your finger in it. It's not too hot. So that's the perfect sort of a temperature.
What I'm going to do next is I'm going to go ahead and ladle a good even amount of both the vegetables and the liquid. Remove your bay leaf so you don't want to try and blend that guy. Take that out. And don't overfill your blender. That's the other secret to this. So maybe fill it up about halfway. Make sure your lid is fastened. And, just as a little safety precaution, I always like to just throw a cloth over the top of the blender when I'm doing any sort of soup.
Pulse it once or twice. OK, and then... OK, so like I say, give it a good blend - about 50, 60 seconds - to make sure that it's really nicely pureed and you've got it nice and smooth and then just pour it back into a pot.
Bring that back up to temperature while you carry on blending your soup.
Right, so while our soup comes back up to a simmer I've got this beautiful bread I want to show you. It's stone-baked. It's a light rye. And you can just go ahead and sort of serve these beautiful, big, rustic pieces so people can dip that into their soup as they go - yum.
When it comes to serving the soup, it's always hard to get it from the pot into the actual bowl, but I've got a trick. Instead of just lifting it out so it drips, you get your ladle, you dip it back in and there you go - you get a couple of seconds. It will allow you to get your soup into the bowl without making a mess. Beautiful.
So once you have that gorgeous, creamy, pumpkin soup in the bowl then I've got just some little cannellini beans as a garnish. I'm gonna put in a couple of spoons of those. A few of those pumpkin seeds. And then, of course, that delicious crispy chorizo that we did at the start.
And you have this unbelievable, quick, simple, and very, very healthy soup to serve your family. Enjoy. Mmm!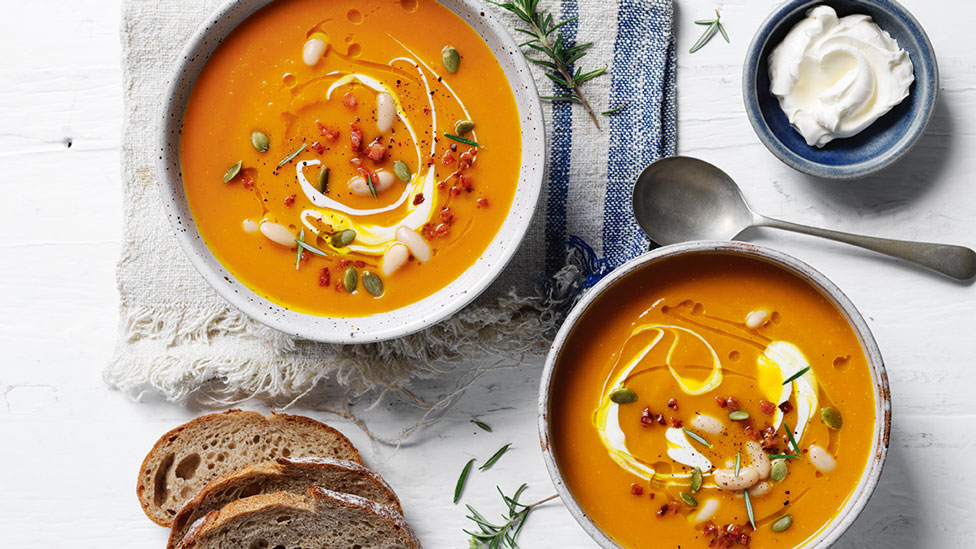 Ingredients
1 tbs olive oil
1 chorizo sausage, casing removed, finely chopped
2 small brown onions, coarsely chopped
900g Kent pumpkin, seeded, peeled, cut into 2.5cm pieces
1 carrot, peeled, coarsely chopped
3 garlic cloves, finely chopped
1 dried bay leaf
3/4 tsp smoked paprika
3/4 tsp ground cumin
1 tbs red wine vinegar
400g can cannellini beans, rinsed, drained
1/3 cup (80ml) thickened cream
2 tbs Coles Pepitas (pumpkin seeds), toasted
Extra virgin olive oil, to serve
1 tbs rosemary leaves
Coles Bakery Stone Baked by Laurent Light Rye Sourdough Vienna, sliced, to serve
Method
STEP 1 
Heat olive oil in a large heavy-based saucepan over medium-high heat. Add the chorizo and cook, stirring, for 2-3 mins or until crisp. Use a slotted spoon to transfer the chorizo to a plate.
STEP 2 
Add the onion, pumpkin and carrot to the pan and cook, stirring often, for 5 mins or until the onion and pumpkin soften. Add the garlic, bay leaf, paprika and cumin and cook, stirring, for 5 mins or until the pumpkin begins to caramelise.
STEP 3 
Add vinegar, 1/4 cup of the beans and 6 cups (1.5L) water to the pan. Bring to the boil, then reduce heat to medium-low. Simmer, uncovered, for 20-25 mins or until pumpkin is tender. Add 1/4 cup (60ml) of the cream and return to a simmer. Set aside to cool slightly. Discard bay leaf.
STEP 4 
Use a stick blender to carefully blend the soup until smooth. Place over medium heat and stir until heated through. Season with salt and pepper.
STEP 6 
Divide soup among bowls. Top with chorizo, remaining beans and pepitas. Drizzle with extra virgin olive oil and the remaining cream and gently marble. Sprinkle with rosemary. Serve with bread.
Check ingredient labels to make sure they meet your specific dietary requirements and always consult a health professional before changing your diet. View dietary information here.