Curtis Stone's quick roast turkey with mustard-peppercorn gravy
Curtis Stone brings us his quick and delicious Christmas roast turkey served with mustard-pepercorn gravy. It's the perfect table centrepiece that will have everyone going back for more.
Merry Christmas everyone, now my idea of that perfect Christmas feast it has to involve a roast Turkey I gotta tell you, it brings back so many memories for me and I always do one for my kids too.
So we start  with this gorgeous big turkey, this ones about 5 or 6 kilos, looking beautiful. Now to get that crispy skin on the outside it's gotta be nice and dry. Alright, next we're gonna sprinkle salt all inside on the meat underneath the skin, sprinkle salt on the outside of your Turkey as well.
The next step is to take some sage and some thyme stick it right on into the Turkey before you try it up. Now you put this back into your refrigerator for 14 hours. Now about an hour before you're ready to roast the Turkey, what you want to do is take it out of the refrigerator and leave at room temperature. Next job get yourself some oil and brush the entire Turkey take a little water and add to the bottom of the heavy roasting pan.
The time has come we are ready to rise to Turkey we're gonna pop it in 200 degrees for 45 minutes. So once she's been in the oven for 45 minutes, it's time to turn it, so all you do is pick it up, spin it around 180 degrees, close that baby up, let it go for about another 45 to 55 minutes. OK the moment of truth. Oh it's looking good isn't? Get yourself a little bit more of that beautiful thyme, some sage, sprinkle it all over your cutting board and then I lift my Turkey up out of the roasting tray. I do that because then all of those aromatics are going to continue to sort of flavor. You have to rest your turkey for at least 45 minutes, and now an important thing for you to do, is take these beautiful pan juices, this makes the most delicious gravy. Put the pan juices and stock over a medium heat and bring it to the simmer. And then we're gonna bring those pan juices up to a simmer.
And then we want to thicken this beautiful gravy so we're gonna start with a little bit of butter, then we'll throw in some finely chopped shallots, once the shallots softened for a minute you can add the flour, and then we can go ahead and pour that beautiful pan juice, we can add in a little of the Dijon mustard and those green peppercorns and Worcestershire Sauce and simmer for about 5 minutes.
Now you have the best gravy on the planet it's time to carve your turkey. So there it is, my quick roast Turkey with delicious mustard peppercorn gravy, give it a go it's easier than you think and I reckon you're going to absolutely love it. Merry Christmas.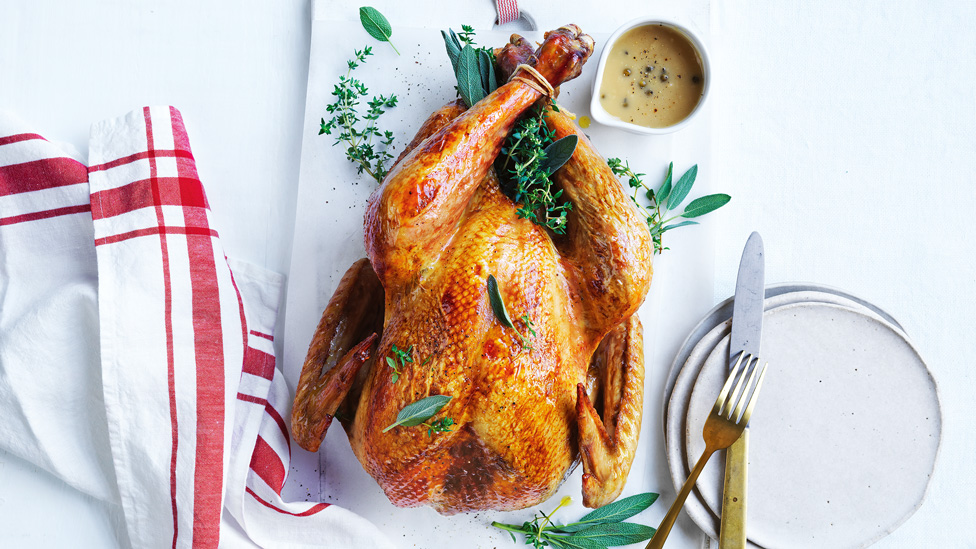 Note: + 1 1/2 hours standing & 12 hours drying time
Ingredients
4.6kg Coles Medium RSPCA Approved Australian Whole Turkey
2 1/2 tbs sea salt flakes
1 bunch sage, divided
1 bunch thyme, divided
1 tbs grapeseed oil or vegetable oil
Mustard-peppercorn gravy
3 cups (750ml) salt-reduced chicken stock
40g unsalted butter
1/4 cup finely chopped shallots
2 tbs plain flour
3 tsp Dijon mustard
3 tsp green peppercorns, drained
2 tsp Worcestershire sauce
Method
STEP 1
Thoroughly pat the turkey dry. Using your fingers, loosen skin over breasts and around thighs of turkey. Sprinkle salt between loosened skin and meat. Sprinkle the outside of the turkey with salt. Stuff turkey cavity with half the sage and half the thyme. Place turkey on a roasting rack and place in the fridge, uncovered, to air-dry for at least 12 hours.
STEP 2
Transfer the turkey and rack to a flameproof roasting pan. Set aside for 1 hour to reach room temperature. Preheat oven to 220°C (200°C fan-forced). Brush the turkey with oil. Pour enough water into the pan to just cover the base.
STEP 3
Roast the turkey for 45 mins (checking occasionally to add more water to the bottom of the pan if it dries out). Rotate turkey 180 degrees. Roast for 45-55 mins or until the turkey is cooked through and an instant-read thermometer reads 74°C when inserted into the thickest part of the thigh.
STEP 4
Sprinkle remaining sage and thyme over the centre of a carving board. Arrange the turkey over the herbs (don't clean out the roasting pan). Set aside for 30 mins to rest before carving.
STEP 5
Meanwhile, to make the mustard-peppercorn gravy, pour pan juices into a measuring cup. Set aside for 10 mins to allow fat to rise. Spoon off fat, reserving pan juices. Set the roasting pan on the stove over medium heat. Add the pan juices and stock. Bring to a simmer, stirring to scrape any brown bits on the base of the pan. Strain the mixture through a sieve into a jug. Discard solids. Measure 3 cups (750ml) stock mixture, reserving any extra in a small jug.
STEP 6
In a medium heavy-based saucepan over medium heat, melt the butter. Add shallots and cook, stirring frequently, for 2 mins or until shallots soften. Stir in flour. Cook, stirring, for 2 mins. Whisk in stock mixture, mustard, peppercorns and Worcestershire sauce and bring to a simmer. Cook for 5 mins or until the gravy thickens slightly. Remove from heat and season with salt and pepper. Keep gravy warm, adding reserved stock mixture to thin out if necessary.
STEP 7
Carve the turkey and serve with gravy.
Check ingredient labels to make sure they meet your specific dietary requirements and always consult a health professional before changing your diet. View dietary information here.