Curtis Stone's roast chicken and grapes with chargrilled bread
Keep dinner quick and easy with this tasty roast chicken dish. It's the perfect winter warmer.
When your kids ask you what's for dinner, and you haven't got time to roast a chicken but you still want the flavour, I've got the solution. Chicken thighs, we're going to cook them in a pan with some roasted shallots and some roasted grapes. A little bit of sweetness from the grapes is really sensational.
So season them on both sides and then into a nice hot pan, we put them skin side down. 
So you stick them in and then grab yourself a couple of these guys, shallots.  Leave the skin on, we're going to cut them in half lengthways. 
So while the skin's getting crisp on the chicken I take my half shallots and put them cut side down onto the pan. That's what you want that gorgeous golden brown right there.
I've got a bit of thyme here, and I'm going to throw thyme all over the pan, but it's not only going to give off a beautiful smell, it's also going to release it's little leaves and create this wonderful flavour. 
Right I've killed the heat in my pan now I'm going to pick it up and slide the whole thing out onto a roasting tray. Get that little bit of extra oil over the top of the skin of the chicken because that's going to get beautiful and crisp in the oven. 
Now next I actually take some grapes, now I know this is a little unconventional. But the flavour of these roasted grapes and roasted chicken, it's unbelievable.
So shallots, chicken thighs and grapes and just a little bit of thyme, that's it. 
The whole thing goes into the oven at about 200 degrees for about 15 minutes. 
Alright well that's roasting, I've got some beautiful bread. I'm going to go ahead and cut it, and then I'm going to grill it with a little bit of olive oil. You could use butter if you prefer the flavour of butter, whatever you like. You could even do a combination, in fact let's do that because I love the flavour of butter, I also like the heat temperature that you can get with the olive oil too.
So I'm going to mix that in, I've got a little thyme so I like to sort of spread it around my pan with the thyme, works as a little bit of a brush for you.
Then you take your bread, stick it straight on like that. Have a look at that, gorgeous. Crisp on the outside but still beautiful and fluffy on the inside.
I mean the smell and flavour of the most delicious roast chicken in 15 minutes are you kidding me?
So you go ahead take those thighs off, those gorgeous bunches of grapes too.
Then you get these gorgeous crusty pieces of bread. Have a look at all this juice, you pour that straight over, the bread soaks it up.
 Really affordable and really delicious, and it's so easy to make, that's what I love about it. The flavour of roast chicken in less than 20 minutes!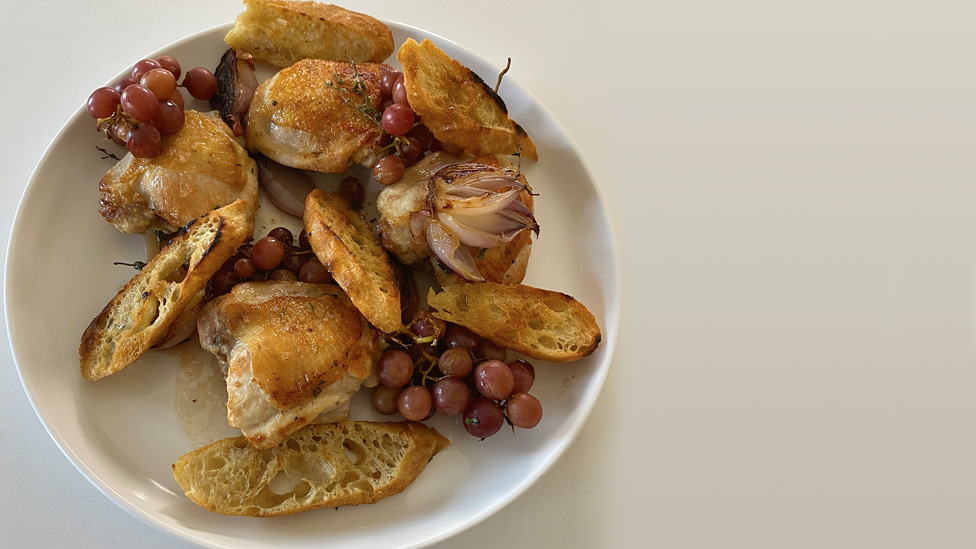 Ingredients
4 chicken thigh cutlets
1 tbs extra virgin olive oil
2 large shallots, halved lengthways
10 large thyme sprigs
1 bunch red grapes, separated into clusters
50g butter
Ciabatta or pane di casa bread, sliced
Method
STEP 1 
Preheat oven to 200°C. Lightly coat chicken with half the oil and season with salt and pepper. 
STEP 2 
Heat a large heavy-based frying pan over medium-high heat. Cook chicken and shallots for 5 mins each side or until golden. Add half the thyme. Transfer the chicken mixture to a baking tray. 
STEP 3 
Arrange grape clusters around the chicken on the tray. Roast for 15 mins or until the chicken is cooked through.
STEP 4 
Meanwhile, heat a chargrill pan over medium-high heat. Melt butter with remaining oil. Add bread slices to the pan. Use the remaining thyme to brush the bread with butter mixture. Cook bread for 3 mins each side or until golden brown.
STEP 5 
Transfer the chicken mixture to a serving platter. Serve with chargrilled bread. 
Check ingredient labels to make sure they meet your specific dietary requirements and always consult a health professional before changing your diet. View dietary information here.