Curtis Stone's spaghetti bolognaise
Curtis Stone brings us a veggie-packed spaghetti bolognaise for dinner this week. This recipe is a great way to sneak lots of veg onto the kids' plates, plus it uses wholemeal pasta.
Hey everyone, Curtis here. It is that time of year again, where we're all trying to live just a little bit healthier. Coles's making it easy with loads of great recipes, tips and ideas. And that's why I'm here today, to show you how to cook my delicious and healthy spaghetti bolognaise. Oh, you're gonna love it. I'm gonna start by chopping some veggies, I've got an onion.
Now, of course, if you don't want to do all the chopping, you know what you do, you get a food processor, you throw it all in the food processor, and that works just as well. Next, carrots, you're just looking for a medium dice, celery and fennel. I've also got little chilli which is optional. If you've got kids and they don't like it spicy, just leave that out. Next you put your mince beef into a hot pan, and then you've got to chop it up.
So I've got this fancy kind of chopper, or the side of a wooden spoon works as well. You know, chop that up and get it nice and brown. Now while your meat browns, you might want to take that opportunity to grate your tomatoes. Now this is a bit of a different process than normal. What I do is, I get a box grater, just like this one, and sit it in a bowl. And then I cut my tomatoes in half. Take one of those tomatoes and just grate it all the way down to the skin. We throw away the skin, we actually don't use the skins. But you do want to get all that beautiful flesh off the tomatoes. Right, when you hear that sizzle, grab your chopper or the spoon again, go back on in there and stir it around, or give it another chop.
Okay, we start with the onions. Scoop them up. You see we're not adding any oil, there's a little bit of fat already in that beef, so as that fat starts to render out, we use that to cook the vegetables too. Next I've got some garlic. And I've got one of these guys, and I just grate that garlic straight in using that gratter and stir. You'll hear that start to sizzle and pop, you get that beautiful aroma as soon as the garlic and the onion really starts to release all of its flavour. Start off with a little bit of salt, also pepper.
Time for the carrots. Next, I've got some tomato paste. Now the tomato paste is cool. It's very concentrated, so we only need a little bit. Pop that in at this stage and we're gonna actually roast it out a little. Right, next go in the chillies. So you roast that tomato out. And then you can add your fennel and your celery. Give those veggies a little while to roast. Okay, once that tomato and all those vegetables have had maybe five minutes or so, pick up your tomato that you grated, of course without the skins, and add that in. Okay, I'm going to drop my lid on my pan. And then, of course, time to cook the pasta.
So I've got a nice big pot of boiling water. We take our spaghetti, now I've got a whole wheat spaghettini. Okay, there's 1000 different types of pasta on the market. I really like this whole wheat spaghettini. And, of course, the whole wheat is really good for you. As soon as that pasta sinks down, you put the lid back on, it's gonna take about 15 minutes to boil.
Now our spaghettini has been in for about 12 minutes, so it's probably just right there, but let's check on our sauce. It should be full flavour by now, have a look at this. I mean that is exactly how you want it. It looks a little dry, right, but don't worry because we're going to add the spaghettini to it and we're going to add a little bit of pasta water as well.
Now the last thing you put in before the pasta is just a big handful of spinach, and this of course will just wilt down you won't even know it's in there. Once that spinach is wilted, I'll just put my lid down over here. You just give that one more stir, and then we're going to mix our spaghetti through. Now like I said, you don't want it to be too watery. I kind of like it to be a little drier like this, because then you're not going to dilute the flavour.
And then let's get our pasta. Don't let too much of the water sort of drain off. Just slop it straight on over into your pan. Look at that gorgeous sauce and see how it coats it. It's not too saucy, but it's certainly not dry either. Parmigiano Reggiano. Great, it's straight over the top of that beautiful spaghetti bolognese. And I like to finish it with just a little bit of fresh basil. I just take the basil, tear it straight up all over the spaghetti. It is simple, it is healthy and it sure is delicious. Spaghetti bolognaise. How can you go wrong.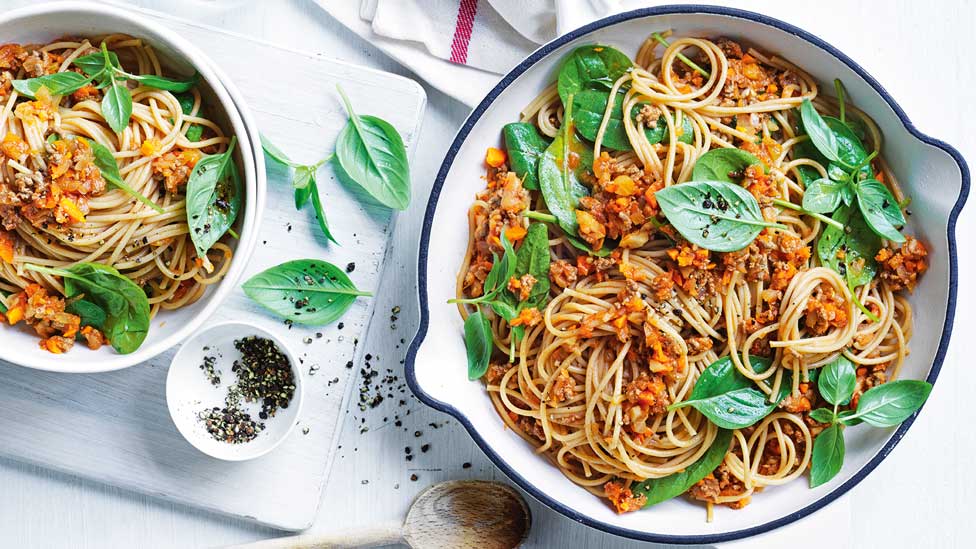 Ingredients
4 large vine-ripened tomatoes, halved
2 garlic cloves, finely grated
2 tbs lemon juice
2 tbs tomato paste
2 carrots, peeled, coarsely chopped
2 celery sticks, coarsely chopped
1 fennel bulb, coarsely chopped
1/2 brown onion, coarsely chopped
1/4 long red chilli, seeded, coarsely chopped (optional)
450g Coles Australian No Added Hormones Beef Extra Lean Mince
60g baby spinach
300g wholemeal spaghetti
10 basil leaves, torn
Method
STEP 1
Using the large holes of a box grater, grate the cut sides of the tomatoes into a bowl. Discard the skins. Add the garlic, lemon juice and tomato paste and season. 
STEP 2
Place the carrot, celery, fennel, onion and chilli, if using, in a food processor and process until finely chopped.
STEP 3
Heat a large deep frying pan over high heat. Add mince and cook, stirring with a wooden spoon to break up any lumps, for 4 mins or until the mince changes colour. Add the carrot mixture and cook for 5 mins or until tender. Reduce heat to medium-high and add the tomato mixture. Cook, stirring occasionally, for 6-8 mins or until the sauce thickens slightly. Stir in the spinach and cook for 1 min or until the spinach wilts. 
STEP 4
Meanwhile, cook the pasta in a large saucepan of boiling water following packet directions or until al dente. Drain well.
STEP 5
Stir pasta into the beef mixture and cook until the sauce thickens and pasta is coated in sauce. Remove from heat and stir in the basil. Season to serve.
Check ingredient labels to make sure they meet your specific dietary requirements and always consult a health professional before changing your diet. View dietary information here.