Curtis Stone's spanakopita slice
Filled with greens, this tasty slice is a delicious spin on traditional spanakopita. Serve it with garden salad for a fresh crunch.
Hey guys, I've got a recipe that is gonna blow your mind. It's my spanakopita slice. Now I call it a slice, because you slide it out of the pan and you cut it into beautiful slices. It is an absolute crowd-pleaser and it's actually very easy to make. What I'm going to do is use my brand-new 24-centimetre Cook with Curtis frypan. Now this guy will actually double as bakeware, which I'll show you in just a minute. But for the filling of the spanakopita we're going to use some kale, right, it gives a little more structure than spinach. So into my pan, no need for any oil, I just throw my kale in, turn it up to about mid-medium, you can put just a drop of water in and hear it sizzle immediately. Little bit of salt, a little bit of fresh ground black pepper. You can also blanch it in the same way. I'm actually just doing this so I get just a little bit of wilt on the kale and then that way we can squeeze all the moisture out of it because you want it to be quite dry. The other thing that you need is just a sheet tray like this, and a towel. So using my new spoon, I'm very excited about my new spoons and my incredible knives. I really know that this stuff is gonna make you a wonderful cook when you get it home, so I hope you enjoy it. Okay, grab your kale, you know, just sort of strain off some of that moisture and then just pop the kale onto your towel, just like that. Once you've got your kale here, if there's any sort of big veins or stalks, you can remove them but only if they're really big because they will be a bit too coarse or fibrous. Next thing is you're going to sort of roll it up in your towel and just squeeze it out. I literally will roll it all the way up like this, and then I'll just wring it, because you want to get all that moisture out. Once that feels nice and dry, you can go ahead and transfer it straight into a glass bowl. Next, you're going to chop an onion. So just remove both the top and the bottom. Always cut your onion in half first, I know it's a really simple thing, but the truth is, if you've got that nice flat side, it's going to make life a whole lot simpler when you come to do your chopping. You can see how the root is still attached to the onion. You want that because that's going to hold the whole piece intact and then you spin it around and cut through lengthways like that. Put your knife nice and flat and just saw all the way through, but don't go through it, just all the way to the end, and then you can go on through and do your perfect little dice. The other thing I love about my brand-new knife is the width on the Cook's Knife, so you can literally use it to scoop up all of those onions and take it straight on over to your pan. Little bit of olive oil. So all we do is we sautee our onion until it's soft. I've got a few cloves of garlic and I'll give it a quick chop. Now the garlic cooks a little faster than the onion which is why you start off with the onion. You give it maybe two minutes, just give it a little toss in the pan like that. Once your onions are nice and soft, then you add your garlic. Okay, little lemon zest. Okay, while that's sauteing, we've got some beautiful fresh herbs. I've got some spring onions. I've got some basil, a little mint, and some parsley. I've gone ahead and chopped it all up and it's right here and we're going to throw that in just to wilt it, just 60 seconds in the pan, then you're going to combine it with a kale. Right all the flavour in this pan, you can imagine how much it's going to improve everything right? So go ahead, scrape it all in. There's really not much more to do, of course you've mixed these flavors through. Next we need to get a whisk. I've got a couple of eggs, we just break those yolks and whisk it lightly. And then we mix in two types of cheese. Fetta for it's delicious saltiness and fontina for it's wonderful maltiness. Now if you can't find fontina, cheddar would work as well. Toss in both cheeses and pour in the eggs. Now you might want to season this mix with a little bit more salt and pepper, but just be careful because the fetta is a little salty. Okay, our filling is made, all we have to do is assemble this very wonderful spanakopita. It's very easy to do. So take your pan, pop it onto your cutting board. First of all though, we need to brush the pan with a little bit of melted butter. Brush all the way across the bottom, around the sides. Now this pan, nothing will stick to it. So this will slide out whether you brush it with butter or not. But I want to brush it with butter because I want that filo pastry to be really nice and rich in taste. Go ahead and pick one up and just place it straight across your pan, just like that and then push it all the way down into the bottom of the pan. And then with your butter. Go ahead and just brush a little more on the side here. Grab your next layer of filo, and place it in the opposite direction than the first sheet and give it another brush. Last one. Okay, into the bottom of your pan, you now scoop up this spanakopita filling and you just place it straight on in and then you can go ahead and push that filling down into the base of the pan. Now before you put more filo on top, what you want to do is just take these pieces and just gently fold them over the top, just like this. And you just brush from the outside in. Now here's the thing, you've got two options, you can either try and finish it with another piece over the top right multiple pieces, or you can just go ahead and flake it and that's my preference. It looks a little messy and super cool. Just pull it into little pieces and just kind of drop it off like that at the top. There we go. My tummy is rumbling just thinking about how this is gonna taste. It is going to be absolutely delicious. Now the beautiful thing about this spanakopita is you can make it well ahead of time just cover it in clingfilm and drop it in the fridge, but I'm ready to bake it now. It goes into the oven for 25 to 30 minutes at 200 degrees. Have a look at this. I'm going to use this beautiful cutting board to serve it on because I really do think it just looks, I mean, you can just hear it right? Sounds as good as it's gonna taste, you guys. Just slide it on out, just like that. I want you to see what it looks like underneath. Crispy, golden and just fabulous. Okay, so you know how good this is gonna taste. I always finish it with just a little bit of sea salt, just like that. And you can cut it however you want. You can cut it straight into slices like this. I'm going to cut it traditionally like a pie, straight through this side. And then through the next. You ready? I've got so many Greek mates in Melbourne. This is for all their mums that have ever given me a piece of your spanakopita. Thank you.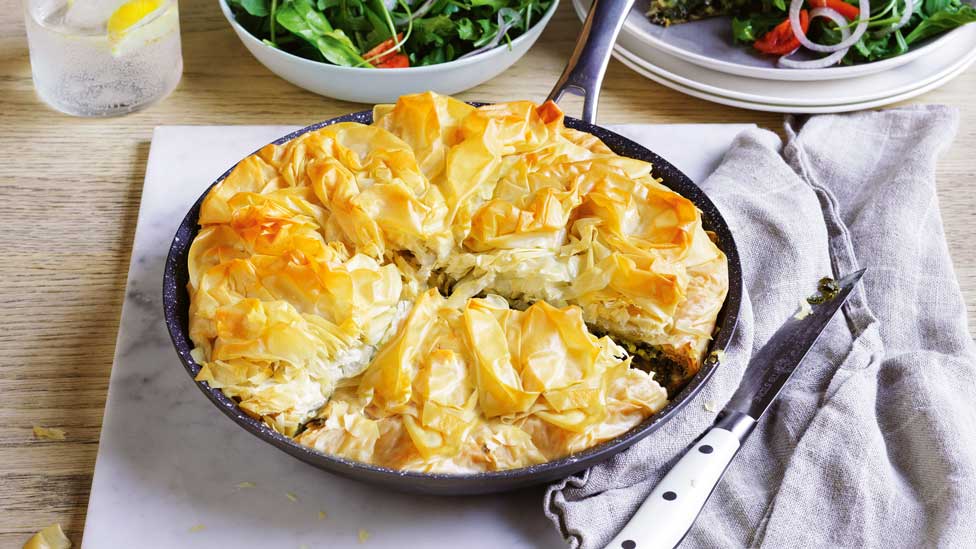 Note: + cooling & 5 mins resting time
Ingredients
2 bunches kale, trimmed, rinsed, drained, chopped
1 tbs olive oil
1/4 brown onion, finely chopped
3 spring onions, finely chopped
3 garlic cloves, crushed
1 lemon, rind finely grated
1/4 cup each chopped basil, dill, mint and flat-leaf parsley
200g fetta, crumbled
1 cup (120g) grated tasty cheddar
2 Coles Australian Free Range Eggs, lightly whisked
100g butter, melted
12 filo pastry sheets, thawed overnight, trimmed to 22cm x 34cm rectangles
Method
STEP 1
Bring 1/4 cup (60ml) water to a simmer in a 24cm frypan over medium heat. Add one-quarter of the kale and cook, stirring, for 2 mins or until wilted. Transfer to a baking tray lined with a large tea towel. Set aside to cool. Repeat in batches with remaining kale, adding another 1/4 cup (60ml) water before each batch. Using the towel, squeeze as much water from kale as possible. Coarsely chop the kale and transfer to a large bowl. Wipe pan clean.
STEP 2
Heat oil in pan over medium heat. Add onion. Cook, stirring occasionally, for 5 mins or until softened. Add spring onion, garlic and lemon rind. Cook, stirring, for 2 mins or until aromatic. Add the herbs and cook, stirring, for 1 min. Transfer to bowl with kale. Season and set aside to cool completely.
STEP 3
Position a rack in the centre of the oven and preheat to 200°C (180°C fan-forced). Add fetta, cheddar and egg to kale mixture. Brush pan with some melted butter. Place 1 filo pastry sheet on a clean work surface. Brush with a little butter. Arrange over the base of the pan. Brush another filo sheet with butter. Arrange over filo in pan at a 90-degree angle. Repeat with more butter and 6 more filo sheets, turning sheets 90 degrees each time before arranging in pan. Spoon in kale mixture. Fold overhanging filo over top. Scrunch up remaining filo sheets and place on top. Brush with the remaining butter.
STEP 4
Bake for 35-40 mins or until golden. Set aside for 5 mins before sliding onto a serving board. Cut into slices.
Serve with garden salad
Check ingredient labels to make sure they meet your specific dietary requirements and always consult a health professional before changing your diet. View dietary information here.