Curtis Stone's sticky chicken drumsticks with rice and bok choy
Stuck for midweek dinners? These sticky chicken drumsticks are coated in a lip-smacking marinade that will have everyone going back for seconds.
Hey, guys, Curtis Stone here. I've got a recipe that I'm really excited to share with you. It's my sticky chicken drumsticks with long-grain rice and bok choy. This delicious meal is so, so easy to make, so let's get started.
You grab yourself a nice big bowl like this. And to make the marinade for the chicken drumsticks, you use a couple of things. I'm starting with hoisin. Now, I love hoisin 'cause it's got that sort of beautiful combination of sweet and salty.
And two more ingredients. A little bit of Aussie honey. So a couple of tablespoons of that. And then a little bit of soy sauce as well. Now, garlic and ginger are essential flavours in Asian-inspired marinades. So we're going to add that to the marinade. And then just using a whisk, give that a bit of a mix together. I take a quarter of a cup of this marinade and I reserve it because I put that back on the chicken drumsticks right at the end of the cooking process.
And then the rest of the marinade, we toss those chicken drumsticks through. So, here we go - eight beautiful drumsticks. And in they go. And then just using a big spoon, you can just sort of toss those around. And make sure that the marinade is really coating them nicely. Now, if you even just tossed an hour before, you would still get a delicate sort of subtle flavour. But the 10 or 12-hour marinade is going to really let that marinade penetrate and give you a beautiful depth of flavour.
So, spread these out on your tray. And try to make sure they're not piled up. And then... ..get all of that excess marinade out and onto the chicken. Alright, so the chicken is marinated, ready to go.
I'm going to stick it in the oven. I've preset a rack in the centre of the oven and you do that so the heat can sort of circulate around the chicken as it cooks. 220 Celsius or 200 if it's fan-forced. Beautiful.
So, let's get started on the rice. This is a really simple technique. I've got a pan on the go over here. I take a couple of cups of water. So two cups of water. Toss that in. Season it with a bit of salt. Now, I'm going to let that come up to the boil and then I'm going to add my rice. One little step that's important with your rice, though, is to give it a good rinse. So I'll give that a good rinse and then drain it really well.
While that water's coming up to the boil, I'm going to show you the veg 'cause it's really, really simple and it's one of my favourites. Beautiful bok choy. It's this easy to do. You grab a pan. I've just cut that into quarters lengthwise and then a little bit of oil and some salt. And we're actually going to bake this in the oven as well. So that way we're sort of doing it in the same oven that we're doing our chicken and it's super simple. So the water's come to the boil and it's this simple. You lift your lid. You add your drained rice. I'm going to reduce that heat to about a medium. Just give it a real quick stir. And then you pop your lid back on for about 20 minutes.
The bok choy has been in for 15 minutes, so it should be ready to go. So I'm going to go ahead and grab that out and then I'm just going to go ahead and get that beautiful bok choy out and stick it straight on to my cutting board. And just really simply with a knife cut through it three or four times... ..just so they're nice sort of bite-size pieces.
And that's it. It's really, really that simple. So, look at this, guys. They're beautiful, golden in colour.
The reason I kept this little bit of sauce earlier was what I do now is just take a little pastry brush and I just go ahead and just finish them off with just that tiny bit more sauce. I tell you what, when you take these out of the oven, the smell fills the room and people think you've been in the kitchen all day and it's really this simple.
The chicken and bok choy are done. It smells sensational. So all that's left to do is to make it look pretty on the plate. And then with that last remaining bit of sauce, I actually just drizzle that over the top. One thing left to do and that is our rice. You let it stand for 10 minutes. So I turned that off 10 minutes ago and it's now stood for just 10 minutes and then I'm going to pick it up and show it to you here. See how that steam is still just... ..that last bit of steam is still absorbing into the rice? What you do next is you fork it. So grab yourself a fork. And you just let all of that steam sort of escape from the rice. Perfectly and fluffy. Yum! And then we're just going to get that... Pile it nice and high in our bowl. And you have got a fantastic meal. Go on, enjoy my sticky chicken drumsticks.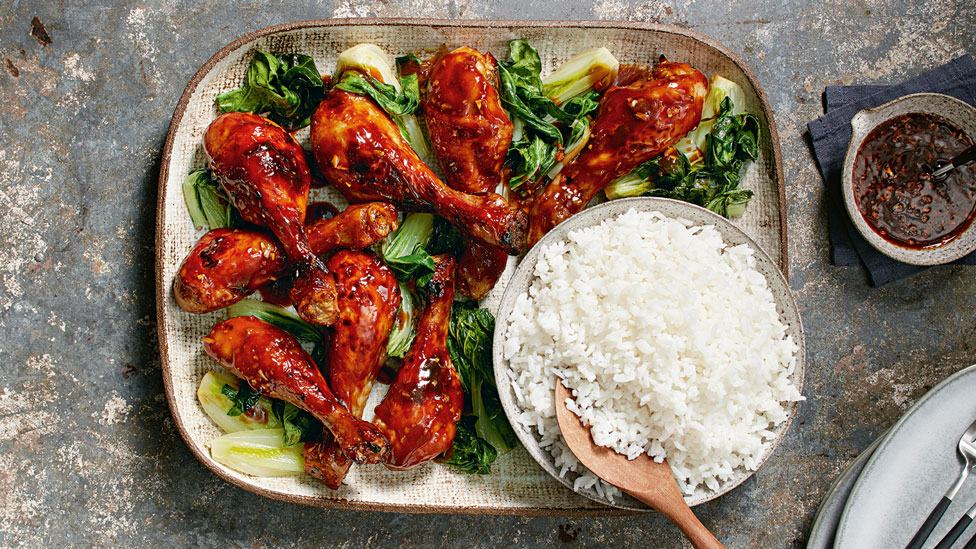 Ingredients
1/4 cup (60ml) Fountain Hoisin Sauce
2 tbs Coles Soy Sauce
2 tbs Capilano Squeeze Honey
3 garlic cloves, finely chopped
1 tbs finely chopped peeled ginger
1.2kg Coles Australian RSPCA Approved Chicken Drumsticks
1 bunch bok choy, quartered lengthways
1 tbs vegetable oil
2 cups (400g) Coles Long Grain White Rice
Method
STEP 1 
Position racks in middle and bottom third of oven and preheat oven to 220°C (200°C fan-forced). Line a large heavy rimmed baking tray with foil.
STEP 2 
In a large bowl, whisk the hoisin sauce, soy sauce, honey, garlic and ginger. Reserve 1/4 cup (60ml) sauce mixture at room temperature for serving. Coat the chicken in the remaining sauce.
STEP 3 
Place the chicken on the prepared tray and transfer tray to the middle oven rack. Bake, turning occasionally, for 35 mins or until chicken is caramelised and cooked through.
STEP 4 
During the last 15 mins of cooking the chicken, toss the bok choy with oil on a separate baking tray and sprinkle with salt. Cook on the bottom oven rack, turning occasionally, for 15 mins or until crisp-tender. Transfer to a cutting board and cut into pieces.
STEP 5
Meanwhile, rinse the rice in cold water and drain well. In a medium heavy saucepan over high heat, bring rice, 3 cups (750ml) water and 1 tsp salt almost to the boil. Reduce heat to low, cover and simmer gently over low heat, without stirring, for 15 mins or until the water is absorbed and rice is tender. Fluff the rice with a fork and let stand, covered, for 5 mins before serving.
STEP 6
Brush the reserved sauce mixture over the chicken. Divide the steamed rice, bok choy and chicken among 4 serving plates to serve.
Check ingredient labels to make sure they meet your specific dietary requirements and always consult a health professional before changing your diet. View dietary information here.