Curtis Stone's tandoori-spiced barramundi with beetroot relish
After a gourmet meal you can plate up in 30 minutes? Curtis Stone shows us how to plate up a delicious tandoori barramundi with beetroot relish.
I'm going to show you a little trick on how to add extra flavour to your fish with a tandoori spice rub and then finish it off with a beautiful, zesty relish made with fresh beetroot and lots of fresh herbs. Let's start with the relish. 
All you do is get a medium-sized bowl like this and then you add some lime zest, some lime juice, a little bit of brown sugar and some ginger. Add some sea salt. And you whisk that together to dissolve the sugar.

You can just use a fork. You add the grated beetroot, which is right here.
Some coconut and some coriander and mint. You toss it together. You season it with just a little bit of salt. And that's it. You're done. It's really that simple. Now, if you want to get ahead, you can make this the day before and you can store it in the fridge. Just don't add the fresh herbs until you're ready to serve.
I'm also going to serve my barramundi with a creamy yoghurt vinaigrette to cut through the spice. All you do is start off with some Greek yoghurt.

You pour that straight into a bowl.And then you just add some olive oil, some lime juice and some brown sugar to balance out the flavours. If it's a thick consistency, you can add just a little bit of water to thin it out. And, then, you just whisk it together. Again, it's fine to whip this up the day before. You just cover it and store it in the fridge.
Now, for the hero of the dish, the barramundi. Now, if I say tandoori, you're probably thinking of a paste. But this recipe you're going to be making a spice mix and it's super simple. And guess what - you can use it on so many different things. All you're gonna do is take three teaspoons of paprika and pop that into a small bowl. Then you want to get half a teaspoon each of chilli powder, the ground cumin, the ground coriander and then ginger and turmeric. You take your spice mix and then you're going to evenly sprinkle this over both sides of the barramundi.
OK, once you've got a nice, even sprinkle all over the barramundi, it's time to cook it. Now, when I'm cooking fish, I either like to use a non-stick pan or a pan that I've preheated to, like, a medium high heat.
So, stick it over a medium high heat and then once it's hot, that's when you add your oil. About a tablespoon. And then you let that move around the pan just like that. So, once the oil is hot, you add the barramundi. Now, fish doesn't take long to cook, but don't go turning it or poking it around too much. Give it enough time to brown nicely underneath. About four minutes is what you're looking for. Then you're going to turn it over and you're going to cook the other side as well. If you mess around too much while you're starting to cook the fish, what can start to happen is it can start to break apart. Don't forget - it's quite delicate. And you won't get that beautiful, even crust that you're looking for. I know what you're thinking. You're thinking if I was there, I'd be turning that fish. Don't do it. You've just got to be patient. You've just got to wait. It genuinely takes a good three or four minutes to get that colour and to get that beautiful crust underneath. Just have the confidence that it's not going to burn. It's alright. If you really want to have a look, just get yourself one of these turners. Slide it underneath and then just take a bit of a peek. Oh, yeah. Looking good. 
The thing I love about barramundi is it's quite a firm-fleshed fish. So, it actually is a nice easy one to cook. Think salmon. It's kind of a bit similar to cooking a piece of salmon because it's a nice easy one to turn over. Once it's had those three or four minutes on each side, then you're going to check that it's cooked through and remove it from the heat. Time to turn it over. The smell that's in this kitchen right now is unbelievable. Think about those spices that we put on. They're all getting beautifully toasted in that little bit of olive oil. Once the barramundi's had about four minutes on either side, just check that it's cooked through. I use a cake tester or one of these little skewers. And you just sort of push it into one of the thicker parts of the fish and make sure that it goes in and out nice and easy. If it feels a little rubbery still in the centre, that's going to tell you that it needs just a little longer to cook in the middle. This is perfect. Turn your heat off. To plate up, it's really, really simple. I get myself that beautiful vinaigrette that we made with the yoghurt. I pour it straight into the centre of the plate, pick up that beautiful barramundi. Lay the barramundi right there in the middle of the plate and then just pick up some of that gorgeous beetroot relish. Right there into the centre. The beetroot gives it a really lovely crunch. And if you see down the bottom of the bowl here, there's actually a little bit of that juice which just mixes so nicely as a bit of a sauce.
For the finishing touch,some fresh coriander and mint. And we are done. I love this dish.It's got amazing colours, the textures are incredible and the flavour just will blow your mind. It's quick, it's easy and it's a meal that's perfect for entertaining as well.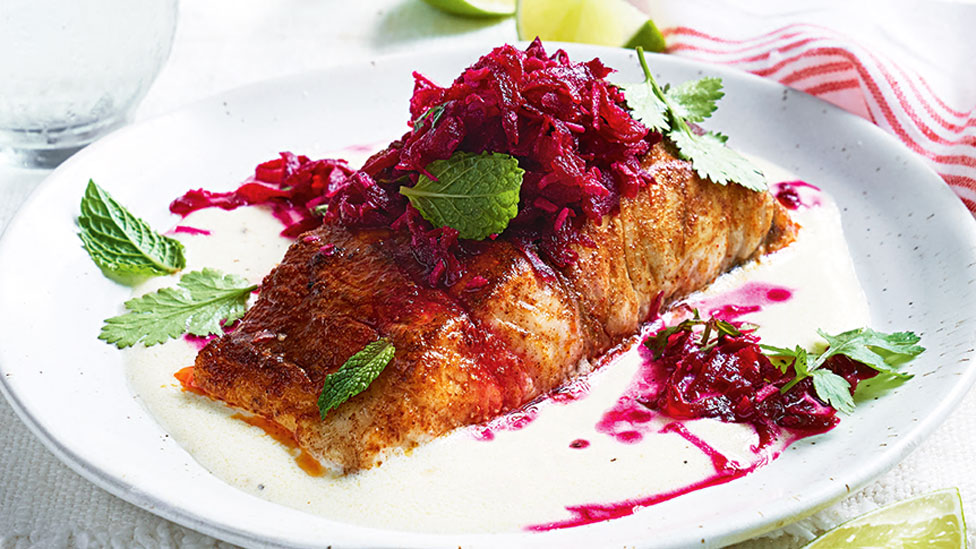 Ingredients
3 tsp ground paprika
1/2 tsp each chilli powder, ground coriander, ground cumin, ground ginger and ground turmeric
4 Coles Australian Ocean Barramundi Skin-On Portions, skin removed
1 tbs olive oil
Beetroot-coconut relish
1 lime, zested, juiced
2 tsp light brown sugar
1 tsp finely grated ginger
2 beetroot (about 150g each), peeled, coarsely grated (about 2 cups)
1/2 cup each coarsely chopped mint and coriander
1/4 cup (20g) shredded coconut
Yoghurt vinaigrette
1/2 cup (140g) plain whole-milk Greek-style yoghurt
2 tbs olive oil
2 tsp light brown sugar
1 lime, juiced
Method
STEP 1 
To make the beetroot-coconut relish, in a medium bowl, whisk the lime zest, 2 tbs lime juice, sugar and ginger until the sugar dissolves. Add the beetroot, mint, coriander, coconut and a pinch of salt and toss to combine.
STEP 2 

To make the yoghurt vinaigrette, in a small bowl, whisk the yoghurt, oil, sugar, 2 tbs lime juice and 1 tbs water. Season with salt.
STEP 3 

In a small bowl, combine the paprika, chilli powder, coriander, cumin, ginger and turmeric with 1 tsp sea salt flakes. Sprinkle the spice mix evenly over both sides of the barramundi. Heat a large non-stick frying pan over medium heat. Add the oil and barramundi and cook for 4 mins each side or until the barramundi is browned and cooked through.
STEP 4 
Spoon the yoghurt vinaigrette evenly over serving plates. Arrange the barramundi over the vinaigrette and top with the beetroot-coconut relish.
Check ingredient labels to make sure they meet your specific dietary requirements and always consult a health professional before changing your diet. View dietary information here.