Curtis Stone's tomato rainbow pizza
For a kid-friendly recipe that can't be topped, try this delicious tomato pizza. Learn how to make it all from scratch, pizza dough included.
Curtis: If you want to get the kids into the kitchen to cook a meal for the family, here's one they're going to go crazy for. It's something that kids like Olivia here love eating and can really get involved in making. I'm talking about homemade pizza, of course! But this is no ordinary pizza. It's my tomato rainbow pizza and I reckon it's absolutely beautiful. What do you think, Olivia? Should we give it a go? 
Olivia: Definitely, because I love pizza! 
Curtis: To get started on the dough, you take a small bowl, a whisk and some lukewarm water. Go ahead and pour your lukewarm water into that bowl just like that then you take some yeast and some honey. So, yeast loves honey - anything with sugar in it is what makes it active.
Then, give it a whisk. Once you've done that, you set the yeast mixture aside for about 5 minutes. The honey feeds yeast and activates it so you'll see it start to become a little bit foamy. That's exactly what it's supposed to look like. So then, you take just a little bit of extra virgin olive oil and whisk it in.
Now, for the flour. You put it all into the food processor with a little bit of salt, straight into the flour. Then, you process it to combine. Then, what you do is you take that yeast mixture. Slowly add it. Now, it's gonna look a little wet, but don't worry because once you start kneading this you're going to add a little flour and end up with a perfect pizza dough. Dust a little flour over the bench. Ok, so you take it out. It's gonna feel a little sticky.
Now, for the fun part. We're going to get kneading. Ok, so just put a little bit of flour on your hands and then what you're going to do is just pick up the dough, push it down and then turn it over on itself and just push back into it. It's going to take about 3 minutes. Ok, so you want to work it until you get a beautiful, elastic, smooth dough. See how it's still tacky? You want it to sort of still be sticky but you need it to release from your hand. You've got to work kind of quickly. This amount of dough makes two pizzas.
So, I'm going to divide it into two and then shape it into balls. Right, the easiest way to do that is to roll it into a bit of a sausage and then you just pinch it and you end up with two balls. To turn them into balls, you roll them in circles. So then you get a baking tray and just dust it with a little bit of flour. Put this on nice and loosely. That's going to double in size, believe it or not.
Now I'm going to stick it in a warm place for about 45 minutes. The oven needs to be set really hot so turn it all the way up to 250 degrees Celsius, or 230 if you're using a fan-forced oven. Here's a great job for the kiddos. Go ahead and get your tomatoes in different colours. So you can sort out the maroon ones from the yellow ones from the orange ones from the red ones, put them all in separate bowls.
Then, it's time to cut them. You just get yourself a tomato and slice it across ways. Try and hold your fingers up just a little bit so your fingertips aren't in contact with the knife.
Now for the fun part. Take yourself a ball of dough, but first get a little flour and just dust it all over your bench like that.The best part about this is that you get to now dip your hands all the way up to here in the flour. Now, what we're going to do is take one of the dough balls and stretch it out to like a 20 to 25cm diameter. What I like to do is pretend that it's a typewriter and I actually push down on it like that with my fingers.
Now you could get a rolling pin and roll it out, but what I like to do, and you've got to be a little delicate with this, is I pick it up and I just start turning it as if it was a steering wheel of a car. Of course you can just roll it out, but I like this because you get to sort of let the gravity do the work. See how it's getting bigger ever so slowly? If you want to be like a real pizza chef, what you do is you make two little fists, like that, underneath and then you flick it in the air.
So the idea is that you flick like that and then it should spin up off your hands. As it spins in the air, it gets bigger and bigger and bigger. You want to try it? One, two, three! Nice. You've got to be careful. See how I've almost got a hole in it right there? Be careful that you don't get a hole in it. Then you get your tray and lay it down, just like that.
Now, if you want to roll it, I'll show you the method. Always just roll straight forward and back and then you turn your dough. Get a little bit of extra virgin olive oil and just a really tiny little drizzle. We're going to put some more of this on at the end, but just a really little drizzle. Then you get your mozzarella cheese and you spread that all over the pizza, and then a little bit of parmesan.
The reason I use two types of cheese is I love the mozzarella for the beautiful texture. It's super stretchy and then the parmesan gives a really nice, salty flavour. Then, what we're going to do is we're going to place the tomatoes in a circle and create a beautiful rainbow. We start with the yellow, one right in the middle, then a layer of maroon, then the orange.
Then, we take the red ones and do one final layer all the way around. Now, last little bit of parmesan cheese over the top. I'm going to season with a little black pepper. Now, remember the oven is red hot so your pizza will be really quick to cook. So, you bake them in the oven for about 15 minutes. Once it's sort of golden brown on the bottom, that's it. It's ready. Be careful because the trays are really hot. The paper is there to make your life a little easier in terms of getting it off. I always drizzle a little olive oil right at the end and then add fresh parsley. It's time to slice!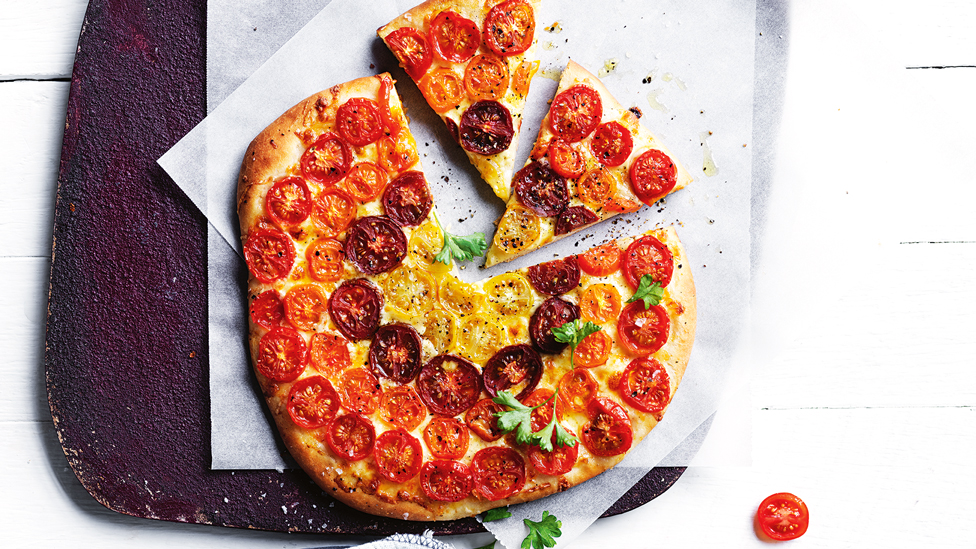 Note: + 50 mins standing time
Ingredients
2/3 cup (160ml) lukewarm water
1 1/2 tsp instant dried yeast
1 1/2 tsp honey
1 1/2 tsp extra virgin olive oil
1 1/2 cups (225g) plain flour
3/4 tsp sea salt flakes
350g mixed medley tomatoes
1 cup (100g) grated mozzarella
2 tsp extra virgin olive oil, extra
2 tbs finely grated parmesan
Flat-leaf parsley leaves, to serve (optional)
Method
STEP 1
In a small bowl, whisk the warm water, yeast and honey to blend. Set aside for 5 mins or until foamy. Stir in the oil.
STEP 2
In a food processor, blend the flour and salt. With the machine running, pour in the yeast mixture (dough will be wet). Transfer dough to a floured work surface and knead for 3 mins or until it becomes smooth and elastic. The dough will be very tacky but will release cleanly from your hands.
STEP 3
Shape dough into two balls. Place on a floured baking tray and dust the tops with flour. Cover loosely with plastic wrap and set aside in a warm place for 45 mins or until doubled in size.
STEP 4
Meanwhile, position oven rack in bottom third of oven. Preheat oven to 250°C (230°C fan-forced). Line 2 large baking trays with baking paper.
STEP 5
Sort the tomatoes by colour (red, yellow, orange and maroon). Using a serrated knife, thickly slice the tomatoes crossways.
STEP 6
Stretch out each dough ball with floured hands, or roll out on a floured work surface, until 20-25cm wide (dough does not have to be perfectly round). Transfer to prepared trays.
STEP 7
Working quickly, drizzle and rub the extra oil over the dough. Top with mozzarella and parmesan. Arrange the tomatoes by colour in single concentric circles over the cheese, leaving a 2cm border around dough. Sprinkle with pepper, if desired.
STEP 8
Bake for 15 mins or until the crust is crisp and golden brown on the bottom. Transfer pizzas to a cutting board and sprinkle with parsley, if using. Cut into wedges and serve.
Check ingredient labels to make sure they meet your specific dietary requirements and always consult a health professional before changing your diet. View dietary information here.