Dan and Steph's eggplant parmigiana
Try this mouth-watering eggplant parmigiana for the perfect vegetarian meal. It has rich tomato flavour and is topped with sizzling cheese.
Steph: Hello Everyone. Dan and Steph back again with Emmy and we are so happy to be working with Coles to support the Stephanie Alexander Kitchen Garden Foundation to inspire kids to get grubby in the kitchen and get cooking.
And what a great week to get this kickstarted off in the lead up to Mothers Day. 
Steph: And today we are going to be cooking Eggplant Parmigiana's. 

Steph: What are we cooking? 
Emmy: Eggplant in Pyjamas. 
Dan: Eggplant in Pyjamas? 
Steph: Eggplant in pyjamas. 
Steph: We need to go and pick our ingredients from the garden. 

Dan: I got a good one here. 
Emmy: Oh I found one in there. 
Dan: Is it big? 
Emmy: It's big. 
Dan: So we got our eggplant and our basil let's head back in the kitchen. 
Dan: So we've got our veggies guys and we're back in the kitchen. We've got our little helper Emmy with us today. To start this recipe we're actually going to dust these in flour and egg and fry them off. 

Steph: Ok let's get cracking Emmy. 

Dan: Beautiful. 
Steph: Here we are whisking up our eggs. 
Dan: Okay our next step guys we're going to slice up these eggplants. 

Dan: We want them about 1cm thick. 
Dan: So next step guys we're going to dust the eggplants in flour. Then we're going to dip them in egg and get them in the fryer. So pretty easy we're just going to get all this eggplant in here. I've cut some little sections just for gap fillers. 

Steph: Alright, nearly finished flouring. 
Dan: We're going to head over to the stove and we're going to fry off our eggplant. 

Steph: Alright let's go! 
Emmy: Can I put one in? 
Dan: Doesn't take long guys. You just want to brown that egg mixture up. We're cruising along nicely. Thank you Emmy. 
Dan: Ok so our eggplants been fried off. And we're going to add a spinkle of salt then we're going to layer this up all neatly so we've got some tomato sauce. You want to put the tomato sauce in?

Dan and Steph: Good job! Fill in all the gaps. 
Dan: So now we'll put the eggplants in. 

Dan: Next step guys we're going to get some cheese and some basil in there. Then we're going to get the eggplant back on and the sauce on top of that. 
Dan: We're nearly at the end. We're nearly about to put this in the oven. So we're just going to top it off with some more sauce and a good grating of parmesan cheese. You can have a nice salty richness on top. 

Steph: Now it goes in the oven for about 20-30 minutes to golden up on top. 
Steph: And there you have it guys. So simple and easy to make and so delicious. 

Steph: We've really loved cooking with Emmy in the kitchen tonight and we hope this inspires you to get in the kitchen with your kids. 
For the recipe head to Coles.com.au or the Kitchen Garden Website. 
Steph: Enjoy our eggplants in pyjamas.

Dan: Enjoy our eggplants in pyjamas.
Emmy: Enjoy our eggplants in pyjamas!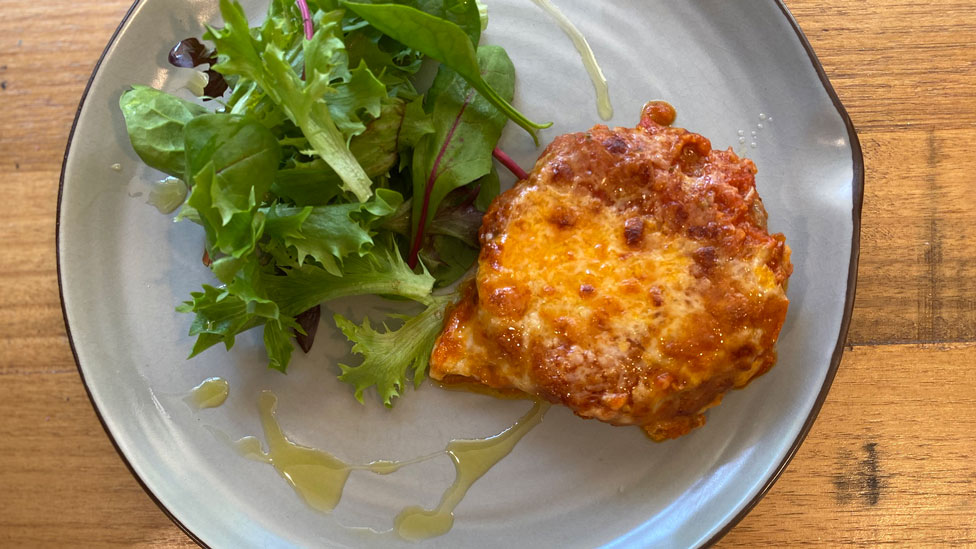 Note: + 5 mins resting time
Ingredients
1 cup (150g) plain flour
4 eggs, lightly whisked
4 large eggplants, sliced 1cm thick
2 cups (500ml) sunflower oil
500g tomato and basil pasta sauce
250g mozzarella, thinly sliced
1 handful basil, torn
100g finely grated parmesan
Method
STEP 1
Preheat oven to 180°C. Place the flour in a bowl. Place the egg in a separate bowl. Dip the eggplant in the flour and turn to lightly coat, shaking off excess. Dip the floured eggplant slices in the egg and transfer to a plate.
STEP 2
Heat 2 frying pans over medium-high heat. Divide the oil equally between the pans. Shallow-fry the eggplant in the hot oil until brown on both sides. Transfer the cooked eggplant to a plate lined with kitchen paper. Season.
STEP 3
Spread the bases of 2 ovenproof dishes with half the pasta sauce. Place a layer of eggplant slices on top of the tomato sauce. Cover the eggplant with slices of mozzarella and half the basil. Place another layer of eggplant on top. Top with remaining basil and pasta sauce. Sprinkle with the parmesan. Bake for 20 mins or until golden brown.
STEP 4
Allow the eggplant parmigiana to rest for 5 mins before serving with a garden salad.
Check ingredient labels to make sure they meet your specific dietary requirements and always consult a health professional before changing your diet. View dietary information here.