Dan and Steph's fish fingers with sweet potato wedges
For a delicious spin on a takeaway meal, try these fish fingers with sweet potato wedges. They're coated in quinoa, panko breadcrumbs and sesame seeds for extra crunch.
Steph: Hi Everyone, Dan and Steph here once again. This week we are here to share with you a great recipe that we love cooking. And tonight we are cooking a heart healthy dish from the Heart Foundation and Coles Cook with the Heart Challenge. 
Fish fingers with sweet potato wedges. It's quick, easy and your heart will love it. 

Dan: Ok guys first thing with our fish fingers and sweet potato wedges, pretty simple. We've got some beautiful fresh sweet potato. We've cut into wedges. We're going to get them into a bowl. So we're going to give them a good coating of this olive oil. Just spray olive oil. Put them on a tray. Hot oven. 220 degrees. 30 minutes. 

Steph: Ok guys the sweet potato wedges are in the oven now we have to move on to our fish fingers. So we have some beautiful Sandy Straits Whiting here.

Dan: A little tip when crumbing is to make sure you have one hand that's not dirty.

Steph: I can never do that one.

Dan: Here we go. Flour. Egg. Clean hand and then into the crumb. We've got some cooked Quinoa that's been cooled, we've got some panko, we've got some sesame seeds and we've got some sweet paprika. We've finished crumbing our fish, and were going to put this in the same oven as the sweet potato, same temperature but for 15 minutes.

Steph: One more step to this delicious, yummy dish.

Dan: That's right guys, so you cant have fish n chips without Tartare sauce. So today we are going to do a very healthy version. Instead of doing mayonnaise we are going to use low fat yoghurt. So very simple, we're just going to dice everything super small, fine and then were just going to mix it through the yoghurt. So we just want to chop these up. Doesn't have to be pretty just quickly dice it. We've got a few different kinds of pickles we've got the sweet, we've got the salty, we've got the sour. Cut some spring onions. Fresh parsley straight out of the garden. Quick squirt of lemon juice. Beautiful

Ok guys what I love about this dish is the fish has gone in, wedges have gone in, but they are both coming out at the same time so everything. Everythings cooked perfectly. Fish is cooked perfect, wedges are nice and golden. We've got our beautiful local Whiting that we are so happy to be able to showcase. A little bit of salad, a couple of lemon wedges and I don't know about you but that looks pretty good to me. The best thing about it, its great for you heart.

Steph: So there we have it guys, our yummy fish fingers, with sweet potato wedges that's good for your heart. For more details about this challenge and lots more healthy heart recipes. Check out the cook with heart.com.au website and help the Heart Foundation raise as much funds and join in the challenge.

Enjoy.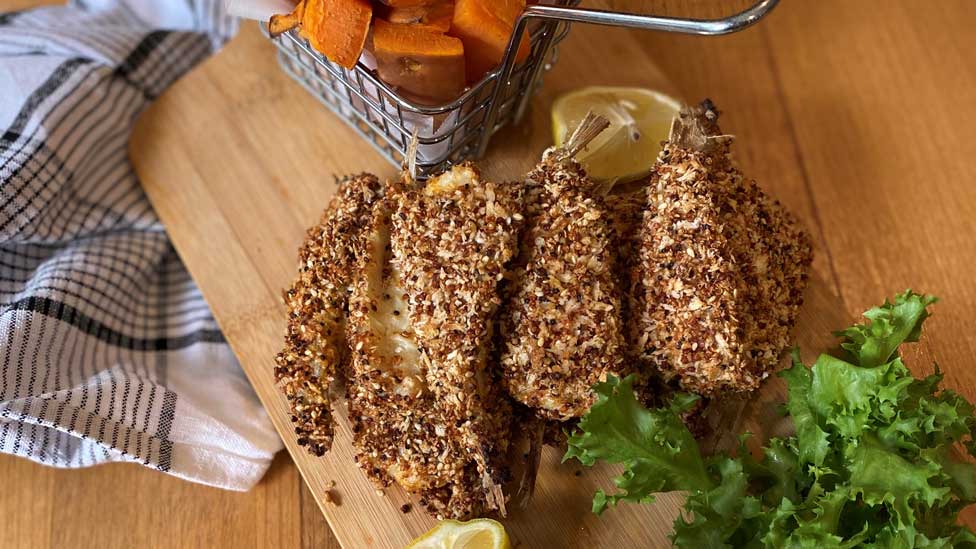 Ingredients
600g firm white fish fillets, cut into strips
1 large (650g) gold sweet potato, cut into 3cm-thick wedges
2 tbs plain flour
1 cup cooked quinoa, cooled
1/2 cup (35g) panko breadcrumbs
1 tbs sesame seeds, toasted
2 tsp sweet paprika
2 eggs
60g mixed baby salad leaves, to serve
Lemon wedges, to serve
Tartare sauce
1/2 cup reduced fat Greek yoghurt
1 green shallot, finely chopped
2 small whole gherkins, drained, finely chopped
1 tbs chopped fresh parsley
1 tbs lemon juice
Method
STEP 1
Preheat oven to 240˚C (220˚C fan-forced). Line a large roasting pan and large baking tray with baking paper. Arrange the sweet potato over the lined pan. Spray evenly with olive oil spray. Bake, turning halfway during cooking, for 30 mins or until golden brown and tender. 

STEP 2 
Meanwhile, place the fish in a large bowl. Sprinkle the fish with flour and toss to coat. Combine the quinoa, breadcrumbs, sesame seeds and paprika in a large, shallow dish. Lightly whisk the eggs in a shallow bowl. Dip the fish strips, 1 at a time, in the egg, then toss in the quinoa mixture, pressing firmly to coat. Transfer to the lined tray. Spray evenly with olive oil spray. Position tray on the shelf above the potato wedges and cook for 15 mins or until golden and the fish flakes when tested with a fork. 
STEP 3 
To make the tartare sauce, combine the yoghurt, shallot, gherkin, parsley and lemon juice in a small bowl. 
STEP 4
Serve the fish and sweet potato with salad leaves, lemon wedges and tartare sauce. 
Check ingredient labels to make sure they meet your specific dietary requirements and always consult a health professional before changing your diet. View dietary information here.