Dan and Steph's hearty beef stew with herb dumplings
Tuck into hearty beef stew for a winter warmer the family will love. It's a filling dinner option that's bursting with rich flavour.
Steph: Hi guys. Dan and Steph back with you again thanks to Coles What's for Dinner. Tonight in our house hold is a beautiful hearty beef stew with herb dumplings. Now this is going to feed your whole family for under $20 bucks so let's make it happen 
Dan: Right, so first step of this one guys is really simple we are going to cut up our gravy beef. We've got the beautiful Australian gravy beef. So this one is great value for money and we are going to dice this one up, cover in flour and fry it off and get these nice flavours happening already for this beautiful gravy beef stew.

Dan: So whilst Steph is frying off the beef, I'm going to chop up our onion and garlic and get that ready because that's next to go in. We've mixed it up today because we know Coles do these amazing soup packs. We've got the parsnips the carrots, we've got the celery, we've got the onions, we've got the turnips and we've got a potato. Hear that nice sizzle guys, now we are going to de-glaze the pan with our beef stock and get all that beautiful flavour off the bottom of the pan. Next step we add our tomato paste, a good couple of tablespoons a good slug of our balsamic vinegar and you can see we have a nice gravy going at the moment. Then we are going to add all our veggies. 

Steph: Were almost there with our stew, it's about to go in the oven but we are going top pack it with more flavour. 

We've got a bunch of parsley. We're going to add the roots to the stew and the herbs for the dumplings later, and we have some thyme as well.
Dan: So our stew is ready to go in the oven now. We are going to put it in for 2 ½ hours at 150 degrees and we are going to crack on with our dumplings.

Dan: So we are on to our dumplings guys. Now this step is very easy. We're going to add 300 grams of flour we're going to add salt and pepper our fresh herbs and all our wet ingredients and we are going to mix them up until the right consistency for a dumpling. You want it to be a little sticky and not to firm. You just want to add a little bit of water and bring that consistency together for us.

Steph: So its been 2 ½ hours and our Hearty beef stew has been cooking away in the oven. 

Dan: Smells delicious. You've got a little bit of the balsamic coming through, you've got all of those beautiful root veggies so what we're going to do now is, we're going to get our dumplings. The stickier it is the lighter, fluffier the dumplings will be. We just want to get golf ball size, you don't want to play around with it too much. Then we just want to plonk that in. It's easy as that guys, we've got our dumplings in there, lid back on, in the oven for another half hour.

Steph: our hearty beef stew is coming out of the oven.

Dan: Scoop it out into a big bowl. Absolutely delicious. Perfect for winter. And don't forget guys under $5 per serve. So get into Coles, get all your ingredients and get cooking!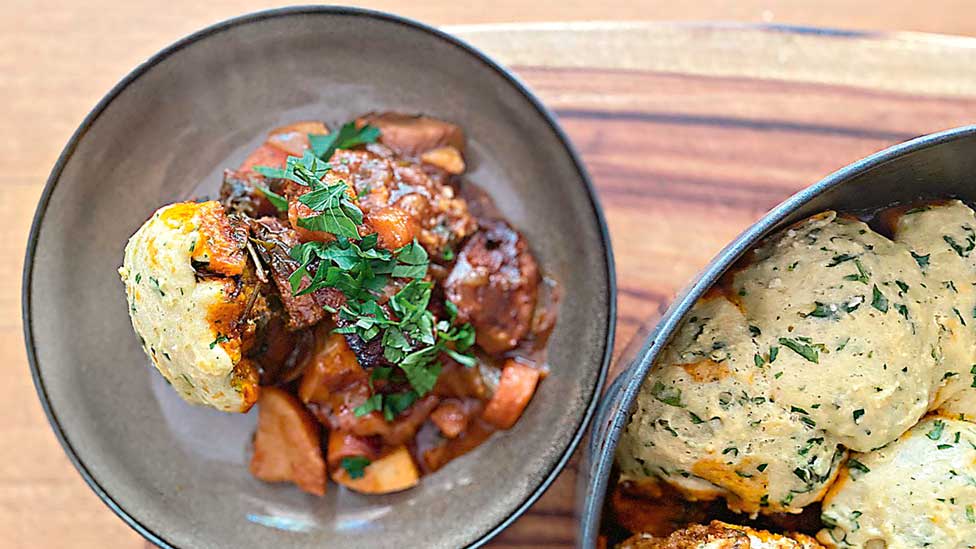 Ingredients
500g Coles Australian No Added Hormones Gravy Beef, cut into into 5cm pieces
50g plain flour
1-2 tbs olive oil
4 cups (1L) salt-reduced beef stock
1-2 tbs tomato paste
1 tbs balsamic vinegar
1 brown onion, coarsely chopped
2 garlic cloves, crushed
1kg pkt Coles Australian Soup Starter Pack, coarsely chopped
1/2 bunch flat-leaf parsley stems, chopped
5 thyme sprigs, leaves picked
Chopped flat-leaf parsley, extra, to serve
Dumplings
2 cups (300g) self-raising flour
1/2 bunch flat-leaf parsley leaves, chopped
5 thyme sprigs, leaves picked
2 egg yolks, lightly whisked
2 tsp olive oil
Method
STEP 1 
Preheat oven to 150˚C. Place the beef and flour in a large bowl. Toss to combine. Heat the oil in a large flameproof casserole pan over high heat. Cook the beef, in batches, until browned all over. Transfer to a plate.
STEP 2 
Return beef to the pan with the stock, scraping the browned bits from the bottom of the pan. Add the tomato paste and vinegar and stir to combine. Reduce heat to medium. Add the onion, garlic and vegetables from the soup pack. Stir to combine. Bring to the boil. Add the parsley stems and thyme and stir to combine. Cover and bake for 2 1/2 hours.
STEP 3
Meanwhile, to make the dumplings, place the flour in a large bowl. Season with salt and pepper. Add the parsley, thyme, egg yolk and oil and stir until just combined, adding just enough cold water to bring the dough together. 
STEP 4 
Divide the dough mixture into 8 even portions and arrange over the beef mixture. Cover and bake for 30 mins or until the beef is tender and the dumplings are cooked through. Set aside for 20 mins to rest.
STEP 5 
Divide the beef stew and dumplings among serving plates. Sprinkle with extra parsley to serve. 
Check ingredient labels to make sure they meet your specific dietary requirements and always consult a health professional before changing your diet. View dietary information here.