Dan and Steph's Mexican chicken bake
After a tasty dinner with minimal prep? This Mexican chicken bake is the perfect solution. It ticks all the boxes.
Hi everyone, Dan and Steph here again, we're back and we're going to create a yummy dish for the entire family today for under five dollars a serve and it's a Mexican chicken bake, using chicken drumsticks. Let's get started. 
What we want to do is we want to incorp a lot of Mexican flavour up but with minimal ingredients because we want to keep that on a budget.
And the best thing, what we've done is we bought the bul pack of the chicken drumsticks but we're only gonna use about 8 of these today. We've got spares for later in the week, which is great.
Six bucks, all that chicken, unbelievable.
Fantastic, so four bucks a kilo. So we need to marinade  these so what we need to do is put some ingredients into the processor, we're gonna add some garlic and put some fresh coriander. We're gonna do half the packet of the Mexican spice mix a little bit of oil, a little bit of salt. Ok, so we have our chicken now marinating, we popped them back in the fridge for a little while. Get our salsa ready, woo! The first thing dan is gonna do I fry off some corn. 
So next step guys, we're gonna de-seed our tomatoes because the inside of our tomatoes are quite wet and quite bitter. 
Diced Onion.
Got our drained kidney beans and there we go guys. There's our salsa. This is when it all comes together, hot oil, our onion in, we're gonna go our Mexican seasoning. Ok, we've got two cups of rice. 
And it's a bit like a risotto I suppose, you're just gonna cook the rice off in those spices, what's next?
Tomatoes, so we don't lose any flavour from these beautiful tomatoes, we're gonna get a little bit of water, so look we got nearly a cup of water in there and we're gonna tip them into these tins and then we've got beautiful tomato mexican stock. In with that. So chicken into the rice mixture and then in the oven to bake, See you in 25 minutes chicken. Winner winner chicken dinner, there we have it guys. 
We need to top it with that beautiful salsa that we created. Just put that over the top.
Load it up, load it up.
Don't forget the sour cream. This whole pan, less than $5 a serve, under 20 Bucks for a family of 4 and don't forget to top it with coriander not. Then take it to the table for the family to dish out and you guys enjoy, thanks so much, enjoy our Mexican chicken bake.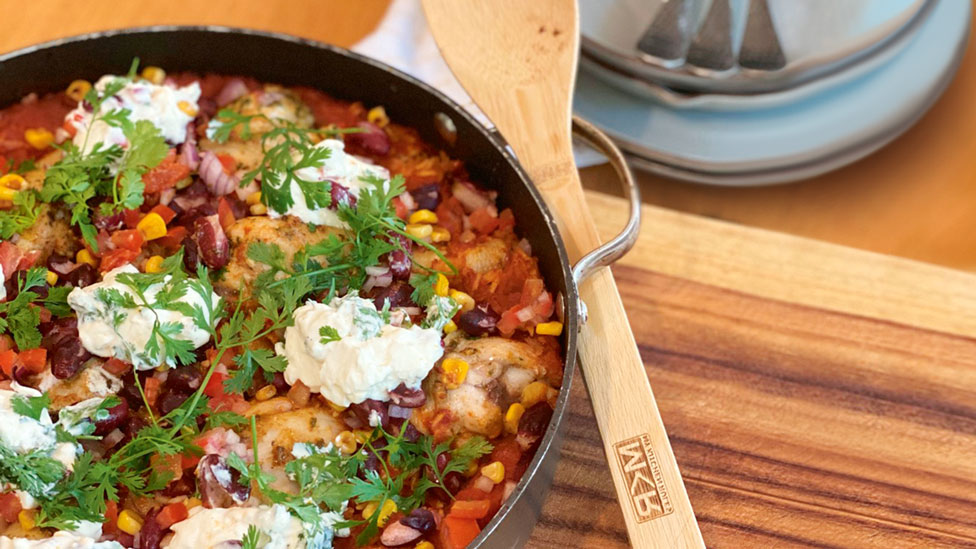 Note: + 30 mins marinating time
Ingredients
1 bunch coriander
2 garlic cloves
40g pkt Coles Mexican Seasoning Mix
2 tbs olive oil
8 chicken drumsticks
1/2 red onion, finely chopped
2 cups (400g) long-grain white rice
2 x 400g cans Coles Italian Diced Mexican Spiced Tomatoes
Sour cream, to serve
Salsa
1 tbs olive oil
125g can corn kernels, rinsed, drained
1 tomato, seeded, finely chopped
1/2 red onion, finely chopped
400g can red kidney beans, rinsed, drained
Method
STEP 1
Reserve the coriander leaves. Place the garlic, coriander roots and stems, half the Mexican seasoning, half the oil and a pinch of salt in a food processor. Process until smooth. 
STEP 2
Place the chicken in a large bowl. Pour the garlic mixture over the chicken and turn to coat. Cover with plastic wrap and place in the fridge for 30 mins to develop the flavours. 
STEP 3
Meanwhile, to make the salsa, heat the oil in a frying pan over high heat. Cook the corn for 2-3 mins or until lightly charred. Transfer to a bowl with the tomato, onion and kidney beans. Toss to combine. 
STEP 4
Preheat oven to 180°C. Heat the remaining oil in a large ovenproof frying pan. Cook the onion for 2 mins or until onion begins to soften. Add the remaining Mexican seasoning and the rice. Stir until well combined. Add the tomato and ½ cup (125ml) water and stir to combine. Season. Cook for 5 mins or until the mixture thickens slightly. 
STEP 5
Arrange chicken over the rice mixture in the pan. Bake for 25 mins or until the chicken is cooked through. 
STEP 6
Sprinkle salsa over the chicken mixture in the pan. Top with sour cream and coriander leaves to serve.
Check ingredient labels to make sure they meet your specific dietary requirements and always consult a health professional before changing your diet. View dietary information here.