Dan and Steph's pork crackle crumbed chicken burgers
It's game on for the footy! Play it safe with these mouth-watering chicken burgers. They're a fan favourite.
Hi guys, Dan and Steph here from My Kitchen Rules and Eat at Dan and Steph's at Hervey Bay.
That's right guys, the footy's back how good's that, go the footy, up the footy! We're so excited, so we thought what not better way to celebrate the footy being back but with the pork crackle crumb chicken burger, made by us, absolutely delicious and next level, you'll love it.

What do we need to do?

Everyone's seen these bad boys getting around in Coles, absolutely delicious about 2 bucks a pack. Pork Crackle crumble going in. All of them in, got some Italian herbs, little bit of garlic powder, and yummy yummy parmesan chesse. 

What an easy crumb!

Whip them up all nice and fine and then we're gonna coat our chicken in it. I like to put these on a baking tray, to allow the air to get underneath the chicken as well, so we get crunchy on the bottom as well, so that's also important. So our pork crackle crumb chicken is ready to go in the oven. See you in fifteen minutes chicken. 

Okay guys so we've got the chicken still in the oven and we've got all the other fillings ready for our burger ready to build it when the chickens coming out and Dan's also cooked some bacon to put that into the burger as well, and we're going to top our burger off with a smokey aioli and this is super easy. I know you've got smoked paprika in the cupboard, I know you have mayonnaise in the fridge so we are going to top this off, super easy, so what we're gonna do is a squeeze a lemon.

Go Steph go.

So we need half a lemon, probably about a teaspoon of smoked paprika and give that a nice big stir. It's good. Alight now we've got to wait for our chicken for another couple of minutes and build our burgers and get stuck into 'em.

So quick little tip with these brioche rolls, very important, a couple minutes before you chickens about to finish, bang these in the oven and get them nice and soft and toasty , they'll be absolute delicious, lots of butter in these. So all that butter will start to come out and it'll be nice and soft and yummy.

Now it's time to get the family in the kitchen, and build our pork crackle crumbed chicken, don't say that very fast at all.

Pork crackle crumbed chicken, pork crackle crumbed chicken, pork crackle crumbed chicken, pork crackle crumbed chicken.

The best thing about this one guys it's that the family can build their own chicken burgers to whatever ingredients they want inside so, if the kids want bacon, cheese, chicken and tomato so be it. If they want to leave the pickles off, they can. But to me the pickle makes the whole burger. So there we have it, cracking crumbed chicken burgers. The whole family will love it. Great for the footy, great for the family and great value for money for only four ninety five a serve and thanks very much, we'll see you soon!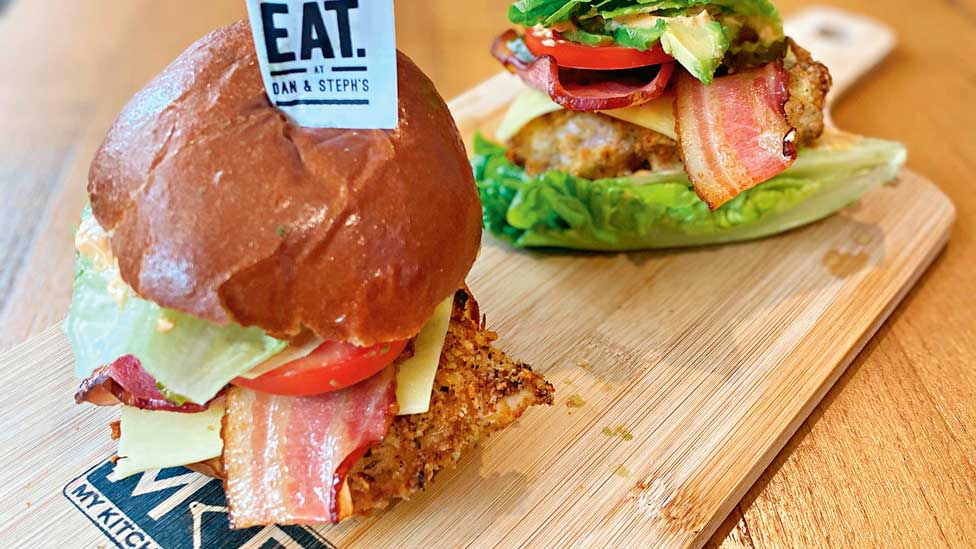 Ingredients
50g pkt Gold Medal Pork Krackles
2 tbs dried Italian herbs
2 tsp garlic powder
1/2 cup (40g) grated parmesan
2 eggs
1 tbs milk
4 chicken thigh fillets
4 brioche burger buns, split
4 bacon rashers, fat trimmed
1 tomato, sliced
1 iceberg lettuce or cos lettuce, leaves separated
Dill pickles, sliced, to serve
Dill pickles, sliced, to serve
1 avocado, stoned, peeled, sliced
Smoked aioli
1/2 cup (150g) mayonnaise
2 tbs lemon juice
1 tsp smoked paprika
Method
STEP 1 
Preheat oven to 200˚C. Place a wire rack on a baking tray. Process the pork crackle, Italian herbs, garlic powder and parmesan in a food processor until fine crumbs form. Transfer to a shallow bowl. Whisk the eggs and milk in a separate shallow bowl. Dip each chicken thigh in the egg mixture, then in the crumb mixture to coat. Transfer to the wire rack. Bake for 15 mins or until the chicken is golden and cooked through, adding the bun bases to the oven for the last 2-3 mins of cooking. 
STEP 2 
Meanwhile, line a baking tray with baking paper. Place the bacon on the lined tray and bake for 15 mins or until golden brown and crisp. Transfer to a plate. Cover with foil to keep warm.
STEP 3 
To make the smoked aioli, combine the mayonnaise, lemon juice and paprika in a small bowl.
STEP 4 
Divide the bun bases among serving plates. Spread evenly with the smoked aioli and top with the chicken, tomato, lettuce, pickles, cheese, bacon and avocado. Top with bun tops and serve immediately.
Tip: for a low-carb version, replace the brioche burger bun with a halved baby cos lettuce.

Check ingredient labels to make sure they meet your specific dietary requirements and always consult a health professional before changing your diet. View dietary information here.