Dan and Steph's sausage and lentil simmer
Craving winter comfort food? This sausage and lentil simmer is rich, flavourful and hearty.
Hey guys Dan and Steph here from My Kitchen Rules and Eat at Dan and Stephs in Harvey Bay. Brought to you by Coles and What's cooking and tonight we are showcasing our favourite ingredient of all... sausages. Bangers. Snags. So we've got a sausage and lentil simmer for you tonight. Great value for money for the family. Under $20 to feed four. First step for this guys very simple we're just going to get all the chopping done so then it's done. So I've got my bacon. My carrot. My onion. my garlic. Easy simple. Veggies chopped up. Bacon chopped up. We've got these great value for money beef snags from Coles. $5 for half a kilo you can't beat that and they're going to be perfect for this dish. Fantastic we've also in the meantime strained off our cans of lentils and these babies are only about 80c a can so it's really value for money.  So let's get over to the pot. 
This is pretty much a one pot wonder. Um get everything in to the pot. Fry it all off. So in goes the chicken stock. Just to deglaze that pan a little bit. Coz we caught all that yummy bacon and onion and garlic. I just want to bring that up off the bottom of the pot all that flavour. Chopped tomatoes going in. Lentils in and we just want a little drizzle of balsmic. Just going to season. Bit of salt. Bit of pepper. Always season. Give it a little stir. 
So there we have it guys we have our sausage and lentil simmer now simmering away. We're going to put the lid on 20 minutes and bobs your uncle. Beautiful Lentil and Sausage simmer. See you in 20 minutes Sausage and Lentil Simmer. 
So after just 20 minutes on the stove our sausage and lentil simmer is all done. The house smells warm and amazing. Can't wait to get stuck into this one. Smells so good. Totes good. So we're going to finish it with a good dollop of sour cream. Coz you can't beat sour cream on a warm wintery night with something warm and yummy. And then a sprinkling of fresh parsley. And there you have it guys. Our sausage and lentil simmer. Great value for money using Coles beautiful beef snags and tin lentils. 80c a can you can't go beat it. Let's go have a crack. And don't forget guys under $5 a serve so get into Coles, get all your ingredients and get cooking. Oh yeah. The family will love this one.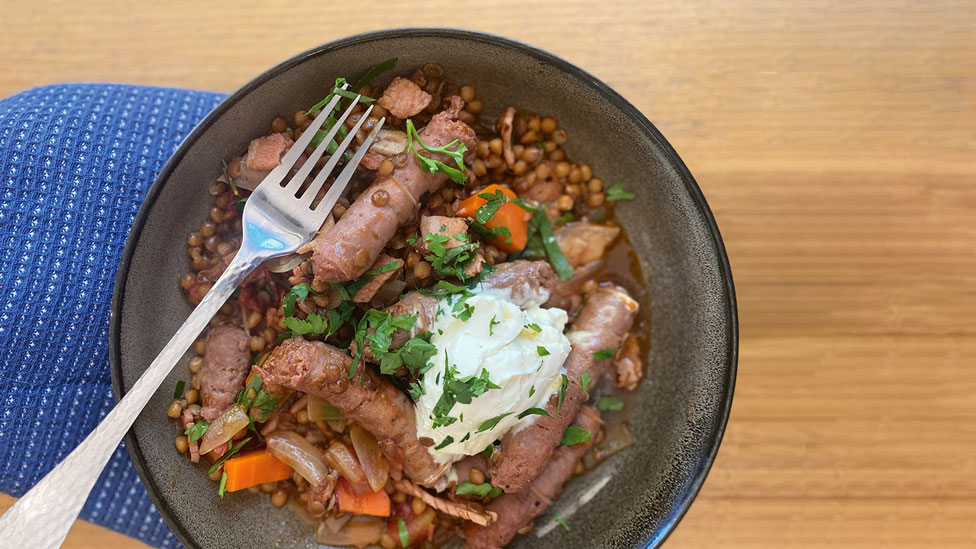 Ingredients
1 tbs olive oil
100g bacon, coarsely chopped
1 brown onion, coarsely chopped
1 large carrot, peeled, coarsely chopped
2 garlic cloves, finely chopped
2 rosemary sprigs, chopped
6 beef sausages, cut in half
200ml salt-reduced chicken stock
400g can diced tomatoes
2 x 400g cans lentils, rinsed, drained
1 tbs balsamic vinegar
Sour cream, to serve
1/2 bunch flat-leaf parsley, coarsely chopped
Method
STEP 1
Heat oil in a large saucepan over medium-high heat. Add the bacon, onion, carrot, garlic and rosemary. Cook for 5-8 mins or until the onion softens and begins to brown. 
STEP 2
Add the sausage to the pan and cook, stirring occasionally and turning the sausage, for 10 mins or until sausage is cooked through. Add the stock and stir, scraping any browned bits from the bottom of the pan. Add the tomato, lentils and vinegar. Season with salt and pepper and stir to combine. Bring to the boil then reduce heat to medium-low. Cover and cook, stirring occasionally, for 20 mins or until sausage is cooked through.
STEP 3
Divide the sausage mixture among serving bowls. Top with sour cream and sprinkle with parsley to serve.
Check ingredient labels to make sure they meet your specific dietary requirements and always consult a health professional before changing your diet. View dietary information here.