Dan and Steph's sausage stuffed capsicums
Whip up sausage stuffed capsicums for a delicious family meal. Topped with gooey cheese and sprinkled with fresh parsley, this dish is a winner.
Steph: Hi Guys, Dan and Steph here from MKR and Eat at Dan and Steph's in Harvey Bay. We hope you're doing really well at home in iso and hope you have been finding your routine. We've spent a lot of time in the kitchen together and we love coming up with recipes. 
And today's recipe thanks to Coles is Sausage Stuffed Capsicums. 
Dan: We've got two different elements to this dish, one being the sauce and one being the stuffed capsicums. We've got the same veggies in both.

We've got garlic, onion, carrots, we've got the tops of the capsicums. Just divvy it up evenly. 
Steph: Ok now we've got the vegetables all chopped up the next step is preparing the capsicums so all you need to do is chop the tops off and take out the core and clean it on the inside. 

Dan: Our next step is to make the sausage filling for the capsicums. Very easy.

We've got some olive oil in the pan, couple of tablespoons. We're going to add some dried oregano, some smoked paprika, little bit of pepper, handful of me old mate Harold Holt, the salt. Once we've mixed that through we'll add the tomatoes. Just going to let that cook down and reduce and we're going to cool it down straight away so we can add it to our sausages and rice. 
Alright so we go sausages and parsley in, we've got our two cups of cooked rice, we've got our saucy mixture goes in.
This is the fun part we're now going to stuff our capsicums, so we've got all our ingredients we're going to chuck them all together. Give them a good mix. This is where we get the kids in the kitchen. Get their hands in there. Get them all nice and dirty and let's have some fun. Just got to spoon this mixture in make sure they're nice and full. 
Time to make our sauce. Come with me. Hot pan with a bit of olive oil. Veggies in.
Steph: Next step with the sauce...

Dan: Tomatoes in. I've got 3 cups of chicken stock. And then we're going to let that simmer for 15 minutes. Secret recipe guys... honey! Good squirt about 3 tbs. Now with the sour cream. I think it needs a touch of salt and a little bit of pepper. 

Steph: Alright guys we've nearly finished every single step. What we need to do is get that beautiful sauce. What we need to do is get that beautiful sauce into a really big pot. 

Dan: Then we can put our capsicums in. Put the lid on. In the oven. 180 degrees for 30 minutes. Time to get these capsicums out of the oven. So we want to the mozzarella in there we want to get it all over then we're going to top it with some grated parmesan as well. 

Alright let's get the lid back on this. Back in the oven and let it do it's thing. 20-25 minutes 180 degrees... dinners served. 
Dan: Let's see what we've got. 

Steph: So there we have it guys. What's for dinner in our household thanks to Coles, Sausage Stuffed Capsicums. I'm sure that the whole family will love it. Enjoy and look after yourselves!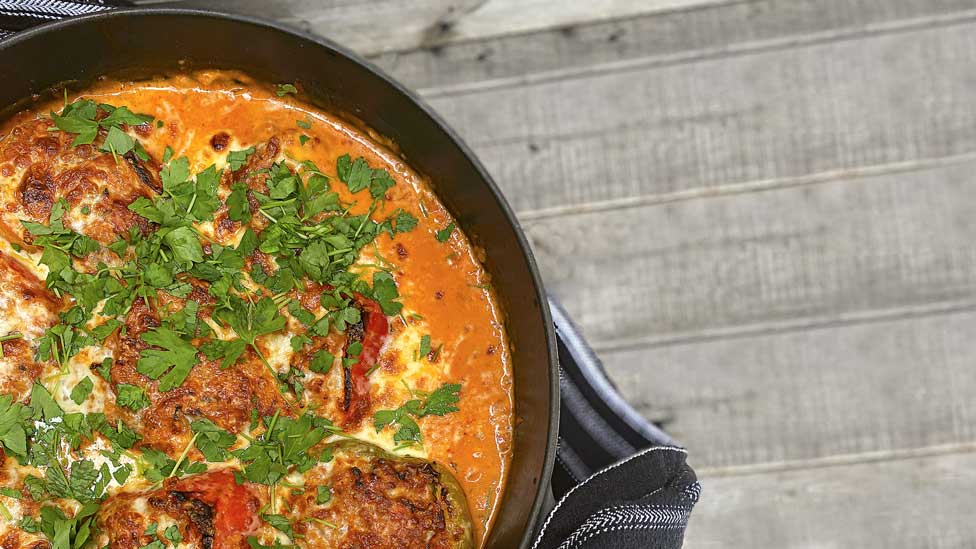 Ingredients
2 brown onions
2 carrots, peeled
8 small assorted capsicums, tops removed and reserved, core discarded
8 garlic cloves
4 tbs olive oil
1 tbs smoked paprika
2 tbs dried oregano
2 400g cans diced tomatoes
500g pork sausages, casings removed
2 cups (400g) par-cooked long grain rice, or any other rice you have
1/2 bunch chopped parsley
3 cups (750ml) chicken stock
300g sour cream
2 tbs honey
1 cup (100g) grated mozzarella
100g grated parmesan
1/4 cup chopped parsley, extra to serve
Method
STEP 1 
Preheat oven to 180°C. In a large food processor, process the onions, carrots, reserved capsicum tops and garlic. Divide the onion mixture evenly among 2 bowls.
STEP 2 
Heat half the oil in a pan over high heat. Add 1 bowl of the onion mixture and cook, stirring, until slightly brown. Add the paprika, oregano and 1 can diced tomatoes. Reduce to a simmer. Simmer for 10 mins or until the tomato mixture reduces slightly. Set aside to cool.
STEP 3 
Meanwhile, in a large bowl, combine the sausage, rice and parsley. Season. Add the cooled tomato mixture and stir to combine. Spoon the rice mixture evenly among capsicums, making sure it's compact.
STEP 4 
Heat the remaining oil in a frying pan over high heat. Add the remaining bowl of onion mixture and cook, stirring, until slightly brown. Reduce heat to medium-low. Add the remaining can of diced tomatoes and the stock and simmer for 10 mins or until the mixture reduces slightly. Add the sour cream and honey. Whisk well to combine. Bring the mixture to a gentle simmer. Season.
STEP 5
Pour the sour cream mixture into a large baking dish. Arrange the stuffed capsicums over the sauce in the dish. Cover with foil or a lid and bake for 40 mins. Sprinkle with mozzarella and parmesan and bake for a further 20 mins or until the cheese melts and the sausage meat is cooked through.
STEP 6
Sprinkle with extra parsley to serve.
Check ingredient labels to make sure they meet your specific dietary requirements and always consult a health professional before changing your diet. View dietary information here.