Dan and Steph's smokey baked meatballs
Hi guys, Dan and Steph back again, thank you very much to Coles. So tonight we're going to do a great dish, it's one of my favourite dishes that Seph cooks for me. It is the smokey bacon meatballs, absolutely delicious and under $5 per serve so only 20 bucks feed a family of four. 
We've actually bought the bulk pack of the coles mince and the best thing about this one it's cheaper to buy in bulk, but we're going to use half of this for a meatballs and use the other half for a meal later in the week. 

So our first step is we need to process some bacon, onion, garlic and some oregano. And what we're going to do now is fry this off in the fry pan. So we've got the bacon, onion mix all fried off and what we're going to do is take half of that out of the frying pan and that is going to be part of our meatball mixture with the beef mince. 

The extra half that's still in the pan, that's what we're going to use to get our sauce happening. Two tins of tomatoes, tomato paste, and we've got some reduced chicken stock as well. We have some fresh thyme sprigs. What really make this sauce is a drizzle of balsamic and what we're going to do is cook that down now.
So let's get on with these meatballs.

So what we have is the half of the onion, bacon mix cooled down and we're going to use half of the beef mince we bought in bulk. So that is going to go straight into the bowl. Combine these, we've got to add two eggs also. Do you mind putting some seasoning in there? And what we need to do is squeeze that altogether. 

We're going to roll some meatballs, and what we like to do is make them about the golf ball size. 
The next step is to add them to our yummy sauce which is over on the stove. Definietly needs some salt, some pepper and a little smidge of sugar to balance it out and it's time to add the meatballs. Straight into the sauce. What we need to do is cover it with mozzarella cheese, now they go into the oven to be baked for about twenty minutes until they're nice and golden on top. In the meantime, we need to cook our pasta in simple boiling water.
Let's see if the pasta's cooked? It's cooked! Amazing.

The next thing we need to do now, let them sit for five to ten minutes.

So there you have it guys, our smokey baked meatballs, very delicious, but also great value for money at under $5 per serve using great Australian premium beef mince.

Get out there, it's a winter warmer and we hope you love it.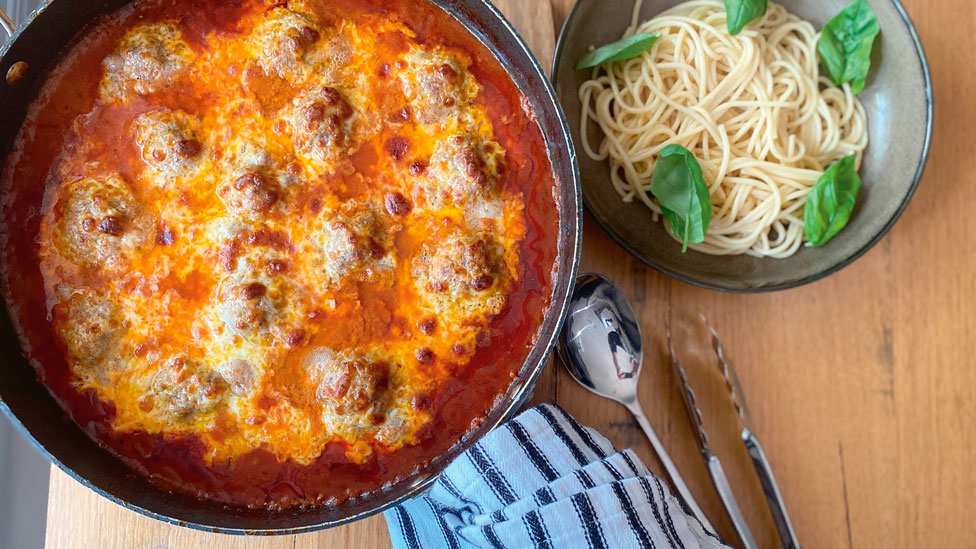 Note: plus cooling & resting time
Ingredients
1 brown onion, chopped
2 garlic cloves
4 rashers rindless bacon, chopped
2 tbs dried oregano
2 tbs olive oil
2 x 400g cans chopped tomatoes
2 tbs tomato paste
2 tbs balsamic vinegar
1 cup (250ml) salt-reduced chicken or vegetable stock
2 thyme sprigs
500g beef mince
2 eggs
1 tsp brown sugar
1½ cups (150g) grated mozzarella
250g spaghetti
Basil leaves, to serve
Method
STEP 1
Preheat oven to 220˚C. Add the onion, garlic, bacon and oregano to a food processor and process until finely chopped.
STEP 2
Heat the oil in a large ovenproof frying pan over high heat. Add the bacon mixture and cook for 6 mins or until crispy. Transfer half the bacon mixture to a plate and set aside to cool. 
STEP 3
Add the chopped tomatoes, tomato paste, vinegar, stock and thyme sprigs to the remaining bacon mixture in the pan. Stir until well combined. Reduce heat to low and cook for 15 mins or until the mixture reduces slightly.
STEP 4
To make the meatballs, place the mince, eggs and reserved bacon mixture in a large bowl. Season. Use your hands to mix until well combined. Roll the mince mixture into golf-ball sized portions. 
STEP 5
Add the sugar to the tomato mixture and season with salt and pepper. Stir to combine. Remove and discard the thyme sprigs. Arrange the meatballs over the tomato mixture in the pan. Sprinkle with mozzarella. Bake for 15-20 mins or until golden brown. Allow the meatball mixture to rest for 5-10 mins.

STEP 6
Meanwhile, cook the spaghetti in a large saucepan of boiling water following packet directions or until al dente. 
STEP 7
Divide the spaghetti and meatball mixture among serving plates. Sprinkle with basil to serve.
Check ingredient labels to make sure they meet your specific dietary requirements and always consult a health professional before changing your diet. View dietary information here.