Dan and Steph's Vietnamese chicken lettuce cups
Fresh and flavoursome, just how we like it! These lettuce cups are loaded with pickled veg and tender marinated chicken - they're guaranteed to be a new regular on the dinner rotation.
Hey guys. Dan and Steph here from My Kitchen Rules and Black Bear Brewhouse and Diner in Harvey Bay and today for you we've come up with Vietnamese Chicken and Lettuce Cups. Feeding a family of 4 for under $5 using chicken thigh fillet. 

Ok so our first step we need to do with our Vietnamese Chicken Lettuce Cups is we're going to marinate the chicken. So this marinade is super easy. 
What have we got in the marinade? So we've got some garlic. We got some lemongrass into the processor. Spring onions in. Got some fish sauce. Some beautiful sesame oil. Some white pepper. About a teaspoon of salt and we've got two tablespoons of honey. Marinade over. And we want them to marinate for at least 30 minutes. If you're prepared and you want to do it overnight they'll be even more delicious.
Ok next step with our Vietnamese Chicken Lettuce Cups is we're going to pickle some vegetable. Now pickling vegetable is so super easy. And all we're using today is carrot and cabbage. Give it a good mix. So we need to move over to the pot to get our pickling liquid happening. So pretty easy. We just want to dissolve some sugar with the star anise with a bit of vinegar. 
Ok so the next step is cooking some vermicelli with our Vietnamese chicken. Super easy. All you need to do is boil some water. Chuck the vermicelli into a bowl and just pour the hot boiling water over the vermicelli and let it sit. 
Ok guys Chickens marinated. Been in there for two hours. Looks absolutely delicious. Get it our of the fridge straight in the oven. See you in 25 minutes chicken.  And the pickle liquid is all done beautiful balance. Beautiful. And the Star Anise has infused that flavour. Now what I love about pickle is the longer you leave it the better it gets. So a minimum of 30 minutes. 
Time to get our other ingredients ready. Pretty simple. We've got some beautiful baby cos from Coles. We've just pick these leaves and we're just going to get these in our bowl ready to go. So we're just going to roughly chop these peanuts up and these are going to sprinkle over the top. We're just going to strain off our Vermicelli and our pickled veg. 
Chicken's ready guys. Smells absolutely delicious. Looks sensational. Keep all these juices because we just want to spoon this back over our chicken so we just want to strain this off. We'll let the chicken rest for 10 minutes before we slice it and then bobs your Uncle we're ready to go. Absolutely sensational. Feed the family for under 20 bucks. 
There you have it guys our beautiful Vietnamese Chicken Lettuce Cups brought to you by Coles and What's For Dinner?  So easy. So delicious. Only one thing left to do. But you know the best thing about this dish? No knives and forks needed. Let's get into it.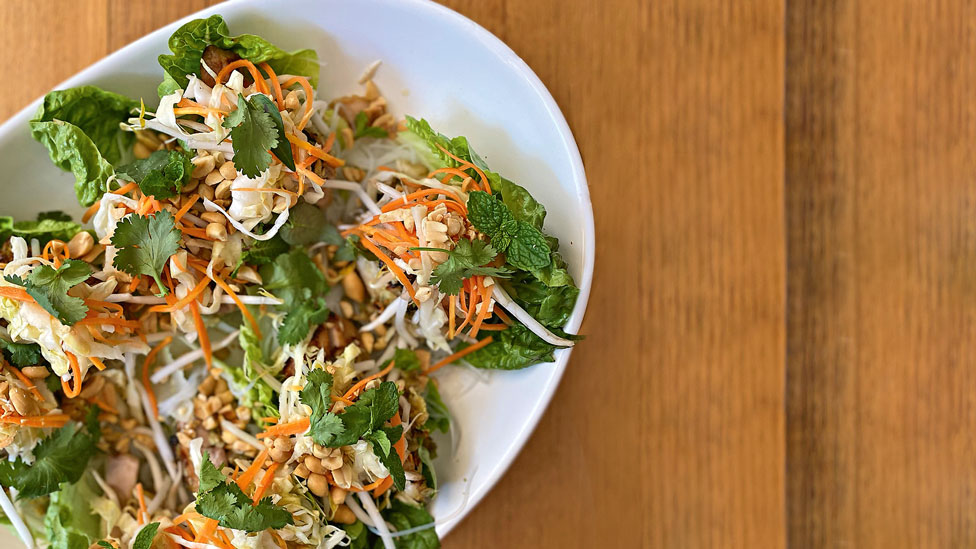 Note: + marinating & 10 mins resting time
Ingredients
2 garlic cloves
1 lemongrass stem, coarsely chopped
1/2 bunch spring onions, coarsely chopped
2 tbs fish sauce
1 tbs sesame oil
1/2 tsp white pepper
1 tsp salt
2 tbs honey
4 chicken thigh fillets
1 carrot, peeled, cut into matchsticks
1/4 green cabbage, shredded
1 cup (220g) caster sugar
2 whole star anise
2 cups (500ml) white vinegar
125g vermicelli noodles
8 baby cos lettuce leaves
1 cup (80g) bean sprouts
1/2 cup (70g) salted roasted peanuts, coarsely chopped
Coriander or mint leaves, to serve
Method
STEP 1
Line a large roasting tray with baking paper. Combine the garlic, lemongrass, spring onion, fish sauce, oil, pepper, salt and honey in a food processor. Process until smooth. Arrange chicken on the lined tray and coat in the garlic mixture. Cover with plastic wrap and place in the fridge for 30 mins or overnight to develop the flavours.
STEP 2
Combine the carrot and cabbage in a large heatproof bowl. Combine the sugar, star anise and vinegar in a large saucepan. Bring to the boil over high heat, stirring until sugar dissolves. Reduce heat and simmer for 10 mins. Carefully pour over the carrot mixture in the bowl and set aside for 30 mins to soak. Drain well. 
STEP 3
Meanwhile, preheat oven to 180°C. Bake the chicken for 25 mins or until the chicken is cooked through. Set aside for 10 mins to rest. Slice the chicken, reserving any pan juices.
STEP 4
Place the noodles in a large heatproof bowl and cover with boiling water. Soak for 3-4 mins or until the noodles are tender. Drain well.
STEP 5
Arrange the lettuce leaves on a serving platter. Top with noodles, chicken, carrot mixture, bean sprouts and peanut. Drizzle with reserved pan juices and sprinkle with coriander or mint leaves to serve.
Check ingredient labels to make sure they meet your specific dietary requirements and always consult a health professional before changing your diet. View dietary information here.