Darren Purchese's bacon mac and cheese
This bacon mac and cheese is the ultimate comfort food. Served with a zesty broccoli salad, it's a must-try.
This dish will put a smile on your face, it's going to cheer everyone up, a twist on a classic. So Mac and cheese but we're going to add bacon. But I think the best part of this is it's coming in at under 5 bucks a head.
So I'm going to make some croutons, this is going to be our topping. Add a splash of olive oil, and I'm gonna rub each piece of bread with garlic and some salt flakes. And we're just going to bake or dry these out in the oven for about 20 minutes.
OK I filled a large saucepan with water, going to blanch the broccoli for a couple of minutes.
OK for the white sauce going to pour my milk into a saucepan, bring it to a scald. Turn off the heat and leave it to the side.
OK got a large saucepan of water on for my macaroni. I'm going to cook the bacon and shallot first, just soften them up, before grating in our garlic cloves.
Now we'll cook this until it starts to go golden brown. Then we use a spoon to take it out of the pan.
OK I've just added my butter to the saucepan, just melted so I'm gonna add in the plain flour all in one go and I'll give it a bit of a stir with a whisk try and get rid of some of those lumps.
Now the milk, gradually mixing in as we go.
OK I've just added the cheese to my sauce, and I've put my macaroni into my boiling water, that's going to take about 8 minutes.
This cheese sauce is nearly done, gonna add the bacon and shallot back inside the pan.
I'm gonna add the macaroni to the sauce. Now I'm just gonna stir in some chopped parsley.
OK so we've got our croutons here, and then I'm going to finish with the rest of the cheese. Beautiful. That is ready for the oven.
OK really simple salad, gonna take some chilli along with some finely chopped shallots and I'm going to zest some of this lemon. Also going to add some lemon juice. Just going to whisk in some oil, some black pepper, finish with a pinch of salt. And then we'll add our cooked broccoli. I'm just going to finish the salad with some red wine vinegar.
Well there we have it, that's going to feed everyone really well for less than 5 bucks a head, more recipes like this visit coles.com.au, and stay safe out there.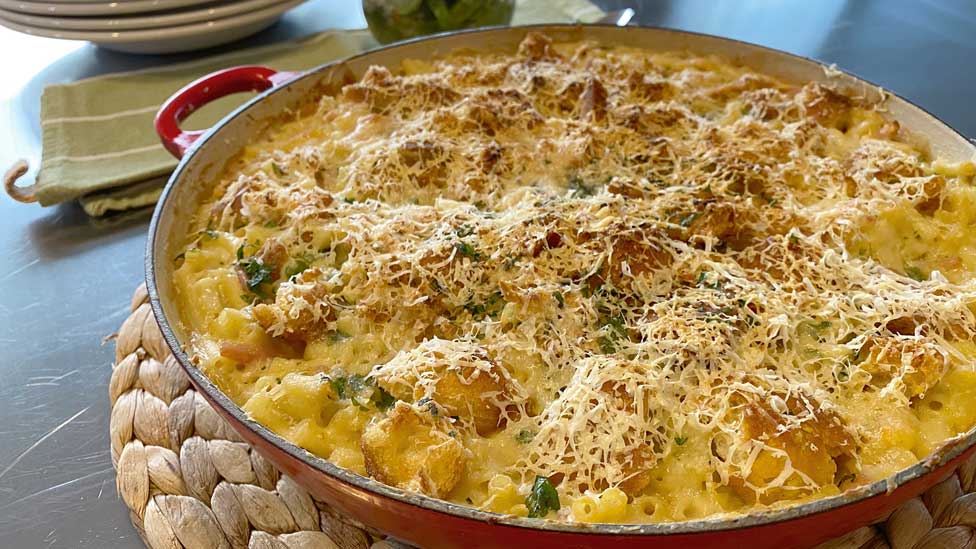 Ingredients
1/2 Coles Turkish Pide, torn into 2cm chunks
Olive oil, to drizzle
2 garlic cloves
1 head broccoli, cut into florets, stem peeled and sliced into 1/2cm-thick discs
400g macaroni
175g rindless bacon, thinly sliced
3 shallots, finely chopped
600ml milk
50g unsalted butter
50g plain flour
250g tasty cheddar, coarsely grated
1/2 bunch flat-leaf parsley, finely chopped
1 bird's eye chilli, thinly sliced (optional)
1 lemon, rind finely grated, juiced
100ml olive oil, extra
2 1/2 tbs red wine vinegar
Method
STEP 1
Preheat oven to 165°C. Arrange the pide on a baking tray. Drizzle with oil and sprinkle with sea salt flakes. Bake for 20 mins or until golden and crisp. Cut 1 garlic clove in half. Rub warm pide with the cut-side of the garlic. Transfer croutons to a bowl and set aside to cool.
STEP 2
Meanwhile, bring a large saucepan of salted water to the boil. Add the broccoli florets and stem and cook for 3 mins or until bright green and tender. Refresh under cold water. Drain.
STEP 3
Cook the macaroni in a large saucepan of salted boiling water following packet directions. Drain, reserving some of the cooking liquid.
STEP 4
Heat a splash of oil in a large saucepan over medium heat. Add the bacon and 2 shallots. Cook, stirring, for 2-3 mins or until the shallot softens. Finely grate the remaining garlic clove. Add grated garlic to the bacon mixture and cook until the bacon starts to turn golden brown. Transfer the bacon mixture to a plate.
STEP 5
Place the milk in a medium saucepan over medium heat. Bring to a simmer. Remove from heat and set aside. Melt the butter in a large flameproof casserole pan over low heat. Add the flour and whisk to combine. Cook for 1 min. Gradually add the milk, whisking well after each addition. Stir and continue to cook for 1 min or until smooth and combined. Add 200g cheddar and stir until well combined. Add the bacon mixture and stir to combine.
STEP 6
Add macaroni to the cheese sauce in the pan with a little of the reserved cooking liquid, if necessary. Add the parsley and stir to combine. 
STEP 7
Use a rolling pin to crush the croutons into smaller pieces. Sprinkle croutons and the remaining cheddar over the macaroni mixture. Bake for 15-20 mins or until golden brown and heated through.
STEP 8
Combine the remaining shallot and chilli, if using, in a medium bowl. Add the lemon rind and half the lemon juice. Whisk in the extra olive oil. Season with salt and pepper. Add the broccoli and toss to combine. Drizzle with the vinegar. 
STEP 9
Divide the macaroni mixture and broccoli mixture among serving plates to serve.
Check ingredient labels to make sure they meet your specific dietary requirements and always consult a health professional before changing your diet. View dietary information here.