Darren Purchese's classic burger
After a comforting dinner? Try this classic burger for flavour-packed dish that really hits the spot.
Hi all, hope you're doing ok. Darren here, returning with another simple delicious and great value recipe idea for you.
So what's for dinner? Well these my classic burgers with pickled onion rings. But that's not the best part, the best bit is this dish is coming in at under $20 for 4 people. While every good burger needs a pickle or an onion ring, so why not both.
So red wine vinegar, we're gonna add some costs to sugar and a pinch of salt. I've just separated my onions into rings and I'm just gonna leave them to sit in that pickling liquid. Just cutting sweet potatoes into wedges, we'll get some sunflower oil, quaite a bit of salt, some black pepper and I'm gonna get these onto my tray all standing up and bake them in a preheated oven. About 170 degrees until crispy. 
Now get to work on the burger mince. Brown onion into this pan to fry off with some thyme and garlic and this is for our burger beef mix. So I've got 500 grams of aussie beef mince and I'm gonna have some Dijon mustard,  Worcestershire Sauce. Got some bread crumbs. 1 egg, salt and pepper and I've got the cooled onions before mixing it all together by hand. 
Then we're gonna make some burgers. These onions rings, coat them just a shallow fry. These smell amazing. Right it's burger time, probably cook them for a few minutes on each side before finishing off in the oven, probably for about 10 minutes. These burgers smell incredible, just gonna get some cheese and we're gonna pop these under the grill to melt the cheese. Aww, all the cheese is melted, love a bit of melted cheese.
Now, time for assembly. There we have it, our classic burger with pickled onion rings with sweet potato wedges. Absolutely sensational Burger night has never been so much fun. I hope you give it a go the best part is this is going to feed a family of 4 for less than $20 so that's $5 a head or less than. More recipes like this, visit coles.com.au and get cooking. Enjoy.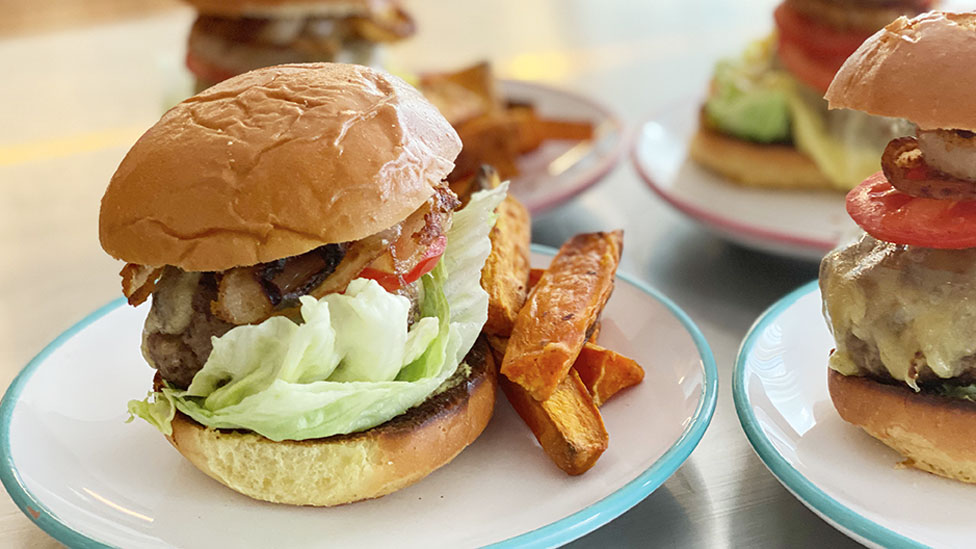 Note: + standing, cooling & resting time
Ingredients
2 brown onions
1/4 cup (80ml) red wine vinegar
1 tbs caster sugar
800g gold sweet potato, peeled, cut into wedges
Sunflower oil, to shallow-fry
1 tbs chopped thyme or oregano
1 garlic clove, finely grated
500g beef mince
1 tbs Dijon mustard
1 tbs Worcestershire sauce
1/2 cup (50g) breadcrumbs
1 egg
1/2 cup (75g) plain flour
1 tsp onion powder
1 tsp garlic powder
2 tsp smoked paprika
4 burger buns, split
100g tasty cheddar, thinly sliced
Dijon mustard, extra, to serve
1/4 iceberg lettuce, leaves separated
2 tomatoes, thinly sliced crossways
Method
STEP 1
Thickly slice 1 onion crossways to make rings. Combine the vinegar, sugar and a pinch of salt in a medium bowl. Add the onion rings and set aside for 10 mins or until the onion softens slightly. Drain.
STEP 2
Preheat oven to 170°C. Line a large baking tray with baking paper. Place the sweet potato in a large bowl. Drizzle with a little oil and season. Toss to combine. Arrange over the prepared tray. Bake for 30 mins or until golden brown.
STEP 3
Meanwhile, coarsely chop the remaining onion. Cook the chopped onion in a frying pan over low heat with the thyme, garlic and a little oil. Cook, stirring, for 4-5 mins or until the onion softens. Set aside to cool.
STEP 4
Place the mince, mustard, Worcestershire sauce, breadcrumbs, egg and the cooled onion mixture in a large bowl. Use your hands to mix until well combined. Divide into 4 equal portions and shape into patties. Transfer to a plate. Cover with plastic wrap and place in the fridge until needed.
STEP 5
Combine the flour, onion powder, garlic powder and paprika in a shallow bowl. Dip each onion ring in the flour mixture and turn to coat. Add enough oil to a large frying pan to come 1cm up the side of the pan. Heat over medium heat to about 170°C (when the oil is ready, a cube of bread turns golden brown in 15 secs). Cook the onion rings, in batches, for 1-2 mins each side or until golden and crisp. Transfer to a plate lined with paper towel.
Check ingredient labels to make sure they meet your specific dietary requirements and always consult a health professional before changing your diet. View dietary information here.