Darren Purchese's chicken, sweet corn and rice soup
For a warming meal, try our chicken, sweet corn and rice soup. This classic comfort food recipe is a tasty addition to your midweek menu.
Hi Guys, Darren here. Back again to give you some more dinner inspiration. Now I'm excited to show you my version of a classic combo. Chicken, sweet corn and rice soup. 
Now I'm going make a large batch of this because let's face it left-overs are not a bad thing. 

First I'm going to rinse 200g of jasmine rice. And then I'm going to add it to a large pot. 

Now here's a tip for ginger. I always peel a little bit more and I used what I need. Then with that little bit left over don't let it go soft in the fridge. Pop it into a container and put it in the freezer. It's perfect for next time. Ok I'm going to put a couple of slices maybe 10g ginger into my pot. 

I've got about 4 or 5 Spring onions here. I'm just gonna trim the green part off. I'm going to keep this for later on and just chop these up. And add these to the pot as well. 

Now for the star of our show I've got some beautiful Aussie, Free Range Chicken. I've got two skinless breasts there and I've got two chicken marylands with the skin on. I like to combine cuts to give me extra flavour and extra value. 

Now to sweet corn. We're going to cut the kernals. And we're going to add those to the pot as well. Chicken and sweet corn. Such a classic combination. So delicious and so affordable! We're just going to season it with a little bit of salt. And now we're going to top off with 2 litres of chicken stock. 

We're going to turn the pot on to medium heat. Bring it to the boil and we're going to simmer it for about 30-40 minutes. I think that's going to give me just enough time to do a little bit of housework maybe some ISO exercise. 

OK just have a quick check on our pot. As it starts to come to a rapid boil turn the heat down to a gentle simmer. It's been simmering for a while now the rice is still in tact. It's starting to break down a little bit and that's how I like it. Now what I'm going to do is I'm going to remove the chicken using these tongs on to this plate. Ok the chicken has cooled down slightly so now I'm going to pick off the meat, put it back into the pan and then I'm going to put the pan on the stove bring to the boil and then it's ready to serve. Ahhh smells great. Now I've got all my bits to finish. 

Got some ginger, finely sliced spring onions, secret ingredient ground white pepper and some sesame oil, coriander, some light soy and a bit of chilli in mine so that's going on top. 

So this is my chicken, rice and sweet corn soup. For more recipes like this visit Coles.com.au.

Give this a go. Enjoy.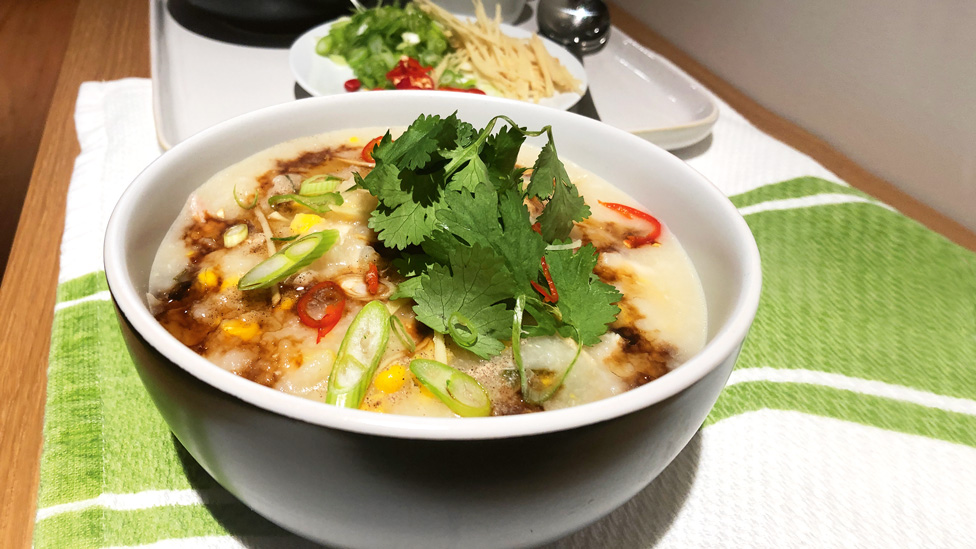 Ingredients
200g jasmine rice, rinsed, drained
2 chicken breast fillets
2 chicken marylands (or 700g chicken pieces on the bone)
10g ginger, peeled, thinly sliced
Pinch of salt
4-5 spring onions, thinly sliced, white and pale green parts separated from dark green parts
2 corn cobs, husks and silk removed
8 cups (2L) chicken stock
Garnishes
Thinly sliced ginger, to serve
Ground white pepper, to serve
Sesame oil, to serve
Coriander leaves, to serve
Light soy sauce, to serve
Thinly sliced red chilli (optional), to serve
Method
STEP 1 
Place the rice, chicken, ginger, salt and dark green parts of the spring onion in a large heavy-based saucepan.
STEP 2
Use a small serrated knife to cut down the side of the corn to release the kernels. Add corn to the pot with the stock. Bring to the boil over medium heat. Reduce heat to low and simmer for 30-40 mins or until the mixture reduces slightly.  
STEP 3 
Transfer the chicken to a heatproof bowl and set aside to cool slightly. Use two forks to coarsely shred the chicken, discarding skin and bones.
STEP 4 
Return chicken to the pan and stir until combined and heated through. Divide the soup among serving bowls. Top with the white and pale green parts of the spring onion and other garnishes of your choice to serve. 
Check ingredient labels to make sure they meet your specific dietary requirements and always consult a health professional before changing your diet. View dietary information here.