Darren Purchese's Greek chicken wings
After a new way with chicken? Have a go at these Greek style chicken wings for a dinnertime hit loaded with herbs and zesty flavour.
Hi all, Darren Purchese here. I'm back with another delicious, simple and affordable dinner solution for you and your family. 

These are my delicious, Greek style chicken wings. They're going to feed 4 people and do you know the best part is they're coming in at under 5 bucks a head. 

Great tasting dishes doesn't have to mean spending a whole heap of money. Check out these awesome value, ingredients, that I've just picked up to make this dish. 

Ok Let's get started so I've got my chicken wings. We're going to cut each wing into three pieces. Trim off any little bit of fat. 

Now it's time to make a simple marinade. I've got some dried herbs here. Some oregano, some thyme, dijon mustard, and I've also got some rosemary. Grate in the zest of half a lemon. Cut the lemon in half. Save one half for later on and squeeze the juice into the marinade. Grate some garlic. Some salt flakes. And some black pepper. And we'll give it a stir with some light olive oil. Pour this on to the chicken wings. Put these into the fridge. Probably for about half an hour. 

Now it wouldn't be a Greek feast without some roasted potatos. So I'm just going to cut them into wedges. Now we're going to add some olive oil, and some salt and a few more of those dried herbs. The oven's been pre-heated so I'm just going to add these into the hot tray. 

Just going to chop up my zucchini. Put it into the same bowl as I had the potatoes in. We're going to put this zucchini in the oven when we bake the chicken. 

So I've got some light Greek yoghurt here probably about 400g. Some grated garlic and the lemon that we saved from earlier. We're going to grate the zest and then we're going to add in the juice. Next fresh mint. Yoghurt sauce done. Super simple. I'm going to put it in the fridge. 

Potatoes. They're looking really good. I'm going to add the zucchini's to the potatoes and finish them off in the oven. 

Chicken's out of the fridge. Going to put the pieces on to an oven tray and put them into the oven. Probably going to take about 35 minutes. Potatoes and zucchini are cooked. This chicken is absolutely incredible. What a feast! I can't wait to dig in. And do you know what? 

All of this for $20 bucks that's going to feed four people. Incredible value! For more recipes like this head to coles.com.au. I hope you give it a go and I hope you enjoy it.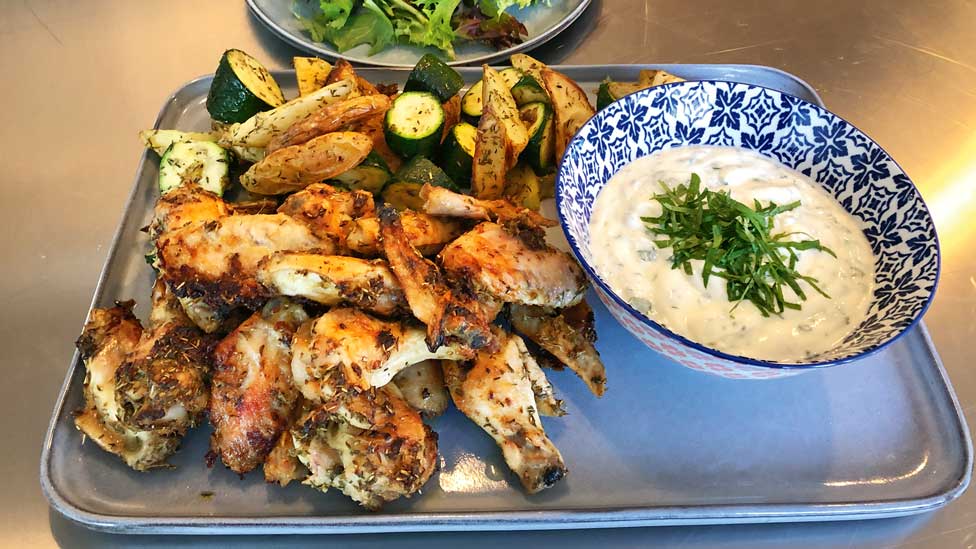 Note: + 30 mins marinating time
Ingredients
2 tsp dried oregano
2 tsp dried thyme leaves
2 tsp Dijon mustard
2 tbs dried rosemary leaves
1/2 lemon, rind finely grated, juiced
2 garlic cloves, grated
200ml olive oil
850g chicken wings, fat trimmed, each wing cut into 3 pieces
Roast vegetables
3 medium potatoes, cut into wedges
2 tbs olive oil
1 tsp dried oregano
1 tsp dried thyme leaves
1 tbs dried rosemary leaves
2 zucchini, coarsely chopped
Yoghurt sauce
400g light Greek-style yoghurt
1 garlic clove, grated
1/2 lemon, rind finely grated, juiced
2 tbs chopped mint
Salad
120g pkt Coles Australian 4 Leaf Salad
1/2 red onion, thinly sliced
Method
STEP 1 
Combine the oregano, thyme, mustard, rosemary, lemon rind, lemon juice, garlic and oil in a bowl. Season with salt and pepper. Add the chicken and turn to coat. Cover and place in the fridge for 30 mins to develop the flavours.
STEP 2 
Meanwhile, to make the roast vegetables, place a roasting pan in the oven and preheat at 180°C. Combine the potato, oil, oregano, thyme and rosemary in a bowl. Season with salt. Transfer to the roasting pan and roast for 20 mins or until lightly golden. Add the zucchini to the bowl and toss to coat in any remaining oil mixture. 
STEP 3 
Place the chicken on a baking tray. Add the zucchini to the potatoes in the roasting pan and roast with the chicken for 35-40 mins or until the vegetables are tender and the chicken is golden and cooked through. 
STEP 4 
To make the yoghurt sauce, combine the yoghurt, garlic, lemon rind, lemon juice and mint. Season with salt. Place in the fridge to chill.
STEP 5 
To make the salad, place the salad mix and onion in a bowl. Season with salt and toss to combine. 
STEP 6 
Arrange the chicken on a serving platter. Serve with the roast vegetables, yoghurt sauce and salad. 
Check ingredient labels to make sure they meet your specific dietary requirements and always consult a health professional before changing your diet. View dietary information here.