Darren Purchese's lamb tagine
Melt-in-your-mouth lamb, aromatic spices and fluffy couscous - tick, tick and tick! Whip up this hearty lamb tagine and dive into a bowl of comfort food.
It's me Darren and I'm back again. This time I'm going to show you something exotic. So, What's for Dinner?
All the way from Morocco. This dish has so much flavour. So, there's just a few steps before you get to enjoy my Lamb Tagine. Ok so step one, veggies.
So I'm going to dice some onion, some carrot, and some celery. A splash of olive oil in the pan and I'm going to cook these over a really low heat probably for about 10 to 15 minutes. I'm going to add a pinch of salt and pepper just at the start.
Ok next the lamb, star of the show, ok I've got boned shoulder of lamb that I've just bought from Coles, all the hard work is done. Cut this into large pieces. Ok so that's done.
Time to add garlic to our veggies, I'm just going to grate them in using a fine grater. Time to get spicy.
I've toasted my coriander and cumin seeds and if ground them to my palate of spices, which is  ground turmeric, ground cinnamon and ground ginger. I'm just going to add this this to the pan and stir it in.
Ok I've just turned up the heat and it smells incredible already. 
Going to add the lamb pieces. And what we are going to try and do is coat the lamb with the spices and the veggies. 
Next, I'm going to add my thyme, just going to chuck the whole lot in there and I'm going to add tinned tomatoes, some chicken stock as well. Oops almost forgot bay leaves.
I'm going to bring this to the boil and then put a lid on it and pop it into an oven that's been pre-heated to 160 degrees. 
It's been cooing for about an hour now, so I'm just going to have a little check to see how it's going. 
Oh wow! Awesome. I reckon it's got about half an hour to go and what I'm going to do is cook it without the lid for that half and hour, just to reduce the liquid down a little bit. It is so tender, it looks amazing smells delicious  
Iv got some preserved lemons, some green olives, some harissa, honey.
 I'm going to give it a stir. 
Now to serve, I've steamed some cous cous, got coriander, some parsley and we are ready to go.
So fragrant, a little bit spicy, it's perfectly balanced this is absolutely delicious. I feel like I've been transported over to Marrakesh. 
For more recipes like this visit Coles.com.au. And enjoy your cooking!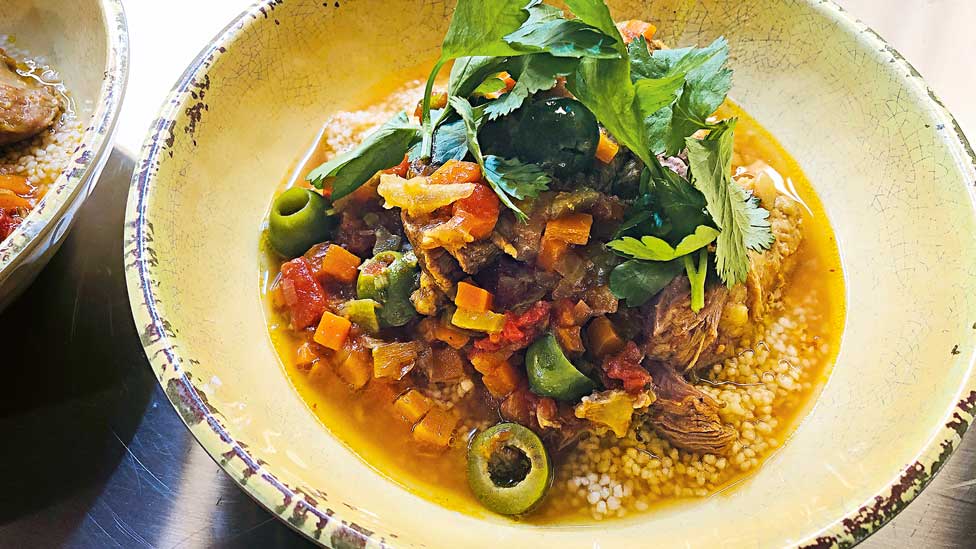 Ingredients
1 tbs olive oil
2 celery sticks, finely diced
2 carrots, peeled, finely diced
2 medium brown onions, finely diced
4 garlic cloves, finely grated
1 tbs cumin seeds, roasted, ground
1 tbs coriander seeds, roasted, ground
1/4 tsp ground turmeric
1/4 tsp ground ginger
1/4 tsp ground cinnamon
Pinch of saffron threads (optional)
1 boneless lamb shoulder (approximately 1.2-1.5kg), cut into 6cm pieces
2 thyme sprigs
400g can diced tomatoes
2 bay leaves
4 cups (1L) chicken stock
1 tbs honey
2 tbs harissa
80g pitted green olives, halved
1 tbs thinly sliced preserved lemon
Steamed couscous, to serve
1 cup coriander leaves
1 cup flat-leaf parsley leaves
Method
STEP 1 
Preheat oven to 160˚C. Heat the oil in a large ovenproof saucepan over low heat. Add the celery, carrot and onion to the pan. Season with salt and pepper. Cook, stirring occasionally, for 10 mins or until the vegetables are tender. Add the garlic and cook for 1-2 mins or until the garlic is tender but not brown. 
STEP 2 
Add the ground cumin, ground coriander, turmeric, ginger, cinnamon and saffron, if using, to the vegetable mixture in the pan. Increase the heat to medium and cook, stirring, for 2 mins or until aromatic. Add the lamb, thyme, tomato, bay leaves and stock. Bring to the boil. Cover and bake for 1 hour. Uncover and bake for a further 30-45 mins or until the liquid reduces. 
STEP 3 
Add the honey, harissa, olives and preserved lemon to the pan. Stir to combine. Season. 
STEP 4
Divide the couscous and lamb mixture among serving plates. Sprinkle with coriander and parsley to serve.
Check ingredient labels to make sure they meet your specific dietary requirements and always consult a health professional before changing your diet. View dietary information here.