Darren Purchese's tandoori chicken thighs with baked pilaf
Dive into a fragrant dinner packed with Indian flavours and tasty veg. This tandoori chicken and pilaf is perfect to plate up on a chilly night.
Hi All. Darren here. I'm back with another great value meal option for you. These are my Tandoori Chicken Thighs with baked pilaf. Coming in at under 5 bucks a head so you can feed a family of four for under 20 bucks. And all the ingredients from your local supermarket.
Ok first we're going to make a really simple marinade. I've got some thick yoghurt here. About 125g and I've also got some Tandoori paste. We're goingto mix these together. We're going to take one of these chicken thighs and we're just going to cut them place them in to the bowl with the marinade andwe're going to Coat all of the chicken. And then we're going to add some frozen cauliflower. Off to the fridge to marinate now for about half an hour.
So we're going to start with our baked Pilaf. First of all I've got some Coriander here and I'm just going to pick the leaves off the top because I want to use the stalks in the rice. With these stalks I'm just going to chop them up finely.
Add 500ml of chicken stock to a saucepan. I'm going to add some turmeric powder and 1 bay leaf. And I'm also just going to crush some cardamom pods and I'm also going to put those into the pot. And sliced red onion.
Ok Next. I've got an orange. Peel some strips using a potato peeler. No we're also going to use the juice of the orange. We want to get as much value as possible out of all of our ingredients. Bring that to the boil. And then leave it on the side to reserve.
And then weigh off 300g of Basmati Rice and I'm going to rinse it under cold water and then I'm just going to chuck the rice into a baking dish. Next the reserved stock. We're going to add all of those bits in there. Next we're goingto add our chopped Coriander stalks. And also some frozen peas. 
Just going to lay a sheet of baking paper over the top of the rice. And then I'm going to cover with foil and place it in our pre-heated oven to bake for about 35 minutes.
Time to get the chicken into a roasting tray. I've just spread the chicken pieces out nice and even. Ok the rice has been in the oven for about 20 minutes so now it's time to cook the chicken. Chicken is cooked oh wow it smells incredible. All we need to do now is add some coriander and some extra yoghurt.
What a feast this is my Tandoori Chicken Thighs with baked Pilaf and then best part is it's under $5 a head. For more recipes like this head to coles.com.au and enjoy your cooking.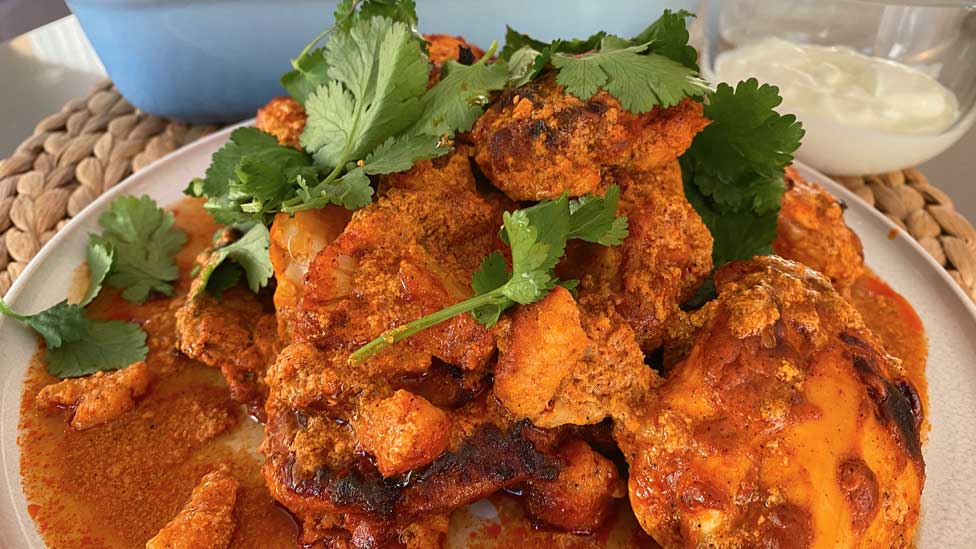 Note: + 30 mins marinating time
Ingredients
250g Coles Light Greek Style Yoghurt
100g tandoori paste
4 chicken thigh fillets, halved
250g frozen cauliflower florets
2 cups (500ml) chicken stock
2 tsp ground turmeric
1 dried bay leaf
10 cardamom pods, crushed
1 red onion, thinly sliced
1 orange, rind peeled, juiced
1 and 1/2 cups (300g) basmati rice, rinsed, drained
1/2 bunch coriander, leaves picked, stalks finely chopped
100g frozen peas
Method
STEP 1
Preheat oven to 180°C. Combine half the yoghurt with the tandoori paste in a large bowl. Add the chicken and cauliflower and turn to coat. Cover and place in the fridge for 30 mins to develop the flavours. 
STEP 2
Combine the stock, turmeric, bay leaf, cardamom, onion, orange rind and orange juice in a large saucepan. Bring to the boil. Remove from the heat.
STEP 3
Arrange the rice over the base of a large baking dish. Pour over the stock mixture. Add the coriander stems and peas and use a fork to stir until well combined. Place a sheet of baking paper over the surface of the rice mixture and cover with foil. Bake for 35 mins. Remove the rice mixture from the oven and set aside, covered, for 10 mins to stand.
STEP 4
Meanwhile, transfer the chicken mixture to a baking dish and bake for 30 mins or until the chicken is cooked through. 
STEP 5
Serve chicken with the rice mixture, remaining yoghurt and coriander leaves.
Check ingredient labels to make sure they meet your specific dietary requirements and always consult a health professional before changing your diet. View dietary information here.