Delicious beef ragu bake
Turn five simple ingredients into a dinner-time hit. This beef ragu pasta bake is a heart-warming dish on those cold winter nights.
Make this delicious, warming bake with slow cooked beef ragu in tomato sauce, rigatoni pasta, Mediterranean mixed olives, cherry bocconcini and basil leaves. It will be ready to eat in 30 minutes.
Start by heating the ragu and water in a saucepan over medium heat for 5 to 7 minutes or until piping hot. Meanwhile, cook the pasta in a large saucepan of boiling water, stirring occasionally, until the pasta is al dente.
Drain the pasta and return to the pan. Preheat the grill to high. Add the beef ragu to the pasta in the pan with the olives, then give it a good stir. Pour the pasta mixture into a 6-cup ovenproof roasting pan and top with the cherry bocconcini.
Pop under the grill for 5 minutes or until it's golden and bubbling. Sprinkle with basil leaves to serve. This hearty family meal features a no-fuss ragu and an irresistibly cheesy top, making it a total winner.
For the full recipe, see the description below. For more 5 ingredient dinners, head to our What's for dinner playlist here.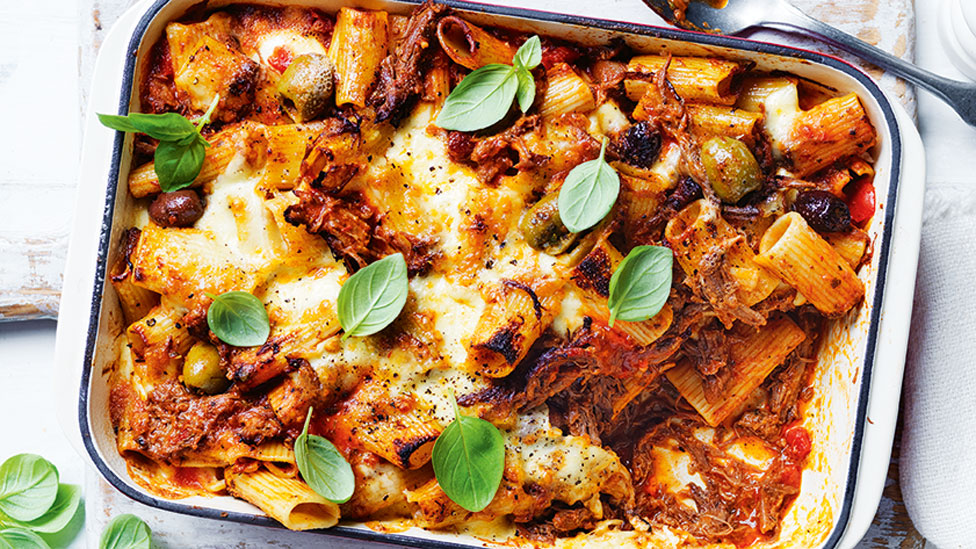 Ingredients
375g Coles Rigatoni Pasta
750g pkt Coles Made Easy Slow Cooked Beef Ragu in Tomato Sauce
1/2 cup (75g) Coles Deli Mediterranean Mixed Olives
220g tub Coles Cherry Bocconcini, drained, chopped
Basil leaves
Method
STEP 1 
Cook the pasta in a large saucepan of boiling water following packet directions or until al dente. Drain. Return to the pan.
STEP 2 
Meanwhile, heat the beef ragu following packet directions.
STEP 3 
Preheat grill on high. Add the olives and prepared beef ragu to the pasta in the pan. Stir until well combined. Season. Transfer the beef mixture to a 6-cup (1.5L) ovenproof roasting pan. Top with bocconcini. Cook the under the grill for 5 mins or until the bocconcini melts and is golden. Sprinkle with basil to serve.
Check ingredient labels to make sure they meet your specific dietary requirements and always consult a health professional before changing your diet. View dietary information here.