Dezi and Penny's Greek baked meatballs
Try these Greek baked meatballs for your next family feed. They're quick, easy and budget-friendly.
Hi I'm Dezi
And I'm Penny
And we're team Greece from Plate of Origin. Opa! Bit of a dance before we start.
Now where going to be making dinner tonight, it's a classic called Soutzoukakia, it's Greek baked meatballs in a tomato sauce.
And this dish will only cost you about $5 per head, so less than $20 for a family of 4 and it's quick, easy and most importantly it is delicious.
Alright Penny, let's get started.
Open this mince, chuck it all in, get rid of that paper.
Teaspoon of oregano and half a teaspoon of Coles cinnamon.
Mmm yum, very Greek cinnamon.
Smells nice.
Alright, we'll throw in the breadcrumbs, so one cup of breadcrumbs.
And it's a pinch of pepper and a teaspoon of salt, a little bit extra salt, because we're Greek and we like a bit of extra salt.
More salt the better. So always try and crack you egg on a flat surface. No mess and much easier, cracks perfect. So the next step is to put the garlic in with the mince meat.
Let's add in the parsley to the mince mixture.
And I'll add in the onion that's nicely grated in here.
And then we've gotta squish it altogether. Coles mince is so versatile, cause it's so budget friendly and just mince takes you a long way as a family. So now we're going to take about two tablespoons of mince mixture into the palm of your hand and you  sort of roll them into, like ovals. Yeah…. Shapes.
There's 16, so that made 16, perfect for a family of 4.
Now the next step is, is to peel you potato.
You know what I might start cutting the potatoes.
Yep, put them all in the bowl.
Season them with salt. Ok let's just add the potatoes.
So now we're up to making the passata sauce, so we're gonna use two cups of Coles passata. We're adding one stock cube. Chicken stock. Next we're going to add one tablespoon of sugar and that takes out the acidy of tomatoes.
Give it a mix.
Give it a mix and a pinch of salt.
You want to grab the bowl and pour it over the meatballs?
Sure, so you gonna try and cover the meatballs first and if there's any extra that can go on the potatoes, but there's plenty for everybody. And that ready to go into the oven now for about an hour. Smells delicious.
Now we're gonna drizzle a bit of the olive oil all over.
To make it nice and shiny and glossy. There you have it our Soutzoukakia Greek baked meatballs.
And make sure you're watching plate of origin Tuesday night to win your chance of $25000 in Coles gift cards.
Opa, woo!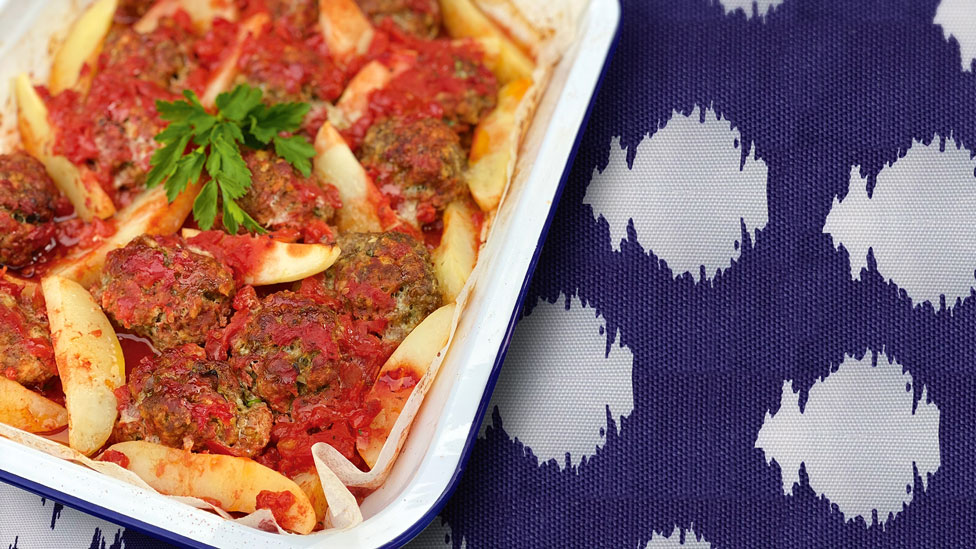 Ingredients
800g beef mince
1 tsp dried oregano
1/2 tsp ground cinnamon
1 cup (100g) dried breadcrumbs
1 tsp salt
Pinch of black pepper
1 egg
2 garlic cloves, crushed
1/4 bunch flat-leaf parsley, coarsely chopped
1 brown onion, coarsely grated
600g (about 4) Red Royale potatoes, peeled, cut into thin wedges
2 cups (500ml) tomato passata
1 chicken stock cube
1 tbs caster sugar
Olive oil, to drizzle
Flat-leaf parsley, extra, to serve
Method
STEP 1
Preheat oven to 210°C (190°C fan-forced). Line a large baking tray with baking paper. Use your hands to combine the mince, oregano, cinnamon, breadcrumbs, salt, pepper, egg, garlic, parsley and onion in a large bowl. 
STEP 2 
Roll 2-tbs portions of the mince mixture into oval-shaped balls and place on the lined tray. Add the potato to the tray and season with salt. 
STEP 3
Combine the passata, stock cube and sugar in a bowl. Season with salt. Pour over the meatball mixture on the tray. Bake for 1 hour or until the potato is tender and the meatballs are cooked through. 
STEP 4 
Drizzle with oil and sprinkle with extra parsley to serve. 
Check ingredient labels to make sure they meet your specific dietary requirements and always consult a health professional before changing your diet. View dietary information here.