Diana Chan's Pedro Ximénex fruitcake
After Christmas baking inspiration? Try Diana Chan's Pedro Ximinex fruitcake for a festive treat everyone will love.
Christmas is a little different this year and I think it's really important to remember to share with your friends and family and even your colleagues. And this is one of those recipes that you can prepare in your own home using ingredients that you can get from Coles and you can actually give it as Christmas presents. So I'm going to show you how to make my Pedro Ximénex fruitcake. So it's not fruitcake without dried fruits, I've got a kilo of mixed dried fruits here, I'm just going to add them into a bowl. Mom usually does this with brandy or Sherry. But today I'm going to be using some Pedro Ximénex. Now, she usually also makes this a way in advance. So which means that when it comes to Christmas day it's all ready to go. So to this, I'm actually going to add in some peaches.You can substitute with things like sour cherries, even glace cherries, and I think it's good because of the Pedro Ximénex, which is quite sweet. And it sort of balances out with the sour fruits. Alright, so I've got all the peaches in there. And I'm going to add in some Pedro Ximénex. I tend to stick mine for one to two weeks, but at the very minimum, soak it overnight. This basically, you can pop it into a container, and then every so often just sort of mix it around, set it aside somewhere cool, ideally in the pantry, that's the perfect spot. But here's one I actually made earlier. And this has been soaking for about a week now. So you can see the difference in the fruits, it's really plump. And the reason is, it's sort of soaked up all the beautiful juices and the beautiful Pedro Ximénex. Just gonna leave that aside for now while I start to make my cake. So, into a mixing bowl, just gonna add in some brown sugar, add in some butter, and then I'm just going to cream the butter and sugar together. Okay, now I'm just gonna crack in one egg at a time. I can see the mixtures quite light and fluffy and that's exactly what you want. Now I'm going to add in some plain flour. In that goes. I've also got some baking powder. And I love to use Christmas spices like cinnamon, nutmeg cloves, so I've got some cinnamon here, nutmeg, as well as some ginger. And also a pinch of salt. So I'm just gonna give this a good mix again before I do the rest. So what I'm going to do is I'm going to add in the zest and juice of one orange and the zest of one lemon. Now this is purely optional, but I think that sort of orange and lemon flavour will just pair well with everything that's in it, the dried fruits, just be perfect. All right, this is looking good. Now I'm just going to add in all the beautiful fruits. Smells like Christmas. The beauty about this recipe is that you can actually double the recipe or triple the recipe and you can make as many cakes as you want. And I think it's really sweet because you can keep one for yourself and give it away and that's what my mum used to do. She used to make them as little Christmas gifts and people went crazy over them. So that's exactly what I'm going to do this Christmas. I love having nuts in my cake. So I'm going to add in some slivered almonds. In that goes. And some chopped walnuts. Lots of nuts, lots of fruits, mix that through that sort of like the consistency you're looking for. Not too wet, not too dry. So I'm adding all the mixture into the cake tin and it's going to go into the oven at 150 degrees for about 75 minutes. So the cakes been out of the oven and it's now cooled down. So I've got some muslin cloth, you can use some cheesecloth even and I'm just going to soak it in more Sherry and this part is the ageing process, which means you're basically going to age the cake. So this is where you got to be really patient because you're not going to be able to eat the cake right now. You're going to eat it on Christmas Day. Just gonna wrap it up like a gift. I'm gonna give it to my mom and she's going to tell me that hers is better.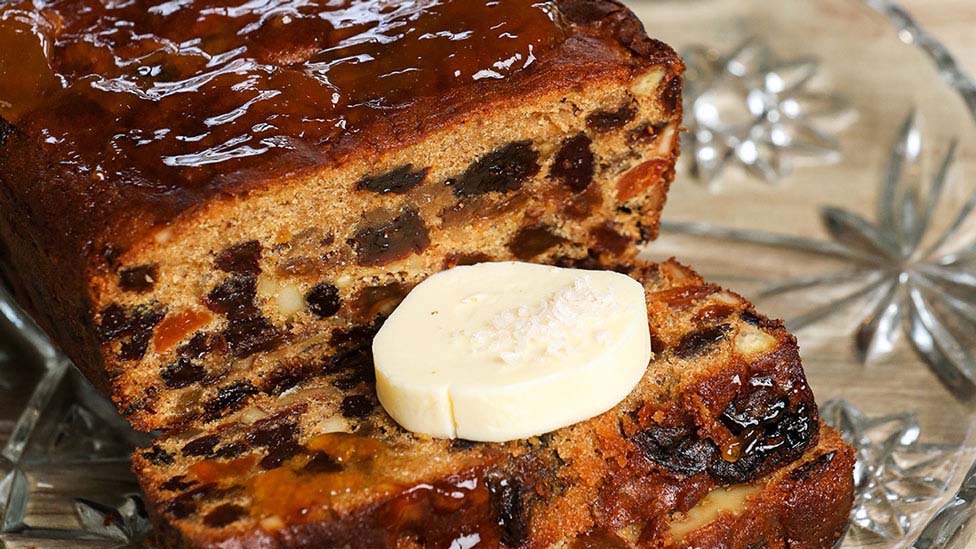 Note: + cooling & 1-2 weeks soaking time
Ingredients
180g plain flour
1/2 tsp baking powder
1 tsp ground cinnamon
1 tsp ground nutmeg
1 tsp ground ginger
Pinch of salt
125g butter, softened
160g brown sugar
5 eggs
1 orange, zested, juiced
1 lemon, zested
1 cup (140g) slivered almonds
1/2 cup (110g) chopped walnuts
Pedro Ximénex, to soak
PX fruit mixture
1.2kg mixed dried fruit (such as golden raisins, sour cherries, glacé cherries, dried figs, dried pear, dried apple, dried apricot, orange peel)
350ml Pedro Ximénex
Method
STEP 1
To make the PX fruit mixture, place the dried fruit in a sealable container. Add the Pedro Ximénex and stir to combine. Seal container and set aside to soak for 1-2 weeks at room temperature.

STEP 2
Preheat oven to 150°C. Grease two 10cm x 20cm (base measurement) loaf pans and line the base and sides with baking paper. Combine the flour, baking powder, cinnamon, nutmeg, ginger and salt in a large bowl. 
STEP 3
Use an electric mixer to beat the butter and sugar in a bowl on medium-high speed for 2-3 mins or until light and fluffy. Add the eggs, 1 at a time, beating well after each addition. 
STEP 4
Reduce speed to low. Add the flour mixture and beat to combine. Add the orange zest, orange juice, lemon zest, almonds, walnut and PX fruit mixture. Use a spatula to stir until well combined. 
STEP 5
Spoon the mixture into the prepared pans and use the spatula to smooth the surface. Bake for 1¼-1½ hours or until a skewer inserted in the centres comes out clean. Set aside to cool in the pans before transferring to a wire rack to cool. 
STEP 6
Soak 2 large pieces of cheesecloth in Pedro Ximénex. Wrap each fruitcake tightly in the cheesecloth. Cover with baking paper and foil. Tie with kitchen string to secure (alternatively, place in sealable plastic bags).
STEP 7
To serve, remove the wrapping. Transfer cakes to serving plates and cut into slices.  
Tip: Store cakes in the fridge for up to 12 weeks, re-soaking the cheesecloth and re-wrapping the cakes once a week. The rich, intense flavour of the cakes will increase the longer you store them.
Check ingredient labels to make sure they meet your specific dietary requirements and always consult a health professional before changing your diet. View dietary information here.