Easy bean stuffed sweet potatoes
Take your meat-free Monday up a notch with this 5-ingredient vegetarian dinner. These tender sweet potatoes are packed with black beans, avocado and a more-ish Mexican seasoning.
Hi all, Courtney Roulston here, back to cook another one the Coles feature what's for dinner recipes. There are over 80 specially designed recipes in the range that are perfect for people looking for fast, fresh, great value, easy meal ideas.
Tonight I'm cooking the easy being stuffed sweet potatoes. They're ready in under 30 minutes, it only requires 5 ingredients and it's healthy, hearty recipe the whole family is gonna love. The five ingredients you need for tonight's recipe are a can of black beans, some chili con carne seasoning mix, some coles Australian fetta, a beautiful ripe of avocado and four medium sweet potatoes.
Ok so to prepare the sweet potatoes ,I'm just using a fork to spike a few holes in the potatoes and this helps release a bit of steam as they're cooking. These can go into the microwave for 10 minutes, if you doing these in the oven they'll take around 40 to 45 minutes. Ok while our sweet potatoes are cooking, I'm just going to prepare avocado, super simple, I'm just gonna slice this in half, cut into quarters and then simply peel off the skin. Season the avocado. And smash it up with a fork.
Alright now onto our bean stuffing for the sweet potatoes. I've got some warm water in my pot here, or we could use a kettle. Going in with a tablespoon of our chili con carne mix and we just want to warm this through. Alright just give that a stir and it's slightly going to thicken. Can add in our black beans, beautiful hit of protein ,really nutritious. Just give them a stir to warm through. Our sweet potatoes have become wrinkled and beautiful and soft and sweet, these are ready to go. I'm gonna pop a little bit of the flesh in it with our beans from each sweet potato and just mix that through that's going to thicken up our bean mixture.
Time to stuff our sweet potatoes now just spoon that in, dollop over our beautiful creamy avocado. We need something salty, so I'm going on with some feta cheese this is some Australian fetta. And there we have it guys, our easy bean stuffed sweet potatoes.
If you're looking for even more fantastic recipe and dinner ideas, make sure you check out the all new coles and co. Or the digital catalogue for new recipes every week. This one ticks so many boxes, super simple, super easy, super fast and most of all super delicious.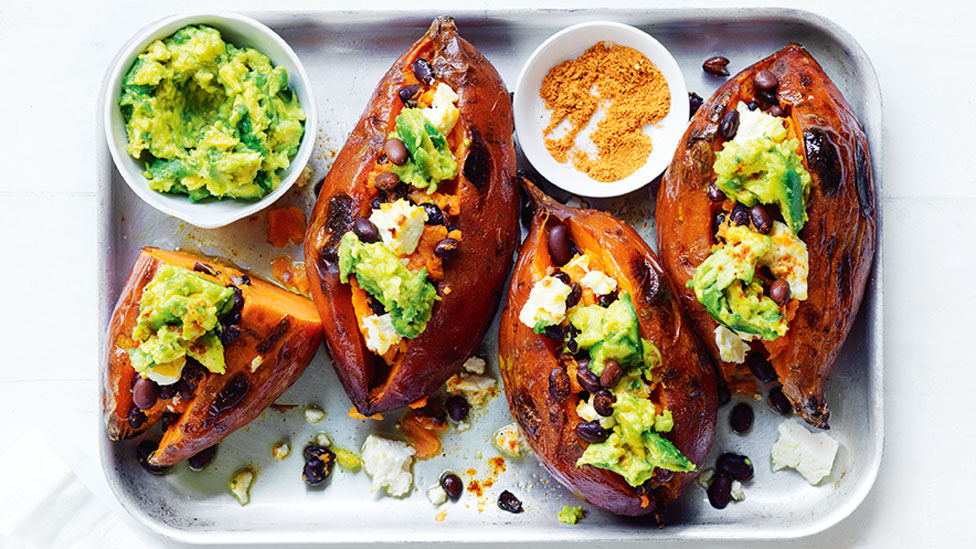 Ingredients
4 medium gold sweet potatoes
400g can black beans, rinsed, drained
1 tbs Coles Mexico Chile Con Carne Seasoning
100g Coles Australian Style Fetta, crumbled
1 Hass avocado, stoned, peeled, coarsely mashed
Method
STEP 1 
Use a fork to prick the sweet potatoes all over. Place on a microwave-safe plate. Cook on high, turning occasionally, for 10 mins or until tender. Cool for 5 mins. Cut a slit lengthways in the top of each sweet potato and squeeze the base to open. Remove the flesh, leaving a 2cm shell. 
STEP 2
Combine the sweet potato flesh in a bowl with the black beans, chile con carne seasoning and 2 tbs warm water.  
STEP 3 
Preheat grill on high. Arrange the sweet potato shells on a baking tray. Fill with the bean mixture and fetta. Cook under the grill for 3-5 mins or until golden. Top with avocado. Season. 
Check ingredient labels to make sure they meet your specific dietary requirements and always consult a health professional before changing your diet. View dietary information here.