Easy chicken burgers with apple and slaw
Create a family favourite in minutes with these tasty chicken burgers. Filled with crunchy coleslaw, apple and mayo, it's a mouth-watering combo.
Hey Everyone Courtney Roulston back again with our Wednesday easy and speedy 'What's for Dinner?' recipe. Coles have created over 80 quick and stress free recipes in the range so there's something for everyone. All of them are under 5 ingredients and ready in under 30 minutes. Tonight I'm cooking the easy Chicken Burgers with Apple and Slaw. It's a real crowd pleaser, great value for money and you would not get dinner on the table any quicker than this. Here we go. 
The ingredients you'll need for tonight's recipe is a bag of the Coles Australian Coleslaw. Some spicy Sriracha Mayonnaise. Some Coles Brioche Burger Buns. A Granny Smith Apple and a pack of the Coles Chicken Burgers.
Alright let's get our chicken burgers on to the grill.  They'll need 3-4 minutes each side. Season them up with a bit of salt. Alright give them a bit of a flip over. Alright next job is our coleslaw. So we've got 200g of Coleslaw ready to go and we're dressing this with our Sriracha Mayonnaise on now. Alright super simple slaw done we can just set that aside. 
Ok our Brioche buns we can just slice these in half. Alright our chicken burgers look cooked so they can come out. And our brioche buns cut-side-down into our warm pan and just give those a minute to warm through. Alright that's what we're after.
And our last job is just to slice up our apple so we've got a beautiful Granny Smith apple here. Apple gives us a beautiful crunch and sweetness it goes perfectly with our chicken and cheese burgers. Just pop them on the board and run the knife back through.
Alright it's time to build our burgers so on with our slaw and then just top that with our cheesy chicken patties and then on with our matchsticks of apple. Top with a little more Sriracha Mayonnaise and then just back on with our buttery burger lids. If you're after more dinner inspiration why not grab a copy of the Coles August magazine next time you're in at the checkout. 
For this recipe and loads more 'What's for Dinner' Recipe ideas head on over to Coles.com.au or why not sign up to the digital catalogue for new recipes every week. Pickle! He's determined to get some. 
That is how you make the easy chicken burgers with apple and slaw. Absolutely zero stress, no fuss and I reckon these are going to be a big hit. We'll see you next Wednesday.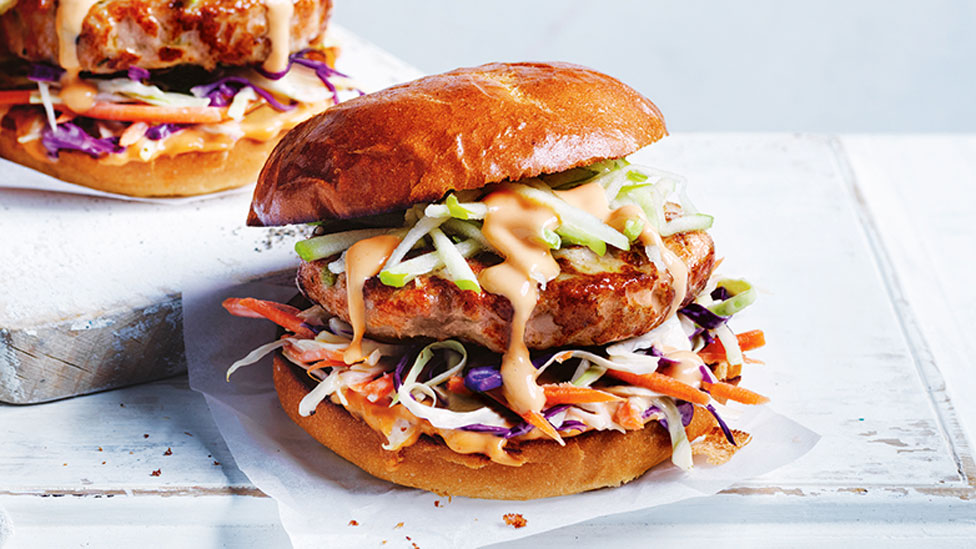 Ingredients
500g pkt chicken and cheese burgers
200g pkt coleslaw
1/4 cup (75g) sriracha mayonnaise
4 brioche hamburger buns, split, toasted
1 Granny Smith apple, cored, cut into matchsticks
Method
STEP 1
Heat a large non-stick frying pan over medium heat. Cook the burgers for 5 mins each side or until golden brown and cooked through. Transfer to a plate.
STEP 2
Meanwhile, combine the coleslaw with one-third of the mayonnaise in a medium bowl. Season.
STEP 3
Top the bun bases with half the remaining mayonnaise and the coleslaw. Top with the burgers, apple, remaining mayonnaise and bun tops to serve.
Check ingredient labels to make sure they meet your specific dietary requirements and always consult a health professional before changing your diet. View dietary information here.