Easy vegan bolognaise
After a bowl of plant-based goodness tonight? Consider dinner sorted thanks to this hearty vegan bolognaise recipe loaded with lentils and fresh mushrooms.
Hi everyone, Courtney Roulston here, back again to share another Coles feature what's for dinner recipe with you. Coles have created over 80 quick and delicious recipes in the range, so if you're someone after fast and fresh meal ideas, then watch along.
Tonight I'm cooking the easy vegan Bolognese, packed with goodness, it's ready in under 30 minutes and only requires 5 ingredients. Couldn't be simpler, this is how we do it.
Alright the first job is to get some water on to the boil and give a good generous pinch of salt. Our Fusilli pasta can go into our pot of salted water. Bring that up to the boil and that's going to take around 10 to 12 minutes to cook. Alright this is a super fast recipe in the time that pasta cooks we're gonna have our delicious vegan bolognese ready.
So pan on the heat, little bit of extra virgin olive oil and going into the sliced mushrooms. Season in with a pinch of salt and a little bit of Pepper. Ok, mushrooms are smelling delicious, they've softened down. Alright our lentils, the combination of the mushrooms and the lentils gives us that beautiful rich and meaty texture that we love about traditional Bolognese and we can now go in with our vegetable tomatoes sauce packed with the zucchinis and onion, really nice and rich and great for vegan cooking. 
We just need to warm the sauce through the lentils and the mushroms for a couple of minutes. Alright we are looking very rich and delicious here, i've got a few Basil leaves that we can tear in now, it adds a really nice perfume to our sauce. Stir them through. Pasta is ready, the sauce is ready, we can combine these 2 together now. And don't worry because the pasta water goes in there that's going to help thicken and make our sauce nice and velvety and stick to our pasta. Just give that a mix through. Alright finish with a few more basil leaves and there we have it.
Look at that, that is the easy vegan Bolognese, if you love the idea of these quick and simple recipes, head on over to  coles.com.au for loads more what's for dinner inspiration. Or why not sign up to the coles digital catalogue for new recipes every week. Now guys, of course you don't need to be vegans to enjoy this recipe, you just gotta love delicious food, see you next Wednesday.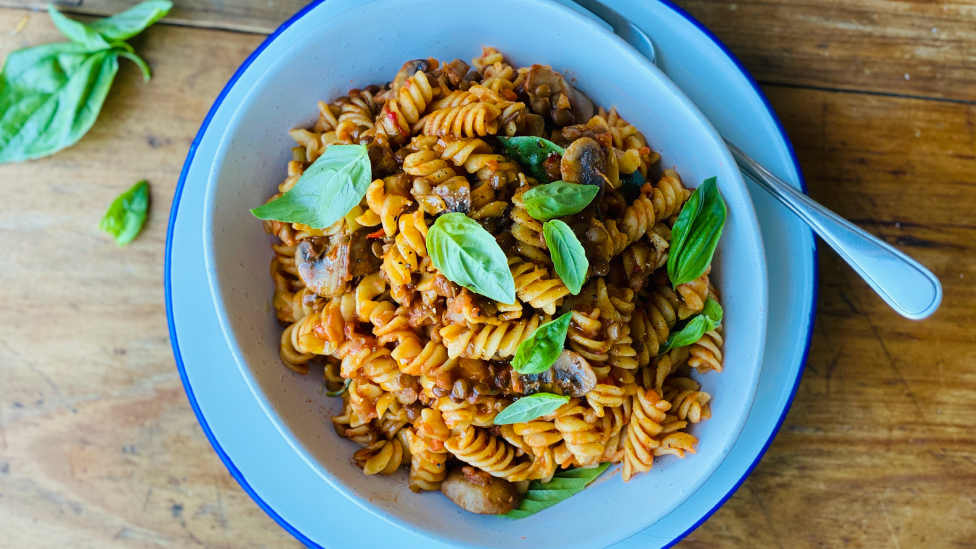 Ingredients
375g Cucina Matese Fusilli
200g Coles Sliced Cup Mushrooms
400g can Coles Lentils, rinsed, drained
425g Coles Nature's Kitchen Veggie Pasta Sauce
2 tbs finely chopped basil leaves
Basil leaves, extra, to serve
Method
STEP 1 
Cook the pasta in a saucepan of boiling water following packet directions or until al dente. Drain. Return to the pan. 
STEP 2 
Meanwhile, heat a large non-stick frying pan over high heat. Add the mushroom and cook, stirring, for 5 mins or until the mushroom softens. Add the lentils and pasta sauce and cook, stirring, for 5 mins or until the mixture thickens slightly. Add the chopped basil and stir to combine.
STEP 3 
Add half the mushroom mixture to the pasta in the saucepan. Stir until combined. Divide the pasta mixture among serving bowls. Top with the remaining mushroom mixture and sprinkle with basil leaves to serve.
Check ingredient labels to make sure they meet your specific dietary requirements and always consult a health professional before changing your diet. View dietary information here.