Fast beef tacos
Create a Mexican-inspired hit with these quick and easy beef tacos. They're bursting with spicy seasoning for added oomph.
Hi Everyone. Courtney Roulston back again to share one of the Coles easy and speedy What's for Dinner feature recipes. 
Coles have taken all the stress out of preparing quick and tasty midweek meals and I'll be here every Wednesday to share one with you for the next few weeks.
There's over 80 recipes to choose from, all of which are 5 ingredients or less. They're ready in under 30 minutes and they're all great value for money. Tonight I'm cooking the fast beef tacos. They're a favourite with the kids and the big kids too and they couldn't be simpler. 

Alright the 5 ingredients you're going to need are some Coles Beef Mince, 2 cups of shredded lettuce, we've got some hard taco shells, we've got a fresh capsicum and we've got some of the chilli con carne seasoning mix. 

The first step is to warm up our hard taco shells, so I've got 8 taco shells here and I'm just going to place them upside down in my tray. The taco shells need to be warmed through in a 180 degree oven for around 5-7 minutes just to warm them through and get them nice and crunchy. 

I've got 500g of Coles Beef Mince and we can get this into a hot pan. Alright all I'm going to do is brown off the beef for around 5-7 minutes and I'm just going to use a wooden spoon to keep breaking it up as I cook it. We can now go in with our spice mix a really nice smokey mild mixture to go in with our beef so it's perfect for if you're feeding kids as well. I'm now going in with ¾ of a cup of water. This is just going to cook down with that spice mix and become really nice and thick. 

So I'm just going to cut some cheeks off our capsicum and we're just going to finely dice these up. 

Alright couldn't be simpler we've got everything ready to go our lettuce is cut up, we've got our capsicum diced up, our beef mince has cooked down and become nice and thick and rich. There's just something missing maybe it's... Oh our taco shells! The ones we prepared earlier. 

So really easy just get a spoonful of your mince and pop that in the bottom. Alright next is in with our crispy crunchy lettuce. Our diced capsicum that can go over the top. 

You would not get dinner on the table any quicker than that. That is the fast beef tacos. Grab a copy of the Coles July magazine for a whole months worth of quick and delicious recipe inspiration. For this recipe and many many more head on over to Coles.com.au

I'll see you here same time, same place, next Wednesday.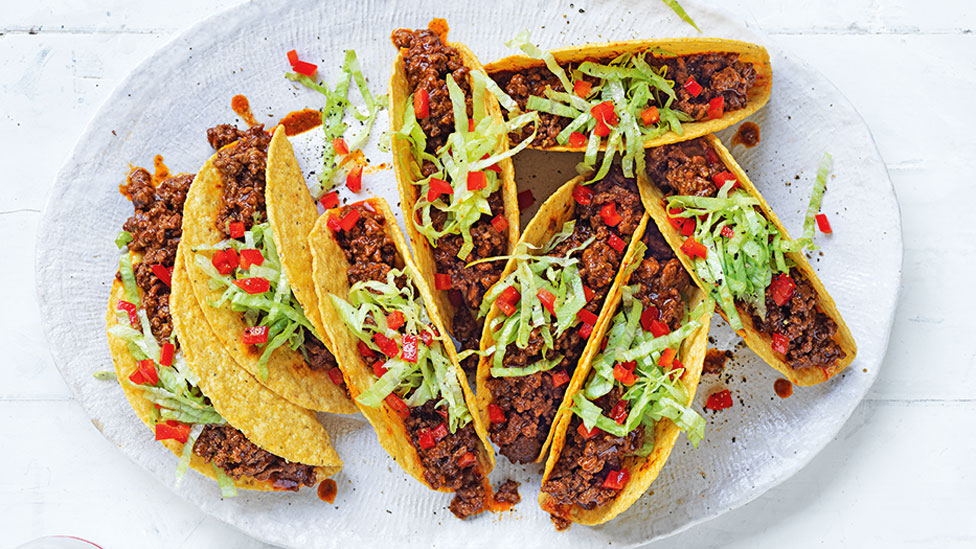 Ingredients
8 Coles Hard Taco Shells
500g Coles Australian No Added Hormones 3 Star Regular Beef Mince
50g pkt Coles Mexico Chile Con Carne Seasoning
2 cups Coles Shredded Iceberg Lettuce
1 small (about 200g) red capsicum, seeded, finely chopped
Method
STEP 1 
Preheat oven to 180°C. Place the taco shells on a large baking tray. Bake for 5 mins or until heated through.
STEP 2 
Meanwhile, add the mince to a non-stick frying pan over high heat. Cook, stirring, for 5 mins or until the mince changes colour. Add the chile con carne seasoning and 3/4 cup (185ml) water. Cook, stirring, for 5 mins or until the mince mixture thickens.
STEP 3 
Divide the taco shells among serving plates. Fill taco shells with the mince mixture, lettuce and capsicum.
Check ingredient labels to make sure they meet your specific dietary requirements and always consult a health professional before changing your diet. View dietary information here.