French onion, bacon and cheese cob dip
Kick off your feast with our tasty cob dip. It's the perfect recipe for easy entertaining to wow the crowd.
One of my favourite things to make when I've got a crowd coming over is a cobb dip. It's so easy and everyone loves it. I'm going to show you how to make a creamy French onion, bacon and cheese cobb dip.
Preheat the oven to 180 degrees Celsius and then line a baking tray with baking paper. There are two parts to a cobb dip - the loaf and the filling. I'm going to make the filling first. Heat up some oil over medium-high heat. And bacon and onion and cook for about 3 minutes, stirring as you go.
When the bacon's starting to brown, turn off the heat and put the mixture onto a paper-lined plate. Now all you have to do is mix the filling ingredients together. So take a large bowl and add the bacon mixture, softened cream cheese, mayonnaise, tasty cheese, the secret ingredient - French onion soup mix, and some chopped chives. And you just want to mix them all together until it's well combined and then season with salt and pepper.
The next step is preparing the loaf. Use a serrated knife and cut the top off the loaf about 4cm from the top. And just set the top aside for later. You need to remove the soft bread from the centre of the cobb. You want to keep a 2cm border so that it's strong enough to hold the dip. Tear the bread into 3cm pieces and place them on a tray. You don't have to use a traditional white cobb. You could use a wholemeal or a sourdough or even a different shape. This will create different flavours and textures.
Put the loaf on the tray and fill it with the dip. Replace the top on the loaf, pop it in the oven and bake for 20 minutes until it's golden and crisp. Serving is easy. Remove the top and sprinkle with some chives. Serve with the crispy bread and some crunchy veggie sticks. You can't go wrong with this French onion, bacon and cheese cobb dip, so whip it up for your next party.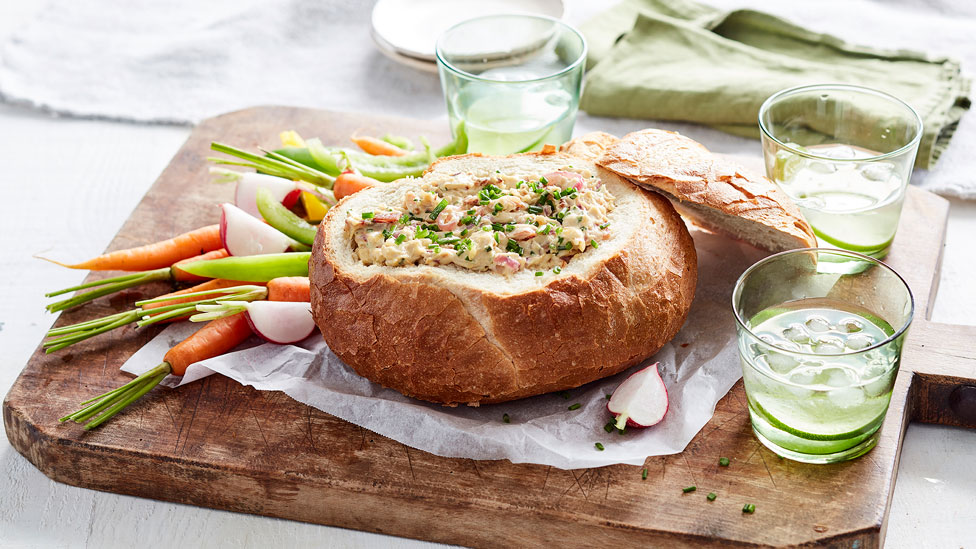 Ingredients
1 tsp olive oil
150g shortcut bacon rashers, finely chopped
1 red onion, halved, thinly sliced
375g cream cheese, softened
1/2 cup (150g) mayonnaise
1/2 cup (60g) grated tasty cheese
40g pkt French onion soup mix
1/4 cup chopped chives
450g Coles Bakery White Cobb Loaf
Chopped chives, extra, to sprinkle
Vegetable sticks, to serve
Method
STEP 1
Preheat oven to 180°C. Line a baking tray with baking paper.
STEP 2
Heat the oil in a medium frying pan over medium-high heat. Add the bacon and onion and cook, stirring, for 3 mins or until bacon starts to brown. Transfer to a plate lined with paper towel to drain.
STEP 3
Combine the bacon mixture, cream cheese, mayonnaise, tasty cheese, soup mix and chives in a large bowl. Season.
STEP 4
Use a serrated knife to cut 4cm from the top of cobb loaf and reserve. Remove the bread from the centre of the loaf, leaving a 2cm-thick shell. Tear the bread pieces into 3cm pieces. Spoon the bacon mixture into the shell. Top with lid. Place on the prepared tray. Arrange bread pieces around the cobb. Bake for 20 mins or until golden.
STEP 5
Sprinkle with extra chives. Serve with vegetable sticks
Check ingredient labels to make sure they meet your specific dietary requirements and always consult a health professional before changing your diet. View dietary information here.