Gingerbread wands
Make some magic in the kitchen with these delicious gingerbread wands. Perfect for a Harry Potter themed birthday party, these impressive treats are sure to be hit with the kids.
Note: + cooling, setting & 30 mins chilling time
Ingredients
125g butter
1/2 cup (110g) brown sugar
1/2 cup (175g) golden syrup
1 Coles Australian Free Range Egg
2 1/2 cups (375g) plain flour
1 tbs ground ginger
2 tsp mixed spice
Royal icing
2 Coles Australian Free Range Egg whites*
1 lemon, juiced
3 cups (480g) pure icing sugar, sifted
Red, blue, green, yellow and black liquid or gel food colouring
Egg white*, extra
Lemon juice, extra
Method
STEP 1
Preheat oven to 180°C. Line 2 large baking trays with baking paper. Combine the butter, sugar and golden syrup in a medium saucepan over medium-low heat. Cook, stirring, for 5 mins or until the butter melts and mixture is smooth. Set aside for 5 mins to cool slightly.
STEP 2
Transfer the butter mixture to a large bowl. Add the egg and stir to combine. Add the flour, ginger and mixed spice and stir until the mixture just comes together. Turn the dough onto a lightly floured surface and gently knead until smooth. Shape into a disc and cover with plastic wrap. Place in the fridge for 30 mins to rest.
STEP 3
Roll 1 tbs dough on a lightly floured surface to a 30cm (about 1cm-thick) log. Place on lined tray. Repeat with the remaining dough. Bake, swapping trays halfway through cooking, for 12-15 mins or until the gingerbread is golden. Set aside on the trays to cool completely.
STEP 4
To make the royal icing, whisk egg whites and lemon juice in a large bowl. Gradually add the icing sugar, stirring after each addition, until smooth, adding more icing sugar if necessary. Divide into 8 portions. Use food colouring to tint 4 portions red, blue, green and yellow. Add a little extra egg white and extra lemon juice to each coloured portion to make a runny paste.
STEP 5
Spread two-thirds of each wand with coloured icing. Place on a wire rack to set.
STEP 6
Use food colouring to tint remaining icing portions yellow, black, grey and brown. Place yellow icing in a piping bag fitted with a 1mm plain nozzle. Pipe over red wands. Repeat with black icing and yellow wands, grey icing and green wands, and brown icing and blue wands. Set aside to set. 
*This recipe contains raw egg. We recommend that pregnant women, young children, the elderly and people with compromised immune systems do not consume raw egg.
Discover Coles Magical Builders
Take your party to the next level with Coles Magical Builders. From Harry to Hermione, discover all your favourite Wizarding World characters in the link below.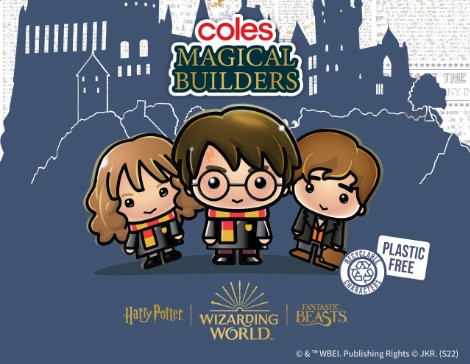 Check ingredient labels to make sure they meet your specific dietary requirements and always consult a health professional before changing your diet. View dietary information here.