Green kiwi smoothie
Keep the kids happy with this refreshing green smoothie. It's a great way to start the school day.
Smoothies are a great way to get an extra piece of fruit into your day. I've got James here and he's going to help me make a smoothie. James, have you ever had a kiwifruit smoothie? -Never in my life. -Never in your life? -So, a new experience for you today. -Yeah. Excellent. So, the main ingredient of our smoothie is a kiwifruit. It's brown and furry on the outside. Have a feel. -Oh, yeah. It is very furry. -It is very furry, isn't it? But when you cut it open, it shows you this beautiful, pretty green centre. -Look at that. -Wow. And that's going to be the green colour of our smoothie. OK, James, let's get started with some kiwifruit. -Can you put them in the blender? -Sure. Oopsies. -That's alright. And then we've got some Greek yoghurt. Can you spoon that in? And then we've got some coconut milk. OK, pop the lid on. Do you know why we put the lid on? -So stuff doesn't go flying everywhere. Yeah, 'cause we don't want smoothie all over the roof, do we? -Uh-uh. It's not very green, is it? What should we do? -Add some food colouring, I reckon. -OK. I'll add the food colouring 'cause we only want to add a tiny amount, otherwise it might look a bit radioactive. -Yeah. -OK, let's see. Can I get just the tiniest drop? Oh, no! It's going to be too much. Do you know what? Just going to get a spoon, take a bit of that colouring out, 'cause you can always add more colouring if it's not bright enough... -Yeah. -..but we can't take it off. Fingers crossed. Awesome! It's a nice mint green colour. Now we're going to take the smoothie up a notch and make it really pop. We're going to take some kiwi slices and cut some stars out of them. -So, how do I cut the stars out of them? -OK, so, what you're going to do, I'll give you some slices and you'll take the star cutter and centre it and press down and you should get a star. If you don't have a cookie cutter at all, you can just cut some shapes with a small knife. Do you know what we're going to do with these kiwifruit stars? -Uh, no. -We're going to decorate the glass with them. -Oh, wow. -Yeah, pretty cool, hey? -Yeah. -OK. That's a bit higgledy-piggledy, but it's OK. -Yeah. -I like these. -Yeah. -You could eat them. No waste. OK, now we've cut these gorgeous stars out, we're going to stick them to the glass. -OK. -OK? So, do you know how to do this? -No, I have no idea. -Pick it up and then we just... -Put it on the side and hold it there for a bit. -Press it gently and it should stay. -OK. -Can you have a go? Maybe three on each glass. -Alright, yeah. -OK, let's get the smoothie in. How's that? -Perfect. -Now... ..what we're going to do is pop some yoghurt on top, some granola and some blueberries. These Green Kiwi Smoothies look delicious and make for a great afternoon snack. What do you think, James? Do they pass the kids test? -For sure. -Well done.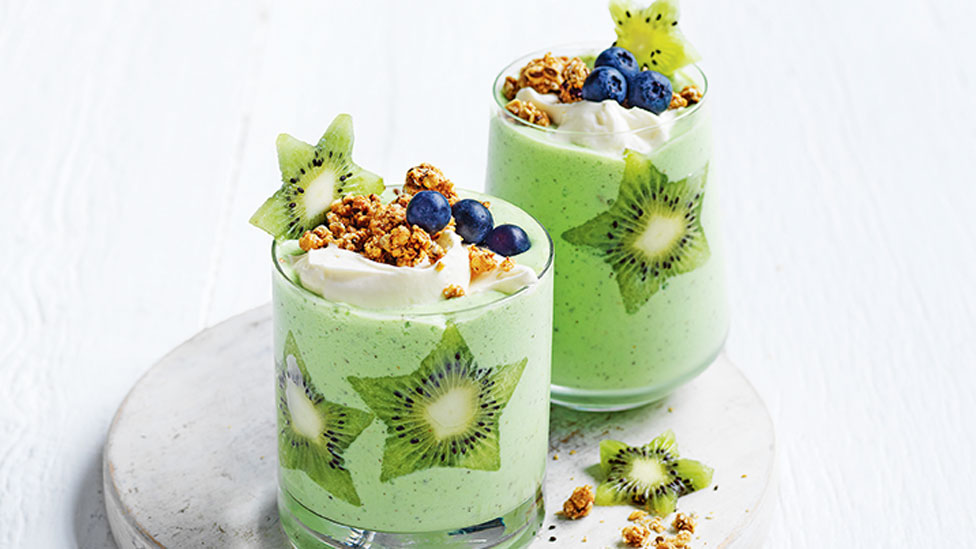 Ingredients
6 kiwifruit, peeled, chopped
1 cup (280g) vanilla Greek-style yoghurt
1 cup (250ml) coconut milk
Green liquid food colouring (optional)
1 kiwifruit, extra, cut into 5mm-thick slices
Vanilla Greek-style yoghurt, extra, to serve
Granola, to serve
Blueberries, to serve
Method
STEP 1
Place the chopped kiwifruit, yoghurt and coconut milk in a blender. Blend until smooth. For a deeper colour, blend in 1-2 drops of food colouring.
STEP 2
Use a star-shaped cutter to cut stars from the kiwifruit slices. Arrange half the kiwifruit stars around the sides of 2 serving glasses.
STEP 3
Pour smoothie into serving glasses. Top with extra yoghurt, granola, blueberries and the remaining kiwifruit stars.
Check ingredient labels to make sure they meet your specific dietary requirements and always consult a health professional before changing your diet. View dietary information here.