Ham and leek potato gratin
If you're after a mouth-watering side, this ham and leek potato gratin is bound to impress. It's got creamy layers of thinly sliced potato and has a golden cheesy finish.
Prep the potatoes first. Cut washed potatoes into thin slices using a sharp knife or a mandolin if you have one. They should be about two to three millimetres thick.
Preheat the oven to 180 degrees celsius and then grease a six cup or 1.5 litre ovenproof dish. To start layering up the bake, take one third of the potato slices and arrange them in the dish, overlapping them slightly.
Top with some ham. It's great with leg ham off the bone from the deli but any type of ham is fine for this. Add a layer of garlic, onion, leek and thyme. Sprinkle with cheddar. Make another layer of potato and top with more ham, garlic, onion, leek, thyme and cheddar. Then, arrange the last layer of potato on top.
To finish the bake, combine cream, sour cream and stock in a jug. Sprinkle with more cheddar over the potatoes and season with salt and pepper. Then, carefully pour over the cream mixture. Bake for one hour or until the potato is tender and the top is golden brown.
Sprinkle with some more thyme and season with salt and pepper. This classic potato dish makes a perfect side for hearty meals.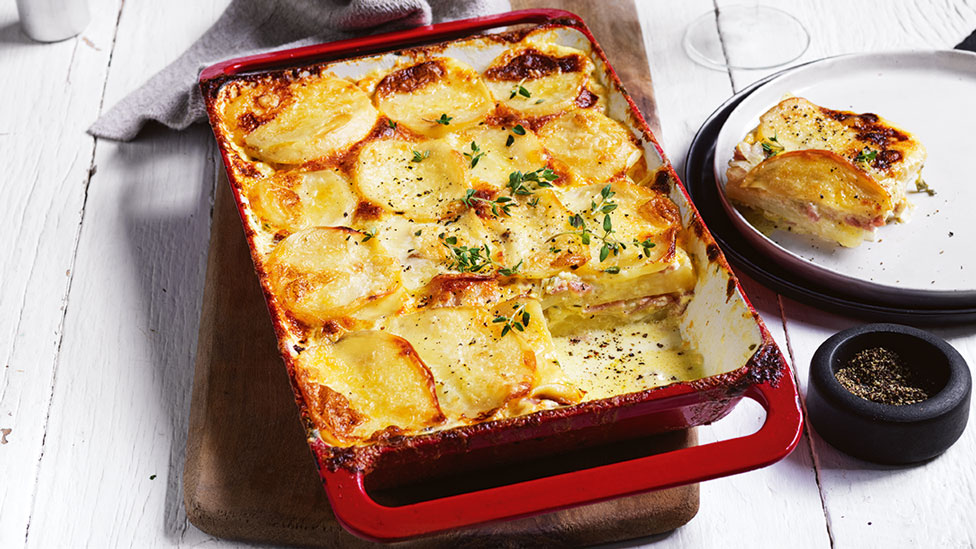 Note: + 10 mins resting time
Ingredients
8 brushed potatoes, washed, thinly sliced
100g thickly sliced ham, chopped
2 garlic cloves, thinly sliced
1 brown onion, thinly sliced
1 leek, pale section only, thinly sliced
1 tbs thyme sprigs
1 cup (120g) coarsely grated cheddar
1/2 cup (125ml) thickened cream
1/3 cup (80g) sour cream
1/4 cup (60ml) chicken stock
Method
STEP 1 
Preheat oven to 180°C. Grease a 6-cup (1.5L) ovenproof dish. Arrange one-third of the potato in the prepared dish. Top with half the ham, garlic, onion, leek and thyme. Sprinkle with one-third of the cheddar. Continue layering with remaining potato, ham, garlic, onion, leek, thyme and cheddar, finishing with the potato and cheddar.
STEP 2 
Combine the cream, sour cream and stock in a jug. Season. Carefully pour the cream mixture over the potato mixture in the dish.
STEP 3 
Bake for 1 hour or until the sauce thickens and the potato is golden brown and tender.
STEP 4
Set the potato gratin aside for 10 mins to rest before serving.
Check ingredient labels to make sure they meet your specific dietary requirements and always consult a health professional before changing your diet. View dietary information here.