Michael Weldon's honey labne with stewed apple and rhubarb
This sweet honey labne is the perfect way to start your day. Loaded with apple and rhubarb, it's creamy, fruity and totally delicious.
Hi guys, Michael Weldon here. It's great to be back showing you what I've been cooking for dinner or, in this case, dessert. We're going to make a lovely poached rhubarb and poached apple to go on top of this beautiful Jalna Farm to Pot Honey Yoghurt. We're going to turn it into a sweet labne.
To do this, it's super simple. All you need is a sieve over a bowl and then some Chux cloth or some cheese cloth, just to line that sieve with. Then all I do is get a whole tub, this beautiful Jalna Farm to Pot Yoghurt. It's got a lovely honey flavour so we don't need to add any sugar to this. It's super sweet and delicious from that natural honey. Just pull the sides together. We're going to put this into our fridge overnight.
So, start this one the day before so it's ready for the next day and then you'll get something that looks a little bit like this. More of the whey will come off the yoghurt and that's as simple as it is. So that's the first step done. Now we're making a few things to complement that.
The first of those things is some poached rhubarb and it goes so well with creamy, rich yoghurt. So, all we're going to do is just dice it up into bite-sized pieces, we're going to add it into a pot. And to that we're going to add a little bit of sugar to sweeten it up, a good squeeze of lemon juice, just maybe half a lemon, and finally a little vanilla bean and you just want enough water to cover the base of your pot.
And then this goes on to medium heat to cook for about five to eight minutes until the rhubarb breaks up. So I've just got some apples I've cored, so one tablespoon of sugar, a couple of rosemary sprigs. And then, instead of lemon, just a little splash of apple cider vinegar. Again, just enough water to cover the bottom of our pot.
So you're looking at about 10 minutes until they're nice. Now what we're going to do is a really fast and loose version of a caramel. So all I'm going to do is let the sugar melt and then all I'm going to do is add in my nuts and turn them through our pan. Caramel coated cashews and macadamias. Our caramel has cooled down so it's nice and hard so we can plate up. And there we have it.
My beautiful sweet labne made with that lovely Farm to Pot Organic Honey Flavoured Yoghurt from Jalna, with that lovely poached, rhubarb and apple on top. That's what I'm cooking at my house for dessert tonight. You should cook it too. Thank you for watching and happy eating!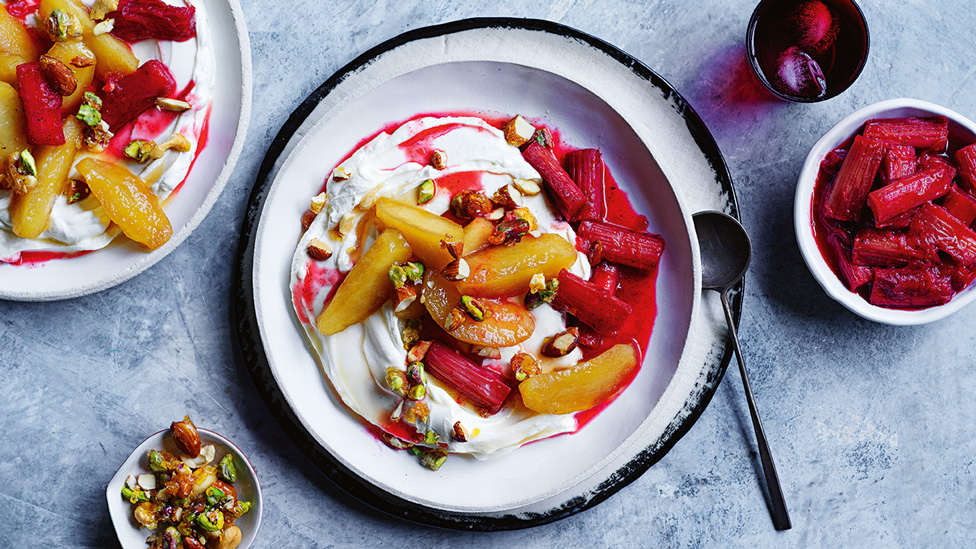 Note: + cooling & 12 hours chilling time
Ingredients
1kg Jalna Farm to Pot Organic Honey Yoghurt
Stewed rhubarb
1 bunch rhubarb, trimmed, cut into 4cm pieces
1 tbs brown sugar
1 lemon, juiced
1 vanilla bean, split, seeds scraped
Stewed apples
8 apples, cored, peeled, each cut into 8 wedges
1/4 cup (50g) brown sugar
2 tbs apple cider vinegar
2 rosemary sprigs
Nut crumble
1/2 cup (110g) caster sugar
1/2 cup (75g) unsalted roasted cashews
1/2 cup (80g) dry-roasted almonds
1/2 cup (70g) pistachios, lightly toasted
Pinch of sea salt flakes
Method
STEP 1
Line a sieve with muslin or clean Chux and place over a large bowl. Spoon the yoghurt into the lined sieve. Loosely cover and place in the fridge for 12 hours to drain.
STEP 2
To make the stewed rhubarb, combine the rhubarb, sugar, lemon juice, vanilla bean and seeds and 1/2 cup (125ml) water in a small saucepan over medium heat. Cover and cook 5 mins or until the rhubarb is soft and tender but still holds its shape. Uncover and set aside to cool completely.
STEP 3
Meanwhile, to make the stewed apples, combine the apple, sugar, vinegar, rosemary and 2 tbs water in a medium saucepan over a medium heat. Cover and cook for 10 mins or until the apple softens. Uncover and set aside to cool completely.
STEP 4
To make the nut crumble, line a baking tray with baking paper. Place the sugar in a medium frying pan over medium-high heat. Cook, stirring with a wooden spoon, for 5 mins or until the sugar melts and is a caramel colour. Add the cashews, almonds and pistachios and swirl the pan to coat the nuts. Carefully pour onto the lined tray and sprinkle with salt. Set aside to cool completely. Break into pieces.
STEP 5
Discard the excess liquid from the yoghurt in the bowl. Spoon the drained yoghurt (labne) among serving plates. Top with stewed rhubarb, stewed apple and nut crumble and drizzle with pan juices. Serve immediately.
Check ingredient labels to make sure they meet your specific dietary requirements and always consult a health professional before changing your diet. View dietary information here.