Hot and cold seafood grazing platter
With a mix of seafood and two delicious dipping sauces, this hot and cold seafood platter is a guaranteed crowd-pleaser!
Hot-and-cold seafood grazing platter. First the sauces. Make the caper dipping sauce by adding the shallots, capers, dill, lemon juice and oil in a small bowl and stir well. To make the basil remoulade, combine the mayonnaise, mustard, lemon juice, baby cucumbers and basil in a small bowl. Preheat your barbecue or grill to a medium high. When it's hot, add the zucchini and the eggplant. These have been coated with half the oil, half the garlic and some salt and pepper. Cook the lobster tails for three to four minutes or until the shell colour changes. Again, these have been coated with the remaining oil, garlic and some salt and pepper. You want to cook the prawns for two minutes each side or until the prawns just change colour and curl. Now to assemble. To a large platter, add the lobster tails to a bowl plus some fresh lemon and lime wedges. Next, arrange the prawn tails. Arrange the eggplant and zucchini, artichoke, semi-dried tomatoes and peppers. Finally, the oysters rest on a bowl of ice. Add the dipping sauces.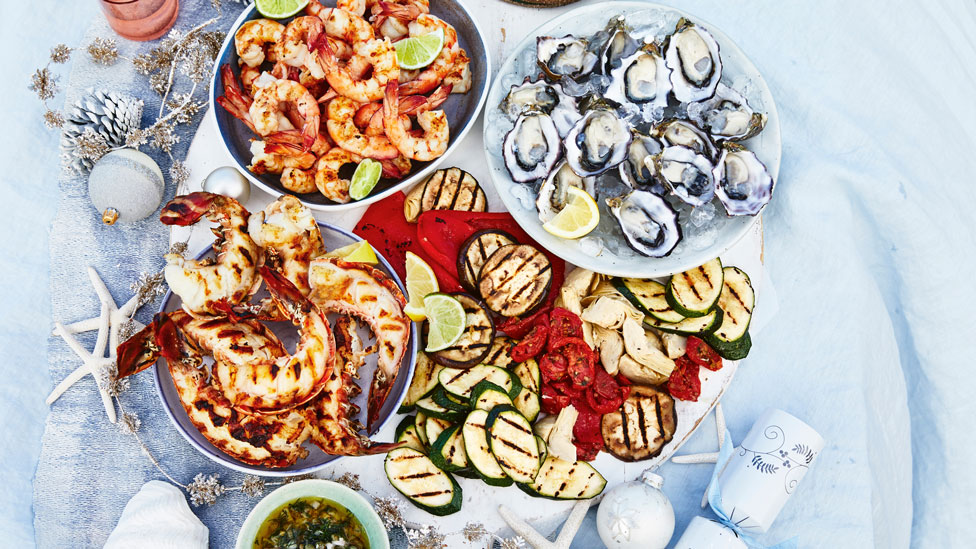 Ingredients
2 zucchini, thinly sliced diagonally
1 eggplant, thinly sliced crossways
1/4 cup (60ml) olive oil
2 garlic cloves, crushed
24 raw banana prawns, peeled leaving tails intact, deveined
4 raw lobster tails, halved lengthways
170g jar marinated artichokes, drained
280g jar chargrilled peppers, drained
100g semi-dried tomatoes, drained
24 fresh oysters
Basil mayonnaise
1/2 cup (150g) whole-egg mayonnaise
1/4 cup finely shredded basil
2 tbs finely chopped drained pickled baby cucumbers
1 1/2 tbs lemon juice
1 tsp Dijon mustard
Caper dipping sauce
1/4 cup (60ml) lemon juice
1/4 cup (60ml) olive oil
1 shallot, finely chopped
2 tbs finely chopped dill
1 tbs drained baby capers
Method
STEP 1
To make basil mayonnaise, combine mayonnaise, basil, cucumber, lemon juice and mustard in a bowl. Season.
STEP 2
To make the caper dipping sauce, combine the lemon juice, oil, shallot, dill and capers in a bowl.
STEP 3
Heat a barbecue grill or chargrill on medium-high. Combine zucchini, eggplant and half the oil and garlic in a large bowl. Season. Cook on grill, in batches, for 2-3 mins each side or until lightly charred. Transfer to a plate. Cover with foil to keep warm.
STEP 4
Combine prawns, lobster tail and remaining oil and garlic in a bowl. Cook lobster on grill for 3-4 mins each side or until just cooked through and the shell changes colour. Transfer to a plate. Cook prawns for 2 mins each side or until prawns curl and just change colour. Transfer to a plate.
STEP 5
Arrange zucchini mixture, artichoke, peppers and tomato on a serving platter with prawns, lobster, oysters, basil mayonnaise and caper dipping sauce.
Serve with sliced Coles Bakery Rustic Baguette and lemon and lime wedges
Check ingredient labels to make sure they meet your specific dietary requirements and always consult a health professional before changing your diet. View dietary information here.