Jo Barrett's potato cake with kimchi and fried egg
Need a meat-free dinner idea? Whip up this tasty potato cake with kimchi and topped with a perfectly fried egg.
G'day It's Jo Barrett from Oak Ridge here. I've got a lot of recipes to share with you. Today we're going to be making a Potato Cake, kind of a rustic dish, perfect for breakfast or for lunch.
I've got a kilo of potatoes here, we're just gonna peel them. Once the potatoes are peeled, we're just gonna give them a grate of the course side of the grater. 
Hello pickles, Hello… Hello…

Once the potatoes is grated, we're just gonna give it a rinse under cold water to get rid of any excess starch and from here, we're just gonna squeeze out any of this water. You can see they are falling apart and are not so starchy anymore.

We're just gonna add a bit of flavour and this is where I guess you get free rein of what you get to put into it. I'm gonna add some garlic and just some herbs I had in the garden and in the fridge, so just some parsley and some basil there. So I'm just gonna microplane the garlic clove in, just raw. And then we've got our herbs, just rough chop them up. Now this is where I pop in a bit of seasoning, so a bit of salt, pepper. And then before we add in any oil of flour, just gonna disperse all the herbs and the garlic through the potato. I've got the oven pre-heating to 170, then I'm gonna add in about 60mls of oil. Again, give that a mix before you add any flour. And then I've just got plain flour and popping in about 60 grams, and this is just gonna  bind it all together.

You could put any herbs or any flavouring you like in this, you could put bacon or could put some cheese. And we're just gonna start pushing the potatoes down to the bottom of the bowl. We'll start cooking.
So I'm gonna add quite a generous amount of oil to the pan. So I'm gonna just slide the potato down and pressing it out and I'm just gonna leave it on a medium heat for about 5 minutes just to get a really nice colour. And then we're gonna flip it and pop it into the oven.
Alrighty, 15 minutes, it's done. Looks nice and crisp, alright and now that that's ready we're just gonna serve it. Super crunchy!
Now I've fried and egg and I've got some Kim Chi and then a little bit of coriander. So I've got a potato cake, fried and egg and Kim Chi. Yummy!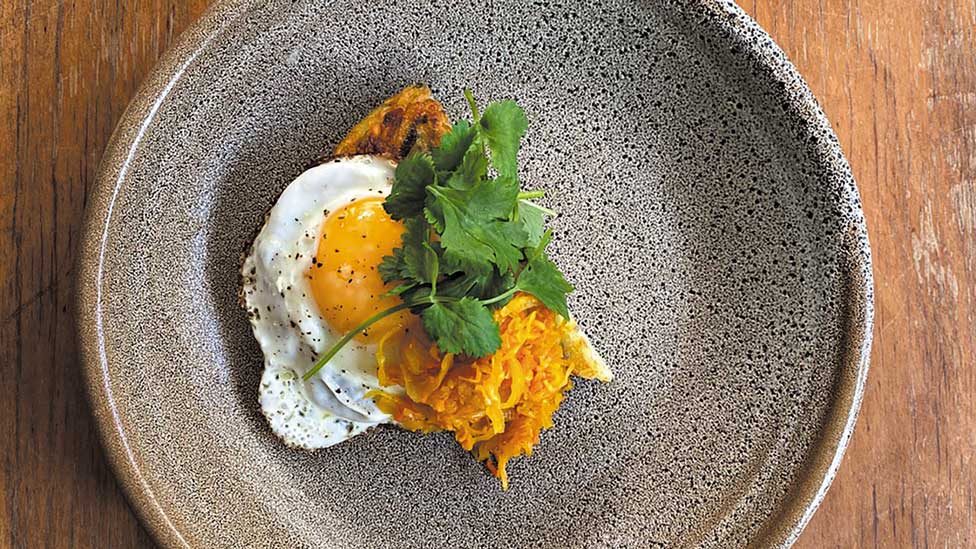 Note: + 5 mins cooling time
Ingredients
1kg potatoes
1 garlic clove, finely chopped
1/4 cup (60ml) olive oil
60g plain flour
Handful of chopped flat-leaf parsley, basil and corriander
Olive oil, extra for frying
6 fried eggs
Kimchi (or sauerkraut), to serve
Coriander sprigs to serve
Method
STEP 1
Preheat oven to 180°C. Peel and grate the potatoes. Rinse the grated potato in cold water until the water runs clear. Drain and squeeze excess water, then place the potato in a bowl. Season with salt and pepper. Add the garlic and oil. Mix well, then add the flour and chopped herbs and continue to mix until combined. Press the potato to the bottom of the bowl to compress it together. 

STEP 2 
Add a generous amount of extra oil to an ovenproof frying pan over a medium heat. Slide the potato mixture from the bowl into the pan. Push in the edges of the potato cake and press down the surface to smooth edges. Cook for 10 mins or until the underside of the cake starts to colour and the surface begins to turn opaque. Flip the potato cake and cook for a further 1-2 mins. Place in the oven for 15 mins or until tender. Remove from oven and set aside for 5 minutes to cool slightly. 

STEP 3
Slice the potato cake and serve topped with a fried egg, kimchi and coriander. 

Check ingredient labels to make sure they meet your specific dietary requirements and always consult a health professional before changing your diet. View dietary information here.