Jo Barrett's apple and almond pie
After a sweet treat to impress? Get the job done with this golden pie. It's packed with juicy apples and almond cream.
Hi I'm Jo. Welcome back to my kitchen. Today we're going to make an apple and almond pie. 
And we're going to start, we're going to make a very simple pastry so in the bowl I've just got some plain flour, some salt and some sugar. And we're just going to add some unsalted butter. 

I've got two eggs and some milk in here. We're just going to pop that into the centre. So we're just bringing it together. Bringing the flour from the outside into the inside and then giving it a little bit of a squeeze. Flick that out on to the bench and just working that into a bit of a disk. I wrap the dough up and pop it into the fridge. 
So now we're going to make the almond butter cream. We're going to start by creaming the butter nice and soft. When the butter starts to stick around the base of the mixer that's when we're going to slowly add in our sugar. And now we're going to add the eggs. One egg at a time. Our almond meal and the rest of our flour. And then mix that together until it's well combined. I'm just going to pop this to the side then we're going to roll out our dough. 

The dough has been resting and now we're just going to divide it into two pieces. Press it out. And then we're just going to roll it out to about 4mm thick. Ok so you can see the thickness of this pastry. 

And now we're just going to cut our apples. Remove the skin. Cut them in two. Remove the core and then just slice them in four. Pop a little bit of sugar on them. And some cinnamon. And then give them a mix around. 

And now we've got all our components ready we're going to assemble the pie. We're going to make a rectangle so I've got my tray here lined with some baking paper. 

So I've just got some egg wash and we're just going to brush the edge of the pastry. And then we're going to spoon our almond butter to the centre of the pie. Then on top of the almond cream we're just going to layer our apples. And now we're going to cut the top piece of our pastry. I'm going to cut two circles in the centre just to allow the steam to come out of our pie just so our pastry doesn't crack. And then I'm going to cut a larger circle and another smaller one. Then we're going to lay this piece on top of our pie. Just pressing any air out of the centre and making sure that it's very well sealed around the edges so our almond butter doesn't run out. And then we're just going to egg wash the top of the pie. And then our two little circles just to reinforce that little hole. So you could pop this into the fridge and then bake it when you're ready. But I've got my oven pre-heated at 170 degrees.

Should take about half an hour. And now our pie is ready. I'm just going to let it sit here to cool.

And then we'll serve it with some cream and eat it. Yum! 
And there it is, an apple and almond pie.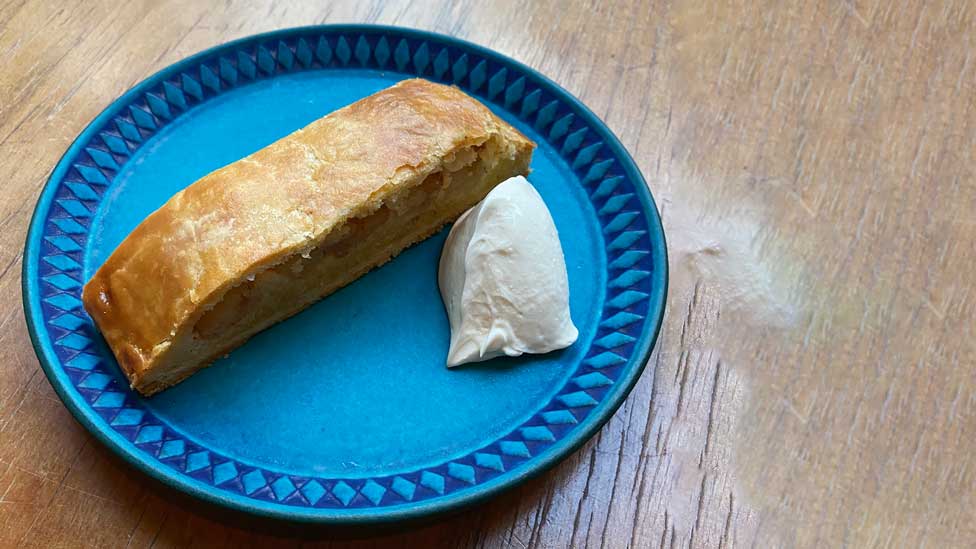 Note: + 30 chilling & 10 mins cooling time
Ingredients
Pastry
500g plain flour
1 tsp salt
1 tsp caster sugar
250g unsalted butter, chilled
110ml milk
2 eggs
Almond cream
250g butter
250g caster sugar
3 eggs
250g almond meal
15g flour
Filling
2 Granny Smith apples
Pinch of raw sugar
Pinch of ground cinnamon
To bake and serve
1 egg
2 tbs milk
Pinch of salt
Dollop cream or vanilla ice cream, to serve
Method
STEP 1
To make the pastry, mix the flour, salt and sugar in a bowl. Add the butter and use your fingertips to rub the butter into the flour mixture to create a crumbly constancy. Mix the milk and egg in a separate bowl, then add to the flour mixture to form a dough. Press into a disc, cover and refrigerate.
STEP 2
To make the almond cream, in the bowl of a mixer fitted with a paddle attachment, mix the butter and sugar until creamy and the mixture begins to turn pale. (Alternatively you could use an electric hand mixer.) Add the eggs, 1 at a time, making sure the egg is well combined before adding the next. Mix for about 3 mins or until the mixture is pale and fluffy. Add the almond meal and flour and mix for 1 min or until well combined. (This mixture can be refrigerated for up to 1 week or just set to the side until you're ready to assemble the pie.)
STEP 3
To make the filling, peel the apples and cut into quarters, then cut each quarter into 4 slices, making sure to remove the core of the apple. Place the apple slices in a bowl and sprinkle with the sugar and cinnamon.
STEP 4
To bake and serve, preheat oven to 170°C. Mix the egg, milk and salt in a bowl. Strain through a fine sieve into a bowl. Cut the dough in half. Sprinkle 1 dough half with flour. Roll out the dough on a well floured surface to a 3-4mm-thick rectangle. Repeat with the remaining dough half and cut into a 14cm x 25cm rectangle. Brush some of the egg mixture around the edge of the pastry to make a 1cm border. Spread a 1cm-thick layer of almond cream on top of the pastry rectangle inside the border. Place a layer of apple slices over the almond cream. Cut a 16cm x 27cm rectangle from the first pastry rectangle and arrange over the apple slices. Press the edge down to seal. Trim any excess pastry, then cut a small hole in the top of the pastry or prick the top of the pastry with a fork to allow any steam to escape. Brush with more egg mixture. Place pie on a baking tray lined with baking paper. Bake the pie for 30 mins or until golden. Allow to cool for 10 mins, before serving with cream or ice cream. Store in an airtight container in the fridge for up to 1 week.

Check ingredient labels to make sure they meet your specific dietary requirements and always consult a health professional before changing your diet. View dietary information here.